While planning a wedding, many couples say their top priority is their guests' enjoyment. And with good reason – your loved ones are taking time out of their busy schedules to celebrate you! But that doesn't mean that your own enjoyment has to take a back seat. Here are 10 secrets to making your wedding truly the best day of your life.
By: Kristen Klein
Hire a Coordinator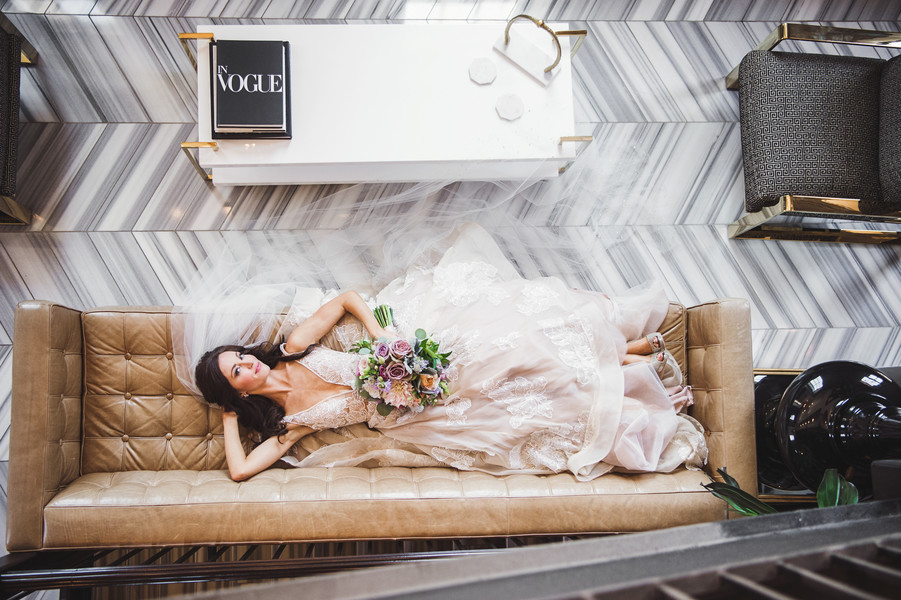 Photo: Sharaya Mauck Photography via Events by Elle
Instantly reduce your stress level simply by putting someone else in charge of the little details. A day-of coordinator makes sure that everything is in place so that you can truly be a guest at your own party. "Knowing that someone else is covering the itinerary and is ensuring everything is running on time will instantaneously relieve the couple of any wedding chores or duties and, as a result, [you] will have more time to relax and let loose," says Karen Norian of Simply Eloped.
Create a Relaxed Timeline

Photo: Mychelle Levan Photography
"The number one reason I see couples not having fun at their own wedding is that they tried to squeeze too many activities into a tight timeline," says Nina Larsen Reed of Larsen Photo Co. "If you are constantly running from one thing to the next, or worrying about being behind schedule, you have no room to enjoy yourselves and be in the moment."
Always err on the side of caution when planning your wedding schedule. Calculate extra time for traffic, hair emergencies, wardrobe malfunctions, and anything else that could possibly go wrong on your wedding day.
Sneak Away for Private Moments

Photo: Lisa Gill Photography
At your reception, it's far too easy to get pulled in the opposite direction from your new spouse as you individually catch up with friends and family members you haven't seen in years. Make sure you don't end the night feeling like you didn't even see your partner by scheduling in some private time. "One great way to do this is to take the first 10 minutes after their ceremony to spend together, with no one else around… During this time, the rest of the guests are exiting the venue and not noticing that the couple is missing," says Rebecca Jones, owner and wedding planner at Pine Creek Escapes in Oregon, Illinois. "We also urge them to plan another 10 minutes away right after their first dance.  Once again, the guests hit the dance floor and don't notice the absent couple, and they can sneak in some private time and spend it as they wish."
You can also create a secret code for when one of you is feeling overwhelmed and needs a break. "Creating a silly code word when you're feeling the need to slow things down a bit can help anyone focus on enjoying the moment," says Norian. "If your spouse tells you the code word, then you know it's time to take a step back with them for a brief period of time and just soak it all in." 
Get Comfortable

Photo: A Picturesque Memory Photography
If you never wear heels in your daily life, why torture yourself with stilettos just because it's your wedding day? Especially during your reception, don't be afraid to kick off your shoes and slip into something more comfortable – like slippers! With a long gown, no one is going to see your shoes anyway, so you might as well wear something that'll help you let loose. 
Stay Among the Crowd

Photo: Run Away With Me
You'll spend most of your wedding day mixing and mingling with guests, but once the meal is served, most couples retire to their sweetheart table. While a sweetheart table can, in theory, be a great way to spend time alone with your partner, are you actually alone? The sweetheart table tends to be front and center in the room, meaning every single guest can sit and watch your interactions if they so desire. While some couples love being in the spotlight, it's okay if it makes you feel uncomfortable. Instead, take a seat right in the middle of the room, where you can feel the love of your guests surrounding you.
Take it Easy on the Booze

Photo: Jake and Necia Photography
Many couples fall into the trap of thinking more drinks = more fun. But when the liquor is free-flowing, it's far too easy to cross over to the bad side. "Too many drinks will eventually make you feel tired and worst of all, may make you forget those memorable times!' says Aleka Shunk, creator of Bite Sized Kitchen. Pro tip: Drink a glass of water between every alcoholic drink to help pace yourself. 
Personalize Your Moments

Photo: Rodeo & Co
When we say "personalize," most people automatically think about the décor. But you can also put your mark on your wedding through your actions. Your first dance is a standout moment and is an opportunity to really reflect who you are as a couple. "Gone are the days when you have to slow dance to a classical love song. Choose a song from your favorite band, or find an upbeat, happy song that expresses who you are as a couple, and don't be afraid to dance like nobody is watching!" says Norian. "Your guests will likely enjoy seeing a modern rendition of an old tradition, and might even ask you for the name of the catchy song."
Add Some Levity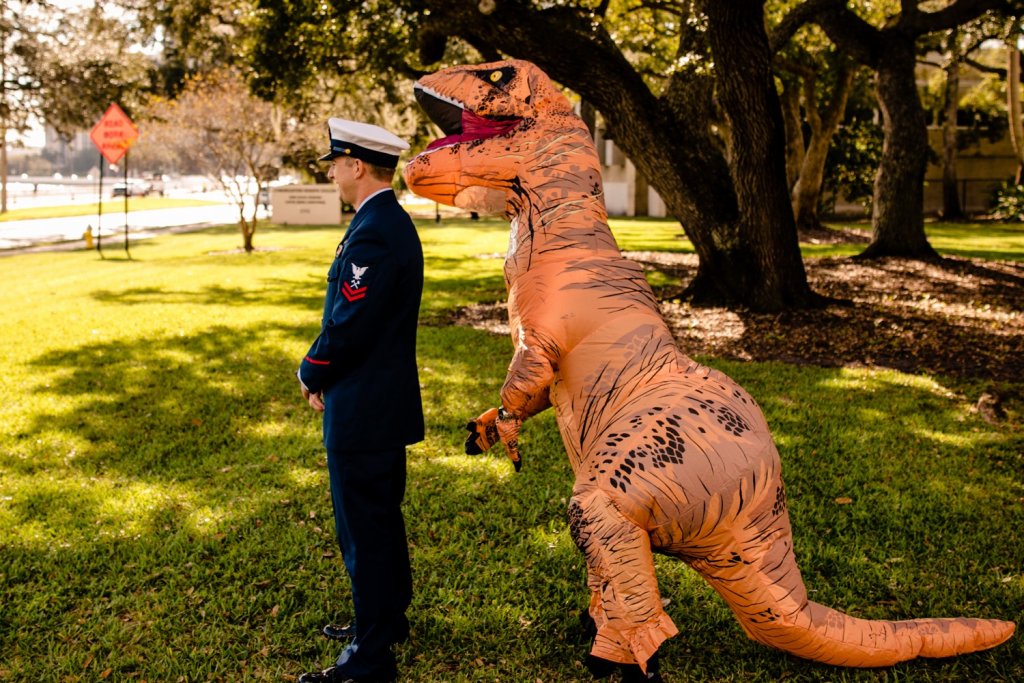 Photo: Michael Frease Photography
Your wedding day will be full of big moments, from the first time you see each other to your first kiss as a married couple to your final sendoff. One of our favorite tradition modifications we've seen lately is with the first look. As much as we all love seeing sweet, sentimental photos of couples loving on each other, the buildup for that moment can feel like too much pressure to make it perfect. Alleviate the tension and turn it into a comical moment instead.
Define "Fun" in Your Own Way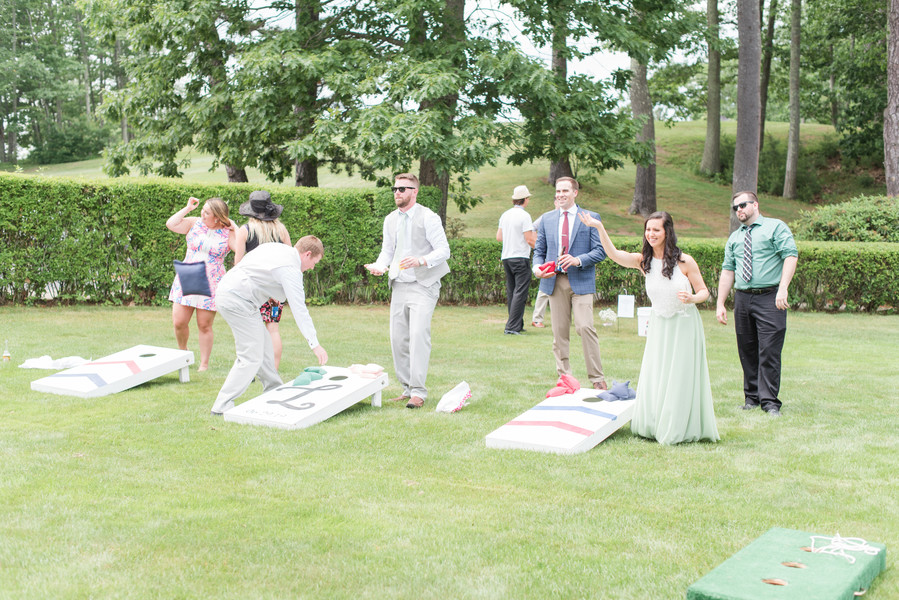 Photo: Samantha Clemmer Photography
Some couples love to dance; others wouldn't be caught dead busting a move on the dance floor. If dancing isn't your idea of a good time, then why design your entire wedding reception around that form of entertainment? Sure, play party music for your guests who want to boogie, but we can guarantee that you're not alone in not wanting to dance. Set up games and other activities for the non-dancers to enjoy. 
Do More of What Makes You Happy

Photo: Mafa Fotografia via Team Bride
Your friends and family love you just the way you are, so don't feel pressured to fit into the "bride" box. Plan the wedding you know you'll enjoy. Are you a sweets aficionado? Splurge on the elaborate dessert display — we're pretty confident your guests won't complain about having more options. Are you a crafting queen? Go ahead and DIY as much as your heart desires. And, conversely, if you don't have a crafty bone in your body, don't stress yourself out by taking on projects — it's totally okay to outsource everything. Focus your attention on the elements of your big day that you know will bring a smile to your face, and don't sweat the small stuff. 
"Your spouse and you should be yourselves during your wedding day. If you love certain foods, eat them. If you enjoy dancing up a storm, do it," says Emilie Dulles of Dulles Designs. "It is your wedding day and your marriage — not a job interview. It's okay to relax, be yourself, and have fun."