The first look can be one of the most special moments of your wedding day. Whether you and your partner choose a tear-jerking emotional unveiling or a comedic joy-filled moment, take your milestone to the next level with these ideas.
By: Kristen Klein
Comedic Relief
Break the tension and calm your wedding-day nerves by pulling a little prank with your first look. This bride found a funny shirt in a tourist shop a few days before the wedding and knew it'd put a smile on her groom's face. "Zach was stunned, laughed, and then said 'this is exactly why I am marrying her,'" recalls their photographer, Stacy Sullivan of Set Free Photography.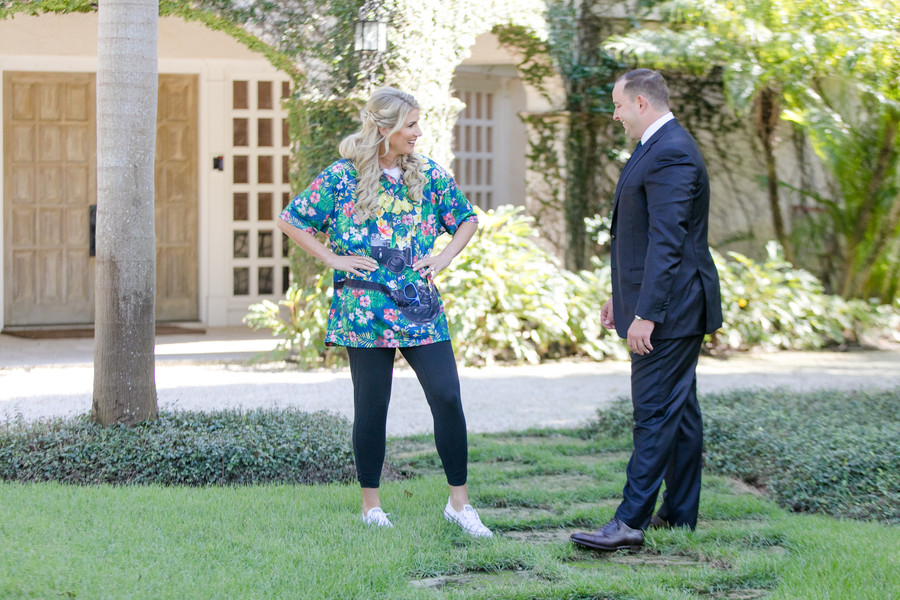 Photo: Set Free Photography
Take it to the next level by wearing a full costume — like this inflatable T-Rex that never gets old!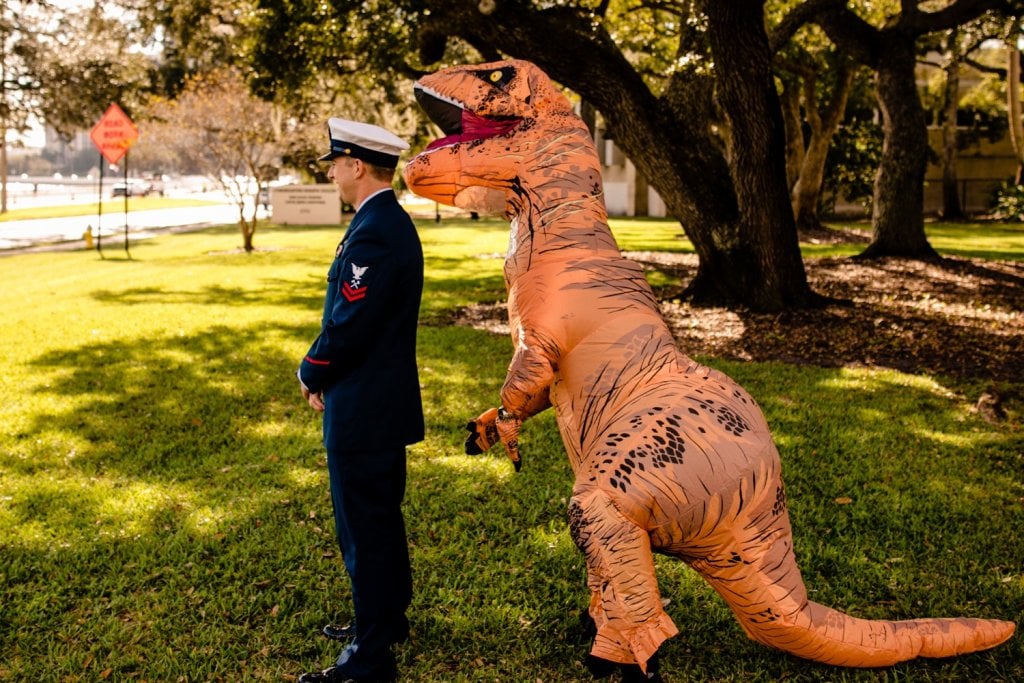 Photo: Michael Freas Photography
The Switch
Pull a switcheroo and send out the best man for the first look — in a wedding gown of his own.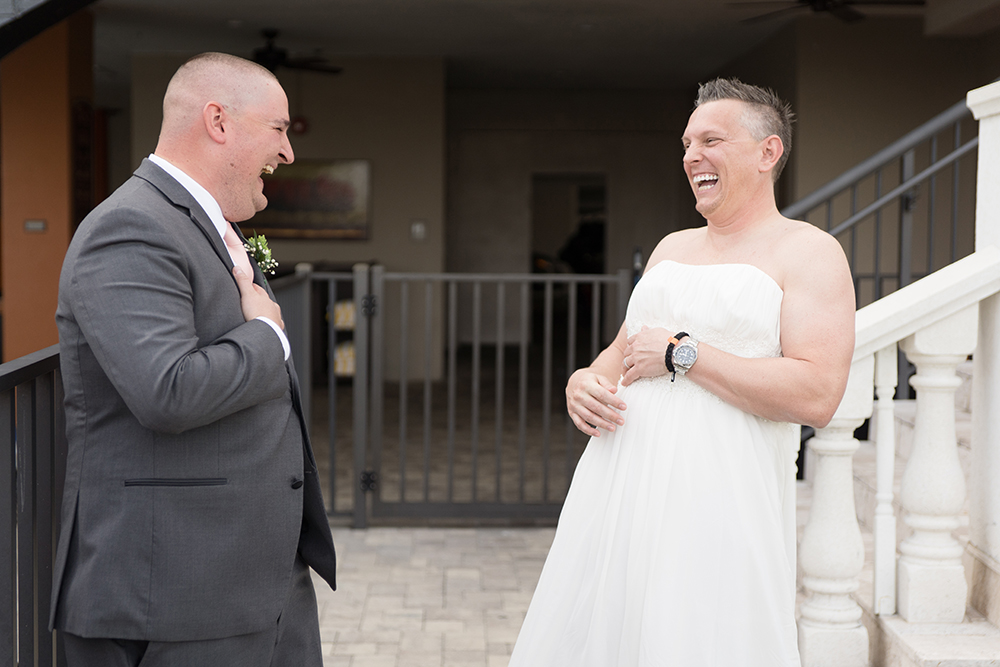 Photo: Emily Lynn Photo

Share the Moment
Turn your first look into a special moment with your parents. "Neither of their parents had a formal wedding, and it was very important to them to incorporate both parents into every part of their day. The first look was with the groom and both fathers, while the bride and both mothers walked to them," explains their photographer, Justine Cunningham of Justine & Wayne.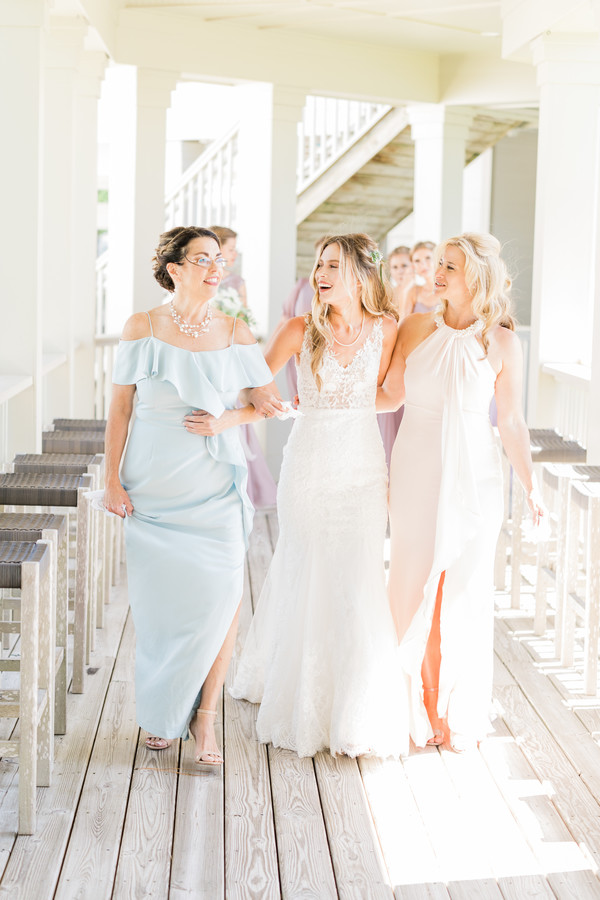 Photo: Justine & Wayne
First Look with Family
If you and your spouse-to-be are dead set on not seeing each other before the ceremony, that doesn't mean you can't still have a first look — you just need to choose someone else to share the moment with! This bride chose her mom:

Photo: Frozen Exposure Photo & Cinema
And this bride shared the moment with her dad:

Photo: Bend the Light Photography
You can also have a first look with your bridesmaids.

Photo: Meredith Perdue
The Non-Reveal
If you crave spending time together before the ceremony but still want to save the "big reveal" for the walk down the aisle, blindfold your groom! Being together before the ceremony without seeing each other will amp up the anticipation for your walk down the aisle.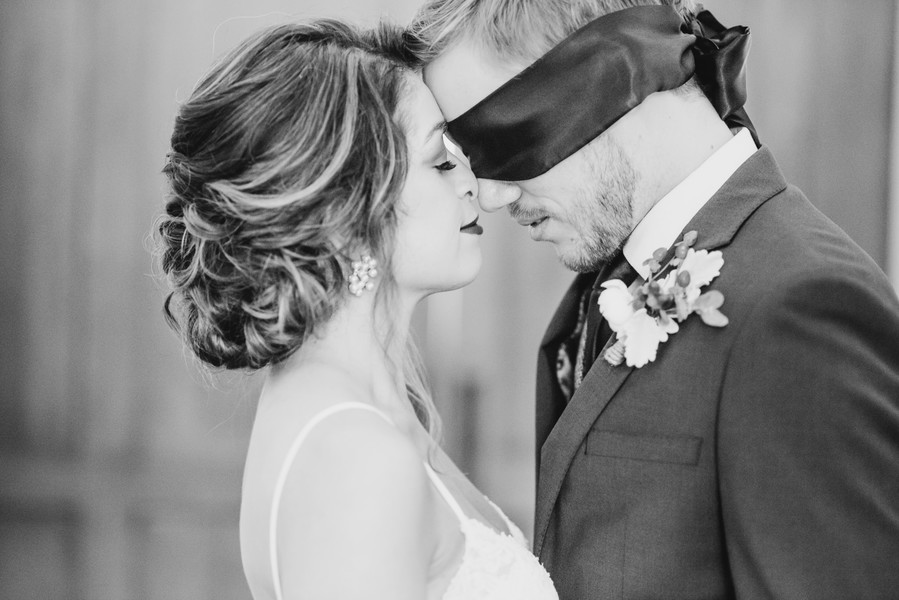 Photo: Kaitlyn Blake Photography
Musical Interlude
Add an extra element of surprise by showcasing your talents — like writing a song for your beloved to reveal right before you see each other for the first time.

Photo: Benj Haisch
Or use the art of the written word to express your feelings to each other.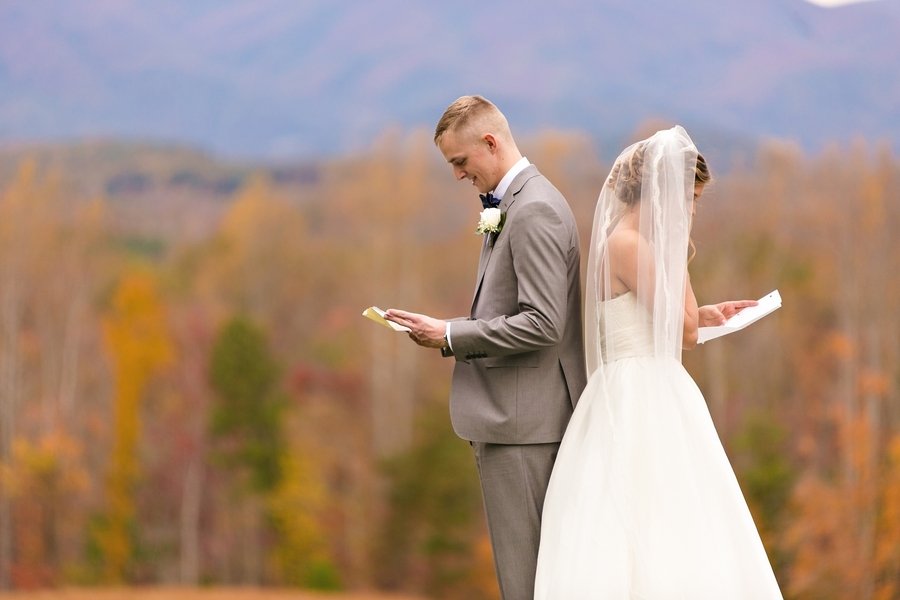 Photo: Megan Vaughan Photography
Family Moment
If either of you already have children, turn your first look into a special moment that showcases the blending of your families. 

Photo: Ama Photography & Cinema
Incorporate Props
Boost the fun factor by including a prop in your reveal, like a bunch of balloons. 

Photo: Michael Segal Photography
Elevate the Surprise
The anticipation before the big reveal is what makes the first look moment so much fun. Increase that feeling even more by taking advantage of the elevators in your hotel or venue — start on separate floors, and meet on a floor number that holds significance for you.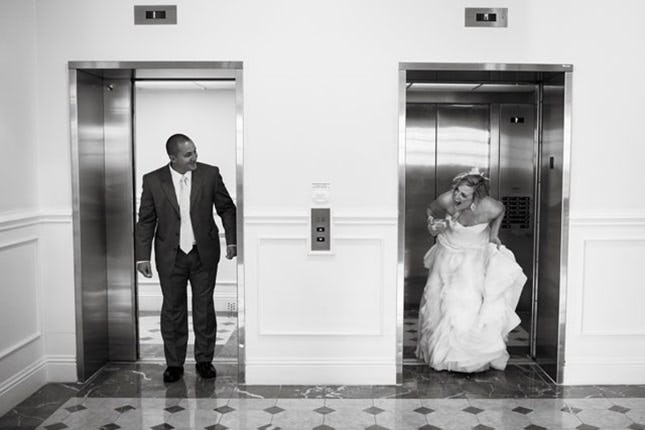 Photo: Ashley Victoria Photography
No elevator? Use a mirror — just imagine the anticipation building as you wait to see your beloved's reflection approaching!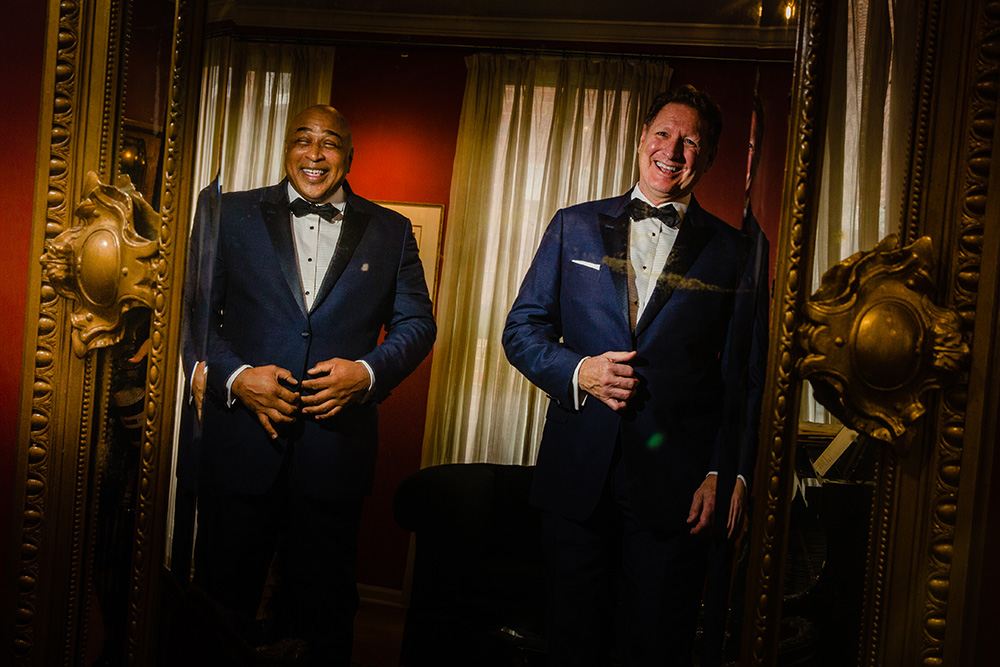 Photo: Juancho SC Photography via P3 Events