Danny Seo, lifestyle expert, author and host of NBC's Naturally, Danny Seo shares his tips to help you create a healthy and happy home.
Over the years, I've designed and loaned my name to myriad products sold at national retailers. But one project that especially stood out as a learning experience for me was when I partnered with the Simmons Bedding Company to create the "Natural Care by Danny Seo" line of eco mattresses. In the process of producing a new line of beds, I was privy to so much industry knowledge. And it's this information that I think can help you navigate the mattress store to find the perfect bed at the perfect price.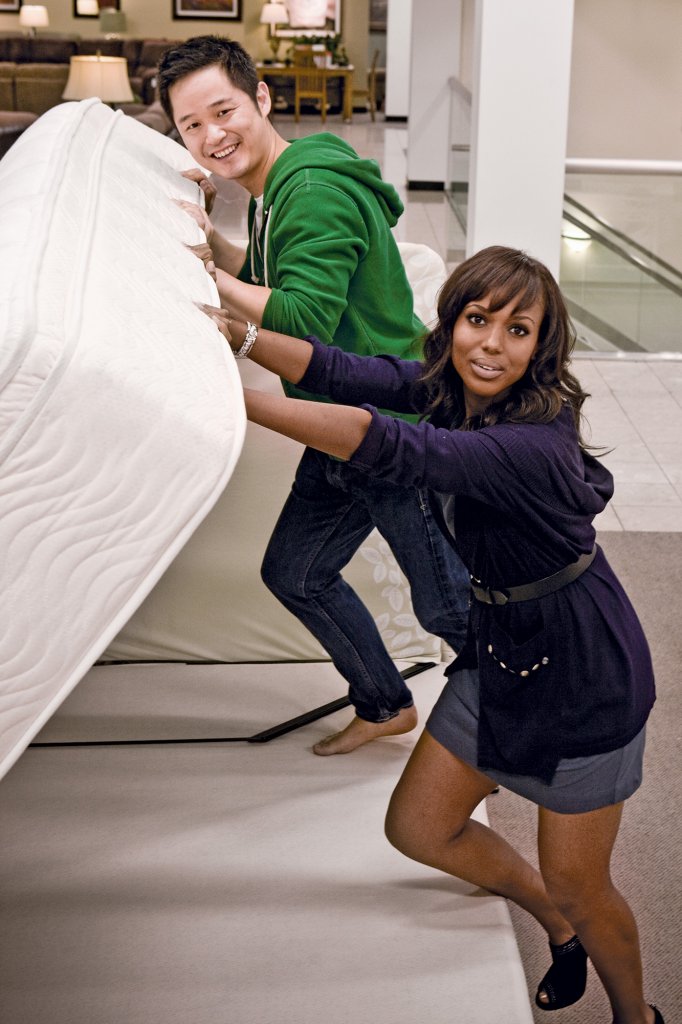 Photo courtesy of Danny Seo
Sleep in hotels. Instead of aimlessly lying down on beds in a store, think about the best night's sleep you ever had in a hotel. Hotel beds are usually manufactured by one of the "S" brands — Simmons, Serta or Sealy — and they have licensing deals with hotels to sell those beds to customers. My advice: Don't buy those beds! The reason: Licensing comes with an upcharge and the "S" brands simply take their existing beds and re-label them with fancy new packaging and marketing for hotel consumers. If you love the Westin Hotel's "Heavenly" bed, for example, look for a Simmons Beautyrest mattress with a feather-bed top layer. It's the exact same bed. And be sure to tell your mattress professional which hotel bed you love so they can guide you to the same (but less expensive) model.
Skip the box spring. Most beds today are platform styles that offer the support a mattress requires thereby eliminating the need for a box spring. To save a little money, buy your new mattress without a box spring. You don't need to buy them together; it's optional and skipping the box spring can save you a few hundred dollars. And here's another insider tip: If you don't have a platform bed and already have a box spring at home you can still use it with your new mattress. Sales associates may say doing this voids the new mattress warranty, but I'll tell you as a bedding industry insider, it doesn't.
Never buy used. Ever see a listing on Craigslist for a mattress that was "never" or "barely" used? Or see plastic-wrapped mattresses for sale in open trucks along the side of the road? I've heard horror stories about shady "pickers" who look for old, tossed beds along curbsides at night, re-cover them in fabric and plastic, and try to re-sell them as new. It's disgusting. You know the mantra: if it sounds too good to be true....
You won't find a better price. I remember the jingle: "If you find a lower price, your mattress is freeeee!" Well, you won't find a lower price because all the major bedding companies give specif- ic model names to different retail chains. For example, we didn't just sell Danny Seo beds. We sold Danny Seo "Iverness Mountain" beds to one retailer and Danny Seo "New Hope" beds to another. Every retail chain received its own specific make and model, making it impossible to com- pare prices. If you find a mattress you love, save time and negotiate for the best price with the store.
The purest isn't always the best. One would think a 100% natural latex bed is the absolute best choice. And from a green perspective it is. However, just as a fragile 24-karat gold bracelet would break apart if you wore it every day, a pure latex mattress will not stand the test of time. Look for a mattress that has a mix of synthetic foam with natural foam for greater longevity. Think about it: Replacing a "pure" bed every few years erases any sustainability aspects that a mixed- material bed (lasting 15 years) provides. Don't think of it as a compromise: It's like investing in an 18K-gold bracelet. It's still luxuriously nice.