David Tutera, star of WEtv's "My Fair Wedding," shares his best ideas for an ultra-stylish seasonal wedding.
By: David Tutera
For many of us, winter really is the most magical time of the year. So holding your wedding during this season just adds to the celebratory feel. And the opportunities for making a stylish statement are vast: Winter weddings can really run the gamut from all-white fêtes that sparkle with crystals and faux snow to country-cabin chic made cozy with plaids and branches. Start with these tips and let your imagination soar.
Your Paper Trail
Set the tone with your stationery. Paper with a sheen echoes the look of a blanket of fresh snow, while handmade card stock with jagged edges is a perfect nod to an Aspen-inspired celebration. When it comes to embellishments (on invitations, place cards and more), consider self-adhesive crystals, antique lace or plaid flannel bellybands or nature-inspired accents like small twigs or faux snowflakes.
Your Menu
Keep your guests as cozy during the reception as they felt during your vows. The perfect seasonal menu should consist mostly of hot dishes. Unique variations of a bruschetta, such as melted goat cheese with mushrooms or smoked mozzarella with a tomato confit make great hors d'oeuvres. A hearty, puréed soup with a crème fraîche garnish is a warming starter course. Consider serving your main course family-style at each table, which allows for a more communal experience. Your flavor profile could include pear, apple, cranberry, leek, ginger or mint.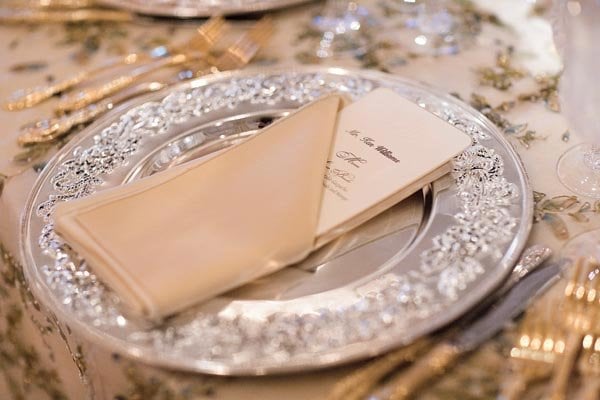 Photo Credit: Maling Visuals
Your Fashion Look
Thanks to Princess Kate, sleeves are a strong trend and perfectly suited to winter. Thicker, crisper satin fabrics are a great look for a wedding taking place late in the year, but a sheer, flowy and ethereal dress can be just as stunning this season. Accessories can really set the tone so consider a chic faux-fur stole or a sweeping plaid cape to keep warm during your outdoor photos. I also love the idea of adding great costume pieces to your reception look like "icy" crystal bangles or a great wintry-fabric headband in plush wool or velvet.
Your Design
No matter what look you're going for here, candlelight is essential to a wintertime wedding. Lanterns, votives, pillars — all in assorted heights, containers and even colors will add a gorgeous glow to your decor. Wooden tables are perfect for the season, either contrasted with a delicate pure-white runner or complemented with a great flannel fabric. Branches — easily collected from the outdoors (thank you Mother Nature!) — are a perfect accent to any centerpiece or table design and can be embellished with hanging crystals or small floral clusters.

Photo Credit: Maling Visuals
Your Cake
A tall white cake accented with sparkling sugars would certainly fit the bill here, especially if each slice was drizzled with warm white chocolate right before it was passed to guests! And I also love the idea of a unique spin on dessert time: Seasonal pies (apple, pumpkin, cranberry-nut) cut and served hot with a tiny scoop of ice cream are a delicious alternative.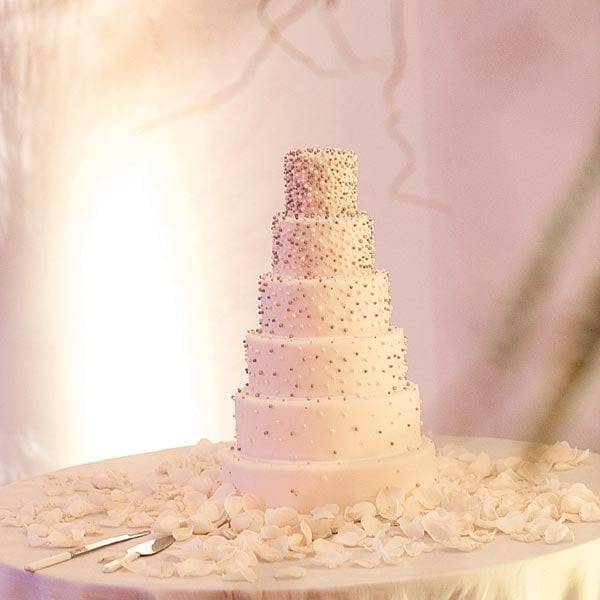 Photo Credit: Maling Visuals
Dos for winter weddings:
Consider wonderful winter accessories like wraps, shawls and jackets for your bridesmaids.
If there's potential for snow, aim to have your ceremony, cocktail hour and reception in one venue to keep travel to a minimum.
Be sure to provide guests with an attended coat-check area to accommodate all those extra outdoor layers.
Don'ts for winter weddings:
Don't get your heart set on flowers that may be out of season. They may be extremely expensive or even impossible to obtain. Your floral designer can suggest winter-wedding appropriate blooms (like ranunculus or tulips).
Stay away from thick sauces and heavy meats. You want your guests to feel light enough on their feet for the dancing ahead!
Don't choose an out of the way venue. You may have longed for that cozy little wedding in a tucked-away inn, but poor road conditions could prevent your guests from getting there.