How to handle sticky situations with grace, including what to do when you can't afford to buy the dress that the bride wants, you're the only bridesmaid who isn't close with the rest of the girls, and more.
By: Sharon Naylor
Dilemma: You or another bridesmaid is an "outsider" who's having trouble fitting into the bride's social circle.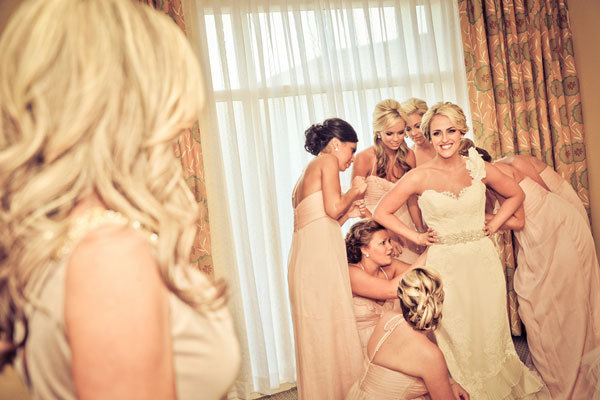 Photo Credit: Misty Miotto Photography
Problem Solved:
If you're the bride or maid of honor: Think about how difficult it is to be on "the outside." Organize a bridesmaids luncheon so that everyone can meet each other before a big event like the bridal shower or bachelorette party. Or, if you all live far apart, create a private Facebook group and have everyone share five fun facts about themselves. Discovering shared interests—watching the same TV shows, training for a half-marathon—can give them things to talk about with one another.
If you're the bridesmaid: Talk to the bride about what you'd like to help with for the pre-wedding events; they can make decisions according to your comfort level. For example, if you're a relative of the groom's and you don't want to attend the bachelorette party because male dancers will be there, suggest that the group take the bride out for dinner first, so that you can attend that portion and then bow out later, with no pressure about "bailing" on the bridesmaids.
Pages