Kat and Gavin got engaged on top of Mount Kilamanjaro in the most perfect way possible. See the video and get more of the romantic details!
By: Bénja Gladden
Video/Photo Credit: Where To Next Films
How They Met
Kat and Gavin met working a job together where they had been hired to model sportswear for an athletic brand. After spending six hours getting to know each other as they modeled side-by-side, they stayed in touch and became friends on Facebook. When Gavin eventually tried to ask Kat out for dinner, she said she couldn't because she was leaving for Sweden for a month. He didn't think he'd ever hear from her again... until one day she sent him an Uber discount code on Facebook. Thinking that it was spam, he messaged her to say he thought her account had been hacked. As it turns out, she did send the Uber code, and said they'd both receive free rides if he signed up; to which he replied, "well then should we use our free rides to go get that drink?" And that's how their love story began.
An Adventure Couple's Dream Engagement  
Fast-forward to March 1, 2020. After an eight-day trek across six ecological zones, from lush rainforests to arid alpine desert, they reached the highest peak of Mount Kilimanjaro in Tanzania. While surrounded by sky and snow, Gavin got down on one knee and popped the question. Kat fell down giddy when she realized what was happening (hello, altitude sickness!), and when she finally caught her breath, in an oxygen-deprived state she said, YES!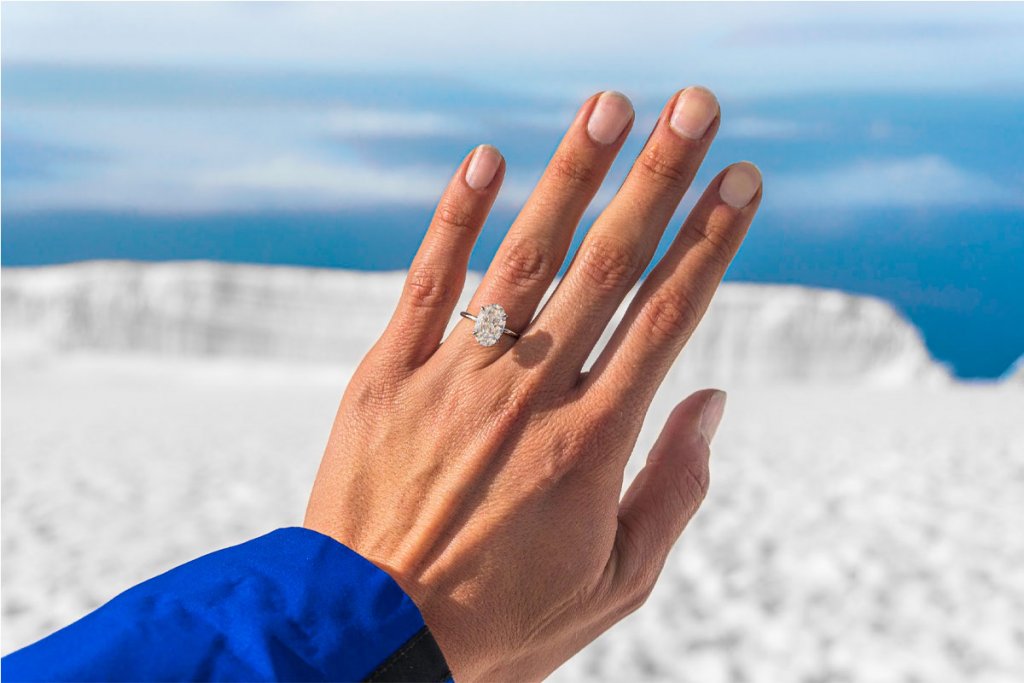 "I always wanted a clean, minimal ring with a beautiful oval solitaire diamond," said Kat. "I really love the simplicity of a thin band with the diamond itself being the focal point. I told Gavin about my vision and even showed him rings I liked on Pinterest, but nothing compares to the feeling of seeing your own ring in person. Oh, and he also kept the ring hidden for six months trying to come up with the PERFECT proposal plan. And I mean, on top of Mount Kilimanjaro? Can love even get much higher than that?"
The Moped Accident That Followed
After their Kilimanjaro adventure, Kat and Gavin traveled to Zanzibar for a little beach retreat, where they also planned to take some engagement photos.  Early in the trip, the couple decided to rent a moped to explore the island. Not even 30 minutes in, it started raining heavily and they hit a deep pothole, sending the moped... and them flying. Both were badly injured; their arms, legs and hands were cut up, and had to be bandaged. But, from the look of their engagement photos (below), they were still all smiles with that just engaged glow.  
"You can't predict accidents from happening, " said Kat. "And we made a decision that we were going to enjoy and make the best out of our situation regardless of our circumstances. At the end of the day, we have each other and that's all it matters!"