It may be a cold January, but our March/April 2014 issue — filled with the year's most beautiful bridal gowns, along with planning advice and inspiring reception ideas — will have you thinking spring in no time!
Get a behind-the-scenes look at our cover shoot: 
Let's start with all of the fabulous fashion: Many of you are probably on the hunt for the perfect gown, and in this issue, you'll discover some of the hottest trends from the latest runway shows that are sure to suit your style.
We also have fabulous accessories to pair with your dress...
and dazzling ballgowns to wow the crowd:
You'll also find bridesmaid dresses, pretty veils, and chic looks for weddings, whether close to home or at a sunny, seaside resort:
In order to look your bridal best, you've no doubt started a health, exercise, and beauty routine. But what about those final weeks right before the big day? Should you color your hair? Get a spray tan? Go for a massage? Check out "Countdown to I Do" for advice from the experts on just what beauty treatments you should (and shouldn't) do in those last two weeks before the wedding. We guarantee you'll be the most radiant bride ever!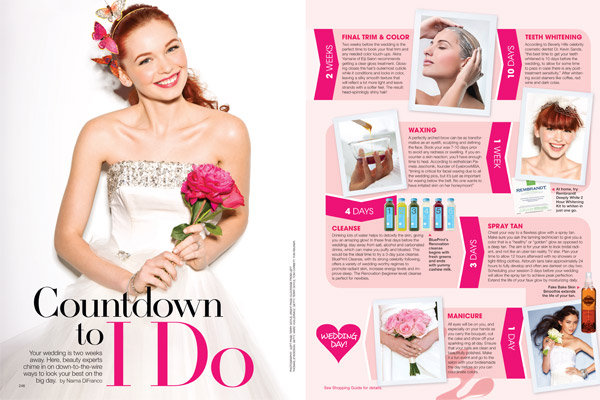 So, we've got you covered for fashion and beauty. Now, let's move on to ideas for your reception. In "Love, American Style," you're sure to get inspired by all of the fun, creative, totally unique details from real weddings around the country.
And in "Raise the Bar," you'll discover lots of great ideas for food and drink stations for your cocktail hour or reception (comfort food faves include French fry, donut, milkshake, and popcorn bars!).
Of course, it goes without saying that money issues are a major concern for most couples. You want to have a celebration that your friends and family members will enjoy. You want it to be beyond fabulous... but what about the cost? Well, there are some things you can do without or easily trim from the budget without compromising on style. "15 Easy Cost-Cutting Moves" reveals these surefire strategies for saving big money.
As an extra bonus, you also get a free magazine with this issue: our "Honeymoon & Destination Wedding Guide," which highlights some of the most perfect places on the planet for newlyweds.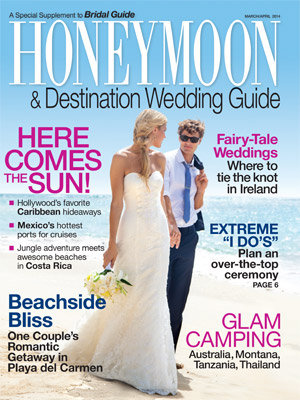 Find your place in the sun in Costa Rica: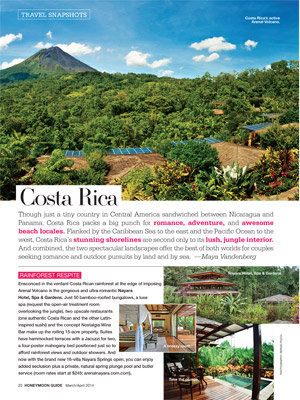 Cruise to sexy spots south of the border:
Discover some of the most exclusive, romantic resorts in the Caribbean, where celebrities go for their R&R:
And take note of one of the hottest trends in travel, "glamping." We spotlight some of the most luxurious, tented excursions in the great outdoors, from Montana to Tanzania. Talk about the trip of a lifetime!
There's much more to love in this issue, such as dazzling engagement rings, amazing cakes (selected by top wedding bloggers), shape-up tips, and expert advice from celebrity planners David Tutera and Mindy Weiss. You won't want to miss a thing!
—Diane Forden