A laid-back barbecue dinner is the colorful — and tasty — kickoff to a rustic weekend wedding.
S'mores. Ping pong. Fresh pie. Those were just a few of the treats on offer at this welcome dinner in California wine country. And while the overall theme evoked carefree memories of summer camp, the décor was decidedly adult: a heady mix of country charm punctuated with luxe touches of crystal glassware and colorful blooms. Designer Sasha Souza of Sasha Souza Events shares all the gorgeous details.
A rustic outdoor venue doesn't have to look sparse. Lush arrangements brighten the airy, open areas, and make the locale feel special. The centerpiece, by Leah Lowery for Sasha Souza events, includes gerber daisies and calla lilies.
A painted terracotta pot holds green spider mums and angel vine.
The palette of sage and crimson highlighted with yellow reminded the bride of her beloved Fiestaware dishes. Each of the 19 picnic tables seated 6 guests. 
The menu, created onsite by Dawn Ranch Lodge, included both beef and veggie burgers, hot dogs and kale and potato salads.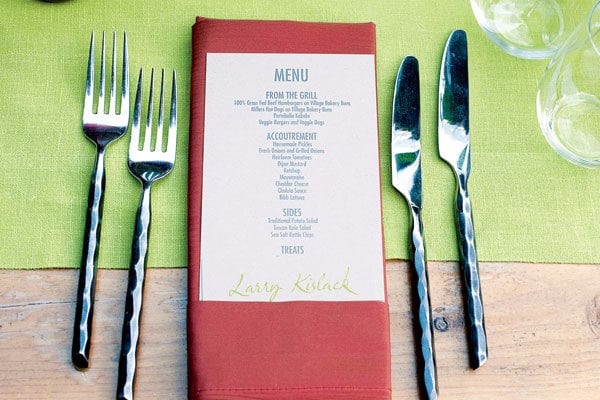 Mini chalkboards and mason jars filled with moss, fruit and flowers manned the food stations. For dessert, guests enjoyed coconut cream, apple, peach and pumpkin pies by Fleur de Lisa Cakes & Specialty Desserts.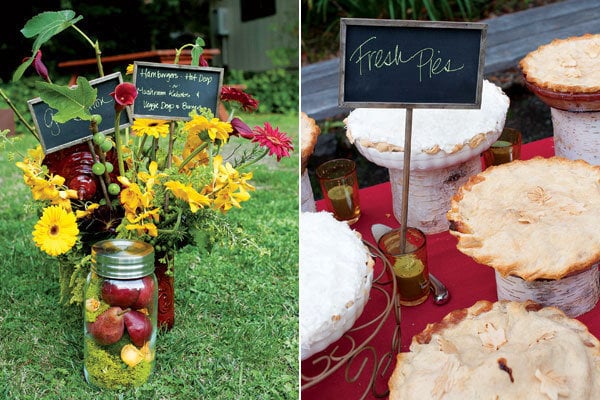 Ping pong was the game of the night, with other activities introduced as the weekend progressed.
A roaring campfire invites guests to gather 'round. "It was mainly for s'mores," Sasha says, "and for hanging out. It was early October, so it did get chilly later on in the evening."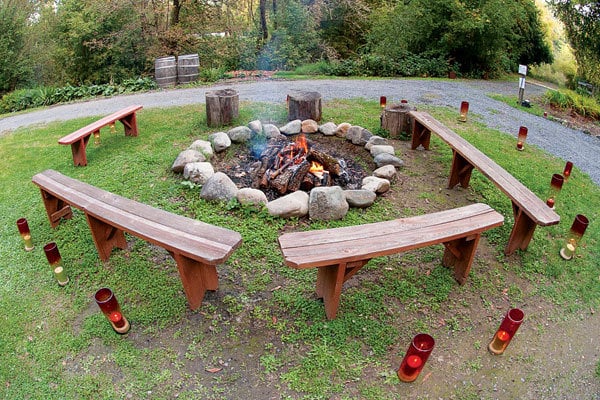 "Starting off the wedding weekend with a fun party instead of the standard formal rehearsal dinner sent a clear signal that guests were going to enjoy a relaxed, summer-camp style event with lots of surprises," says Sasha.
Photo Credit: Shawna Yarbrough—Studio 7 Foto