The region has burst on the travel scene with myriad offerings for adventure-seeking honeymooners
By: Veronica Mullen
If you imagine a honeymoon filled with sunny days and sandy beaches, outdoor adventures and flavorful food, all set to a sexy soundtrack, then head south—past Mexico, past the Caribbean islands, and down to Central and South America. Stretching from compact Belize, which borders the calm Caribbean Sea, to Cape Horn, Chile, the southernmost point of the continent, this region is diverse, vast and ripe with opportunities for romance. Here, we spotlight four favorite destinations, all perfect for your trip of a lifetime.
Belize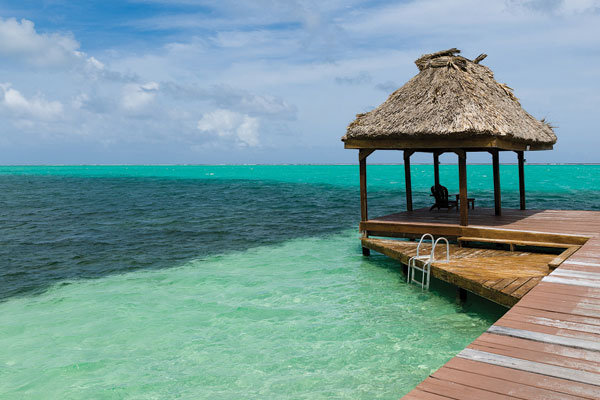 Photo courtesy of Belize Tourism Board 
Why we love it: There are few places on earth where you can visit ancient Mayan temples, wander through a rainforest, chill on a white sand beach and swim along one of the largest reefs in the world. And this rustic paradise beckons honeymooners to recharge under the stars.
The basics: Bordered by Mexico, Guatemala and the Caribbean Sea, Belize is about the size of the state of Massachusetts. Unlike most of South and Central America, which was colonized by Spain, Belize was once under the domain of the British, so English is the official language. Belize City is about a three-hour flight from Chicago and two hours from Miami. No visa is required for U.S. citizens.
What to see: Described as "one of the four must-dive locations on this blue planet" by oceanographer Jacques Cousteau, Belize is home to the largest barrier reef in the western hemisphere, more than 200 small islands and lots of crystal-clear waters. Experience this aquatic wonderland with a scuba adventure or a kayaking trip. Sink your toes into the white sand of seaside towns like Hopkins Village, San Pedro and Placencia, or reserve a private island for the day. Several resorts can help organize the experience. Belize's land-based treasures include the rainforests in the Cayo District, where you can explore the Mayan temples of Xunantunich and Cahal Pech and the jungles around San Ignacio. 

Photo courtesy of Belize Tourism Board  
Romance Recommendation: Enjoy a romantic meal overlooking one of Belize's cascading waterfalls. Located in the Mountain Pine Ridge forest and jungle reserve, the Hidden Valley Inn can organize a private waterfall experience for its guests, with delicious eats, sparkling wine and time under the falls.
Where to Stay: Victoria House on Amnergis Caye is a relaxed resort where suites feature infinity pools or beach access (room rates start at $180 a night and include breakfast; victoria-house.com). With only 10 cabanas, the adults-only Coco Plum offers a private island feel, with loads of water activities (room rates start at $1,120 a night, all-inclusive; cocoplumcay.com). Dedicated to sustainable tourism, Ka'ana Boutique Resort and Spa has a stylish design, gourmet cuisine and easy access to the rainforests, rivers and Mayan sites of the Cayo District (room rates start at $300 a night; kaanabelize.com).
Pages