Craving an exotic honeymoon? Find out where to stay, eat, and explore in romantic Istanbul.
By: Fiorella Valdesolo
Shopping Spree
There's plenty to spend Turkish lira on in this city. Istanbul's Grand Bazaar is a maze of stalls filled with everything from jewelry and scarves, to ornate lamps and sets of tiny Turkish tea glasses. Note: Bartering is expected. At the Spice Market, stock up on all manner of teas and spices, plus the classic candy, sweet Turkish Delights. At Matis, a multi-floor emporium there's an encyclopedic selection of
traditional rugs, while antique stores line the streets of the bustling Kadikoy neighborhood.
T
The mall—Turkish style.
Steam Spirit
The Turkish spell spa: h-a-m-m-a-m. And the ideal place to enjoy the traditional treatment is in one of the city's oldest spas, the circa 16thcentury Ayasofya Hurrem Sultan. The experience includes being doused with water, massaged and vigorously scrubbed until your skin has reverted back to baby-smoothness, all while lying on a marble bed.

Take a day to experience the spas of Istnabul.
Treasure Islands
About an hour from Istanbul by ferry are the Princes' Islands, a group of nine isles where well-to-do Turks have summer retreats. Cars aren't allowed, so be prepared to explore on foot, rent a bike or hire a phaeton (horse-drawn carriage). On Buyukada, the largest of the spits, hike to Aya Yorgi Monastery and take in vistas of the Sea of Marmara. At Aya Nikola Butik Otel enjoy a homemade meal.
The Park Hyatt Istanbul Macka Palas is sleek and modern.
Check In
Why not divvy up your time between the city's two sides? The Park Hyatt Istanbul Macka Palas is a chic hideaway in the tony Nisantasi neighborhood. The 1922 Art Deco building boasts sprawling guest rooms (ask for one with a spa bath to get your own steam room), a pool and impeccable service. It even has a signature scent designed by Parisian perfumer Blaise Mautin (room rates start at $255 a night; istanbul.park.hyatt.com). On the Asian side of the city in the bohemian Kadikoy area, the DoubleTree by Hilton Istanbul- Moda has all the comforts of home (including the chain's signature
chocolate-chip cookies) plus staggering views of the Bosphorus and Old City (room rates start at $190 a night; doubletree.hilton.com).

A traditional sight along the Bosphorus.
Wine and Dine
Start every morning with strong Turkish coffee and a simit, the Turkish equivalent of a bagel, sold on nearly every street corner. Buy a grilled fish sandwich from the vendors on boats near the Eminonu, or tackle a plate of fried or raw mussels. If you're brave, sample kokorec, a sandwich crafted with lamb innards. Lively meyhanes (taverns) offer feasts of fish, kebabs and meze staples like salted cheese,
eggplant salads and dipping sauces. Wash it all down with raki, an aniseflavored liquor. The epicenter of creative cuisine is Ciya, a restaurant on the Asian side, where chef Musa Dagdeverin uses obscure grains and veggies (like freekah and goosefoot).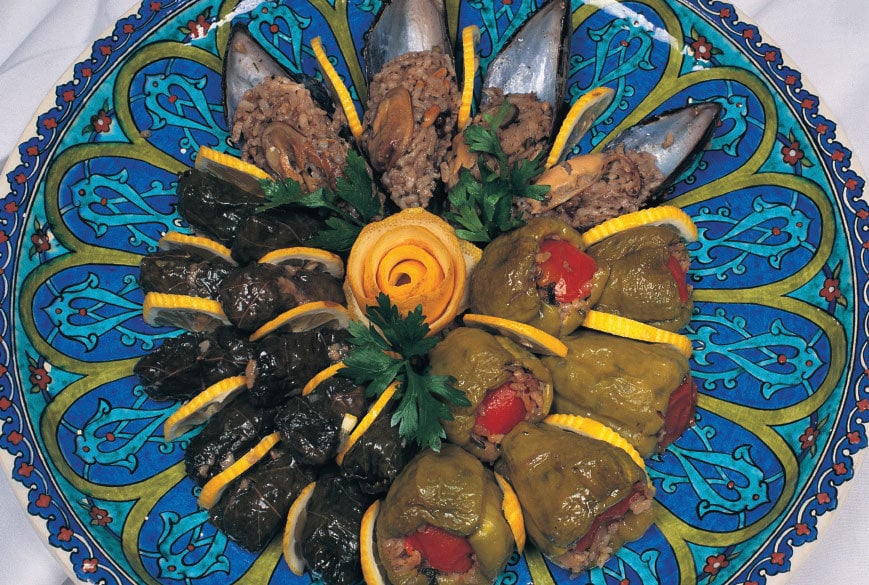 Photos courtesy of Turkish Culture & Tourism Office in New York.
Pages