From Montana to Tanzania, we've found pampering properties that offer state-of-the-art tents and loads of amazing views.
By: Sandra Ramani
Longitude 131°, Uluru, Australia
Dubbed Australia's "Red Center," Uluru is home to some of the continent's most iconic tourist sites and some of its most spiritual spots. Set in the rugged outback of the Northern Territory, the Uluru-Kata Tjuta National Park spreads out over 311,000 acres, and houses both Uluru — one of the world's largest natural monoliths, also known as Ayers Rock — and the natural red domes of Kata Tjuta, AKA The Olgas. Together, both natural wonders are part of an area rich in Aboriginal culture and sacred traditions. The town consists of a couple of hotels, a few shops, and — set a drive away from the others, overlooking the monolith Uluru — the magical Longitude 131°.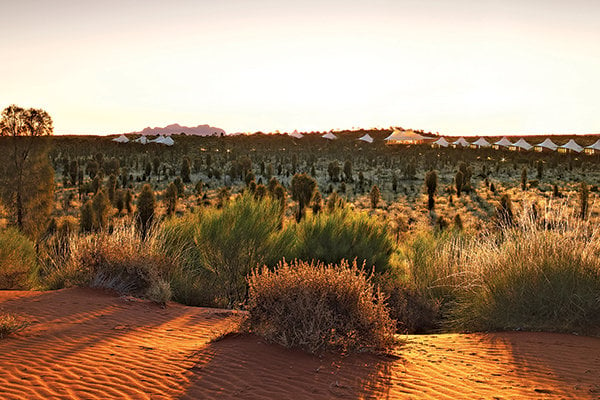 Photo courtesy of Longitude 131
The tents: Named for its navigational position, Longitude 131° features 15 supersized luxury tents, with peaked white roofs, a mix of contemporary and traditional furnishings and floor-to-ceiling windows with views of either the sunrise or sunset and the red-rock Uluru monolith. Perks include iPads, WiFi, stylish bathrooms with deluxe bathrobes, and plush king beds. There are plans to add three new honeymoon tents and upgrade all tents with outdoor lounges and fireplaces in late 2014.
The activities: Longitude requires a minimum two-night stay, and with good reason: You'll need that amount of time to enjoy all that the resort offers. A three-night package typically features a sunset tour of Uluru and Kantju Gorge; excursions to Kata Tjuta and Walpa Gorge; a sunrise walk around the monolith and a trip to the Culture Center. There are also visits to local galleries and townships. All tours have touches like canapés and cocktails during evening walks. In between tours, relax around the pool, hang out in the main Dune House lodge (with a bar and library of books, movies and games) or book a spa service.
Honeymoon highlights: All itineraries feature a dinner under the stars. Honeymooners can up the ante by booking upgraded experiences like helicopter flights, camel rides through the red sand dunes or Harley-Davidson rides across the desert (room rates start at $1,100 per person, per night and include meals and drinks, signature activities and airport transfers; longitude131.com.au).
Pages