Everything you need to know about the most popular destination in the ABC islands.
By: Stefania Sainato
Aruba's cuisine is just as multifaceted as its culture and history. Newlyweds can choose from Caribbean and vegetarian dishes to exotic creations and Italian, Mexican, and Creole fare. A must-visit is Papiamento Restaurant, a 175-year-old manor owned by the Ellis family. Diners are invited to tour the home before or after dinner, which contains precious Dutch antiques and an impressive wine cellar. Feast on authentic Aruban dishes in an intimate setting that feels as if it's a world away from the resorts.

Seafood lovers can get their fill of barracuda, grouper, snapper, mahi-mahi, and more. However, Jason and I are still dreaming about the Keshi Yena, which translates to "stuffed cheese." It's made by filling the leftover rind of an Edam or Gouda cheese with spiced meat, onion, green pepper, olives, capers, raisins and piccalilli—the flavor is unlike anything else we've ever tasted.
Wash it down with a potent Aruba Ariba cocktail, which was invented in the early '60s. It features coecoei (local liquor), vodka, rum, crème de banana, grenadine, and fruit juice, topped with Grand Marnier. Or, try the local Balashi beer, the only beer in the world made from desalinized saltwater.
Aruba hosts more than 50 island celebrations annually, including the Hi-Winds Windsurfing and Kitesurfing Tournament, an International Film Festival (first hosted by Richard Gere in 2010) and of course, Carnival, a two-month long affair kicking off at the start of the new year, with "jump ups" (street parties) and dazzling parades.
In November, I attended Aruba In Style, where designers, local celebrities and models come together to celebrate the best in island fashion. It's truly an international event, featuring up-and-coming designers from Holland, Colombia, Venezuela, Brazil and more. This year, Ronchi de Cuba's show was a standout for cocktail dresses that were just as spectacular as the runway setting—an Aruban mansion modeled after Versace's. Gigliola Designs made me want to stock up on flowing, sexy caftans for my upcoming honeymoon. (Visit arubainstyle.com for more info.)
"Arubianas" resort wear and Caffe swimwear collection:
Cyrnansck's wedding design presentation at Divi Village Golf & Beach Resort: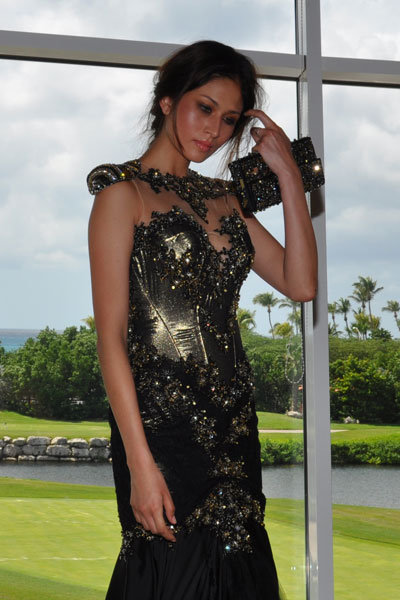 The incredible fashions featured and the jet-set crowd in attendance not only secure Aruba's status as a hot honeymoon destination, but also show that it's about to become an even hotter place to visit in 2013. Initially, Jason and I were compelled to visit because of its romantic beaches—and trust us, they're worth all of the hype—but we found that the island has much more to offer couples than just that. Looking back on our experience, some of our favorite memories were the ones we didn't expect: zipping around the island in a kukoo kunuku bus, singing Latin songs and shaking maracas; receiving wedding advice from friendly Arubans, who told us about their own big day; and the feeling of calm that came over us when we snorkeled for the first time together, holding hands as we were surrounded by schools of fish. Will we ever return? Let's just say that we wouldn't be surprised if the return rate for visitors goes up just a tiny bit.
Pages