Everything you need to know about the most popular destination in the ABC islands.
By: Stefania Sainato
Adventure-seekers and beach bums alike—my fiancé and myself, respectively—have endless options for exploring the natural beauty of the island. Arikok National Park is a rugged landscape of cactuses, Divi-Divi trees and abandoned gold mines. Go on a Jeep Safari tour, hiking, biking, or horseback riding.

Most couples don't rent a car, because taxis and tour pick-up services are readily available. (Book a ride on Kukoo Kunuku, a 1957 Chevy bus with quirky illustrations, to really get the party started).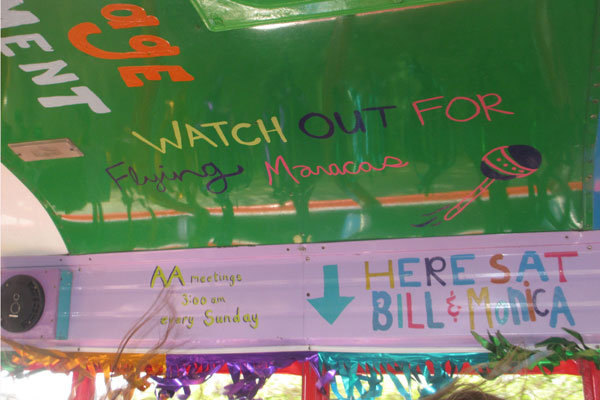 Since the island is only about 20 miles long, newlyweds can visit all of the major sightseeing spots in just one day. Your first stop: The Alto Vista Chapel, Aruba's first Roman Catholic Church. Rebuilt in 1952, it now stands in the same location as the original, which was constructed by Domingo Silvestre in 1750.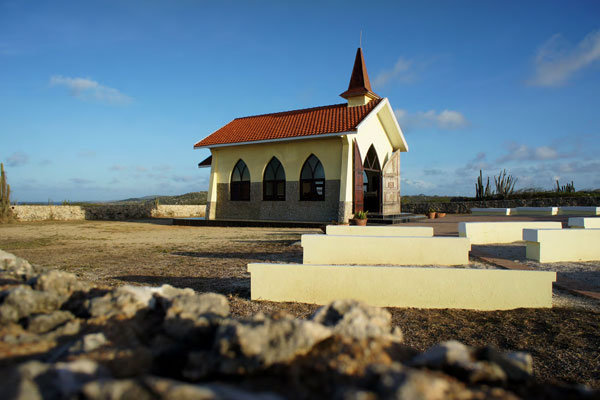 On the Northern coast, the Bushiribana Gold Mill Ruins is a relic from the gold rush of the nineteenth century. Today, legend has it that if you find three rocks and place them one on top of the other, three of your wishes will come true. 

Another noteworthy site is the Ayo Rock Formations, unusually shaped boulders that weigh several tons (look closely and you may spot a monkey.)

If you only had time to visit one site, I'd recommend the California Lighthouse. It's the perfect perch to gaze at the island's Western coastlines, rolling sand dunes and spectacular sunsets. It's named after a U.S. ship that sunk nearby about two years prior to its construction in 1910.
Once you've explored the land, under-the-sea adventures await: Aruba offers 27 snorkeling sites based on different skill levels. Our favorite was the Antilla, a shipwreck submerged 60 feet under the ocean, just offshore of Malmok Beach. Jason and I spotted squirrelfish, parrotfish, and a moray eel beneath its murky depths. Aruba is also one of the few places in the world where you can try blokarting (land sailing) in addition to crowd-pleasing water sports like jet skiing, paddleboarding, surfing, and more (visit aruba-redsail.com for more info).
If you need a break from sun and fun, stroll through downtown Oranjestad, which has shopping centers, historic museums and vibrant art galleries. Although Aruba isn't a duty-free port, tax is only 1.5 percent, so my fiancé got a great deal on Cuban cigars. You can also score Dutch cheese, Delftware pottery, jewelry and high-end bags from brands like Louis Vuitton for much, much less.
With over 90 nationalities, Aruba is more diverse than some of the other Caribbean islands. A former Dutch colony, Holland's influence is pervasive throughout the island, from pastel-hued homes to the language to fried snacks like pestechi. Arubans speak four different languages: Dutch, English, Spanish, and Papiamento, which is the native language. The latter is a hybrid between African and European-based vocabulary. Two phrases to learn: "Mi ta stima bo" (I love you) and "Masha danki" (thank you very much).
Next: What to eat and when to visit Aruba ►
Pages