Looking for your place in the sun? Find it in our guide to 22 of the Caribbean's top spots for honeymooners.
1. Anguilla
This British West Indies island has beautiful, uncrowded beaches and rivals St. Barts as a vacation mecca for the rich and famous.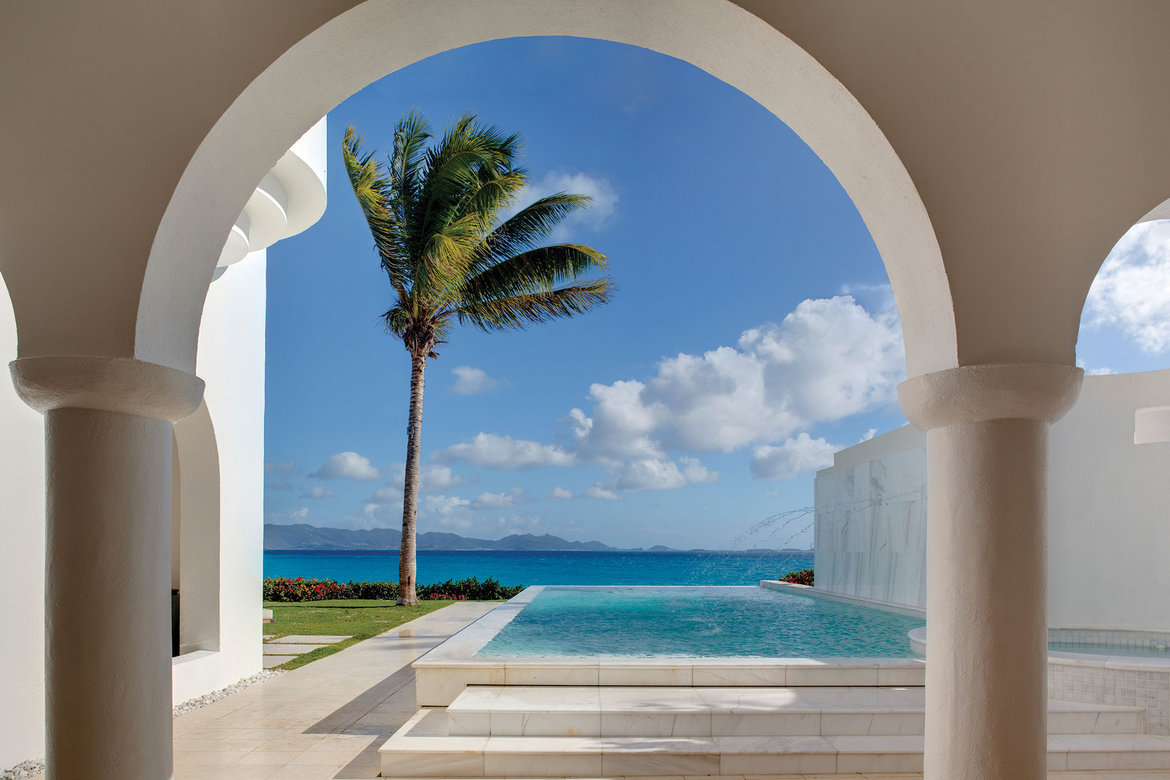 Photo courtesy of Cap Juluca
Best for: Food enthusiasts. There are over 100 places to eat in Anguilla's 35 square miles. Cuisine ranges from roadside bistros serving local specialties to pristine seaside restaurants catering to passionate gourmands.
Not for: Serious shoppers. Unlike islands with slews of duty-free shops, Anguilla's retail offerings are basically limited to galleries showing the work of local artists and hotel gift shops.
Highlight: Water-taxi to tiny Scilly Cay for a barbecued lobster curry lunch. Grab a waterside table at the islet's restaurant, place an order, and snorkel while you await your meal.
Sweet Dreams: Cap Juluca is a luxurious hotel on a sweeping strip of beach. White villas topped with Moorish domes house guest rooms, which have massive, shuttered windows and balconies overlooking the Caribbean. 
2. Antigua
Antigua is a water world, with beautiful beaches for sunbathers and perfect anchorages for sailors. Even its most historic attraction — Nelson's Dockyard, once home to the British fleet in the Caribbean — is thoroughly nautical.

Photo courtesy of Antigua and Barbuda Tourism Authority
Best for: Canoodling and skinny-dipping on serene, secluded beaches. Another plus: The atmosphere at most of the resorts is decidedly romantic and sophisticated — not too "kiddie" and not too commercial.
Not for: Couples who hope to browse for luxury goods at duty-free shops.
Highlight: The Home Restaurant. Make time to enjoy an authentic West Indian feast at this top-rated gem.
Sweet Dreams: For laid-back elegance, the Curtain Bluff Resort is a sure thing — especially because all of its rooms have stunning views of an unspoiled beach and the blue Atlantic. A more affordable option: Coco's Antigua, an intimate all-inclusive property, is chic and romantic.
3. Aruba
Quiet lounging isn't Aruba's big draw — instead, people visit this desert island for near-perfect weather year-round and for the opportunity to fill their itineraries with activities.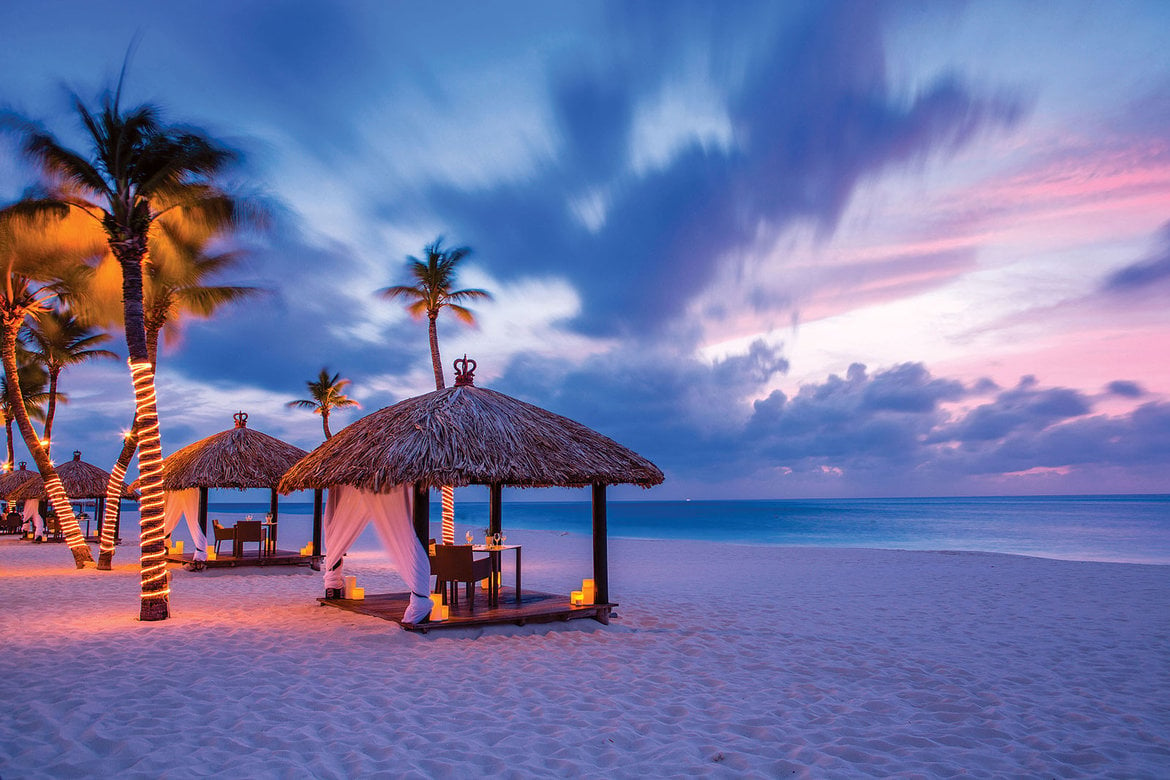 Photo courtesy of Bucuti
Best for: Honeymooners who want a party scene, shopping, scuba diving, kitesurfing, and windsurfing.
Not for: Couples who dream of tropical jungles and majestic mountains (Aruba is dry and flat). However, its beaches are spectacular, with powdery sand and crystal-clear water.
Highlight: The ultimate must-do for honeymooners: a private sunset sail via catamaran. Your concierge can help you arrange one.
Sweet Dreams: The Bucuti & Tara Beach Resort is a favorite for honeymooners who crave seclusion and luxury, in part because it's set on Eagle Beach, the largest and prettiest on the island. Rooms feature king-size beds, private terraces and chic, contemporary furnishings. Meanwhile, the more affordable Divi Dutch Village Beach Resort features suites with punched-up colors and wicker furnishings.
4. British Virgin Islands
British Virgin Islanders could drape the terminal at Beef Island Airport in a giant banner that reads, "Welcome to the Sailing Capital of the World" — although they'd never actually do anything so crass. But that's essentially what the BVI has become over the past 30 years: the globe's number-one spot for summer (and honeymoon) sailors.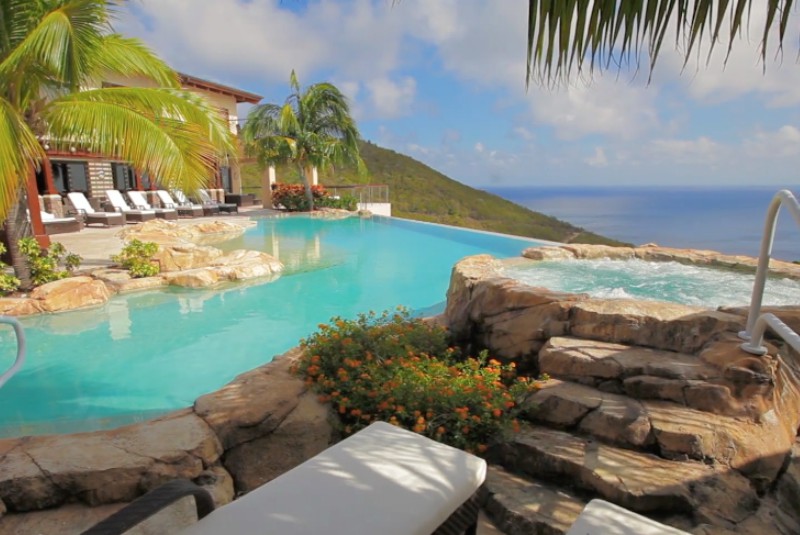 Photo courtesy of Peter Island
Best for: Couples who want to learn the basics of sailing and spend their nights at a private-island resort. Or newlyweds with enough experience beneath the mast to sail off on their own bareboat charter honeymoon.
Not for: Anyone who prefers the self-serve piña colada machines and 24/7 party scene at a mega-resort. These islands are really for those who want peace and quiet with their tropical paradise.
Highlight: Spending a day alone on Anegada, a coral atoll, where there's always an empty beach and an offshore wreck waiting to be explored by scuba divers or snorkelers.
Sweet Dreams: The BVI is famous for posh resorts. But one of the archipelago's most romantic digs is the almost legendary Sandcastle Hotel, on secluded Jost Van Dyke island. This is the Caribbean straight out of Jimmy Buffett — hammocks strung between coconut palms, cool breezes, cold beer, cottages draped in bougainvillea and hibiscus, and a bar packed with people from all around the world telling seafaring yarns. Want that super-indulgent, posh resort experience? BVI also has a half-dozen private-island resorts, including the renowned Peter Island.
5. Cayman Islands
The islands that make up the Cayman Islands (Grand Cayman, Little Cayman, and Cayman Brac) are surrounded by gorgeous, clear water, making them a diving hot spot. They also have a culture of politesse, which makes visitors feel safe and at home.

Photo courtesy of Cayman Islands Department of Tourism
Best for: Couples who appreciate high-end resorts and the high-stakes adventure of wall diving.
Not for: Those who want to explore local villages for exotic cultural experiences. The Caymans have an American standard (and style) of living.
Highlight: Scuba divers love the Sunken City of Atlantis, where a local artist constructed a below-the-surface city with sculptures cast from rock, sand, and cement — all of which are fostering the growth of a brand-new reef.
Sweet Dreams: The Ritz-Carlton, Grand Cayman is located on Grand Cayman's famous Seven-Mile Beach. It has a La Prairie spa, a Greg Norman golf course and a restaurant overseen by the chef of Le Bernardin, the New York City French food palace. Rooms have private terraces, and there are also secluded oceanfront condos. A more moderately priced choice are the accommodations at the Rocky Shore Villas. It has charming rooms — some in private cottages — and offers classes on traditional island cooking and fishing.
6. Barbados
Locals are proud that Barbados retains more British flavor than any other Caribbean landfall: Afternoon tea, driving on the left and cricket are a few of the customs the Brits left behind. And unlike islands where traditions are fading, Bajans (as the islanders call themselves) embrace these customs as part of their national character.

Photo courtesy of Barbados Tourism Marketing
Best for: Pretending that you're in a tropical England. Dig into a champagne-and-caviar picnic while watching a match at the Barbados Polo Club, or attend a garden party hosted by the Barbados Horticultural Society.
Not for: Spring-break party scenes. The club-and-café area around the Careenage yacht basin in downtown Bridgetown can get pretty rowdy on weekends, but this isn't a place for party animals.
Highlight: Walking hand-in-hand down the wildly romantic Bathsheba Beach, knowing that a young Queen Elizabeth II once strolled here, too.
Sweet Dreams: The legendary Sandy Lane is back among the Caribbean's best hotels. From the palatial guest rooms and luxury spa to the 18-hole golf course, everything is outfitted with the best that money can buy. And they really do treat you like royalty. The St. Lawrence Gap area is full of less-expensive alternatives, including the nifty little Southern Palms Hotel, which features brightly decorated rooms along a lovely beach.
7. Curaçao
This little Dutch island off the coast of Venezuela is a melting pot of people from all around the globe: More than 50 different nationalities and ethnic groups are represented in an area about a sixth of the size of Rhode Island. This mix of cultures makes Curaçao one of the most cosmopolitan places on the planet — an island of interesting food, intriguing art, and pretty good duty-free shopping.

Photo courtesy of Island Outposts
Best for: Couples who crave a side dish of art and architecture with their coconut-palm-tree-and-turquoise-bay honeymoon entrée.
Not for: Die-hard beachcombers. Curaçao has its nice strands, but they're few and far between, and not in the same league as those of more fabled Caribbean beach destinations.
Highlight: Roaming the island's Punda and Otrobanda districts, where hundreds of Dutch-colonial buildings have been lovingly restored and are now restaurants, bars, music clubs, art galleries and duty-free shops.
Sweet Dreams: The Kurá Hulanda Village & Spa offers a model upon which every Caribbean boutique hotel should base itself. The resort is located in an ancient, walled colonial compound with cobblestone streets, pastel walls and one of the best museums in the Caribbean, making a stay there feel like a journey back in time. Couples with a hankering for a beachfront setting should check out the Renaissance Curaçao Resort & Casino.
8. Dominica
With 60 percent of the island still covered in rainforest — much of it protected within the confines of national parks — and more than 365 rivers (one for each day of the year), Dominica is a Caribbean version of the Garden of Eden.

Photo courtesy of Jungle Bay Resort & Spa
Best for: Couples who donate to Greenpeace or the Sierra Club. Dominica has staked its future on eco-tourism, and the island offers visitors everything from guided rain-forest hikes and jungle river adventures to what many people consider the best whale-watching in the West Indies.
Not for: Anyone who expects luxury spas, Cordon-Bleu cooking, satellite TV or door-to-door limo service. Dominica is the unspoiled Caribbean — modest, economical and drop-dead gorgeous.
Highlight: A romantic dip (skinny or otherwise) at Emerald Pool in Morne Trois Pitons National Park or in one of the dozens of other secluded waterfalls that are scattered about this incredibly lush, green island.
Sweet Dreams: Perched along the waterfront of the island's largest town, Fort Young Hotel is within the stone walls of a ruined 18th-century British-colonial fort. Friendly and comfortable but certainly not fancy, the hotel offers a perfect base for exploring the rest of Dominica and a most happening scene on Friday nights, when the rum punch flows freely to the sounds of live reggae and calypso. Or get back to nature at the wildly romantic Beau Rive, on the secluded east coast.
9. Dominican Republic
Friendly people, a vibrant culture, miles of beaches and affordable resorts all attract visitors to the bustling, Spanish-flavored Dominican Republic.

Photo courtesy of Hard Rock Hotels
Best for: Couples who crave adventure in the sun. You can hike 10,000-foot peaks, windsurf in terrific cruising grounds, scout for humpback whales, snorkel and scuba dive with a kaleidoscopic array of fish and bike through the fecund countryside.
Not for: Haute cuisine. Chicken dinners with sides of rice and fried plantains are the norm. Your best bet is to choose the grilled fish — more than likely, it's just off the boat.
Highlight: Protected by a barrier reef, the bay at Cabarete, 23 miles east of Puerto Plata, is an ideal place for beginners to try windsurfing. The Carib BIC Center offers equipment and instruction for one hour or one week.
Sweet Dreams: When you're not zipping across the water at Cabarete, relax in one of the hammocks at the Velero Beach Resort. All junior suites are smack-dab on the beach and equipped with a full kitchen. It's good to know you can grab a cool one from the fridge at any time.
10. Grenada
Also called "The Spice Island," Grenada has grown its trademark nutmeg, along with mace, cinnamon, and cloves, for centuries. The island is home to mountainous rainforests alive with tropical birds and monkeys, white- and black-sand beaches, and welcoming people.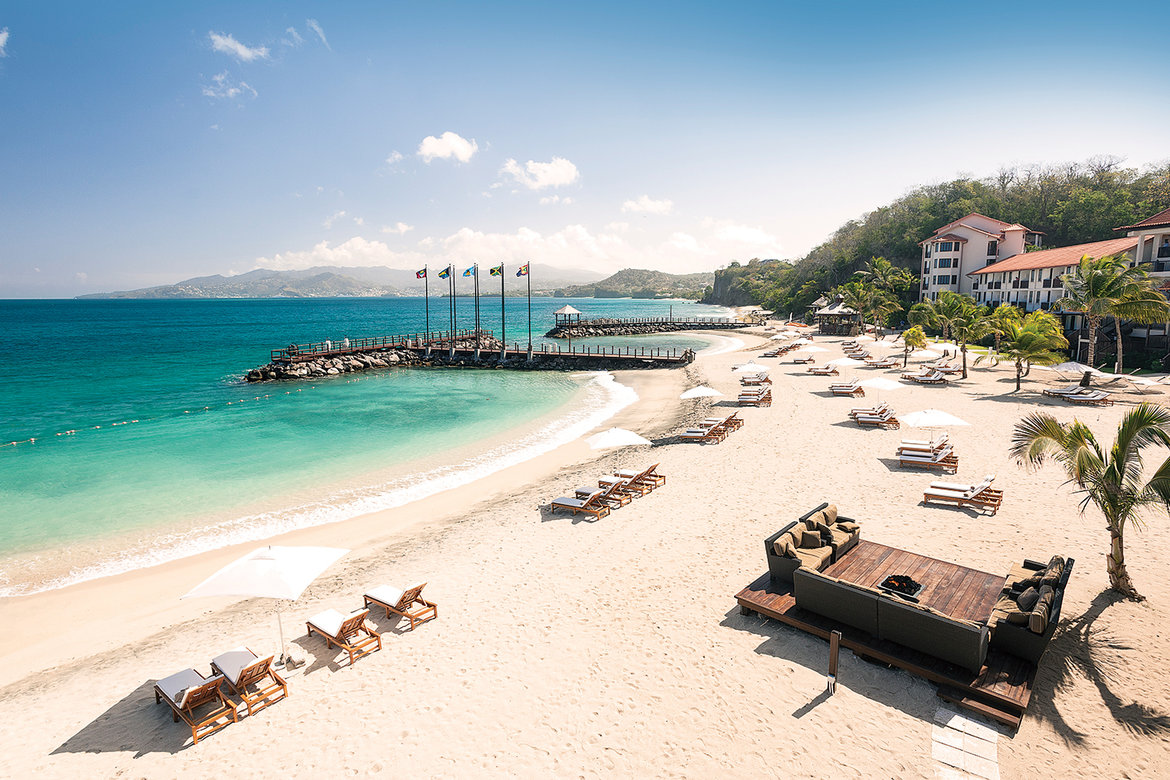 Photo courtesy of Sandals Resorts
Best for: Outdoorsy couples who love to get their feet wet will enjoy exploring Grenada's lush jungles, waterfalls, and beautiful beaches.
Not for: Name-droppers and party animals; though in some cases decidedly luxurious, Grenada is wonderfully low-key and unpretentious.
Highlight: Explore Grand Etang National Park, where you can hike to the Seven Sisters Waterfalls and jump in for a swim, or go tubing down the Balthazar River. Adventure Jeep Tours offers tubing trips.
Sweet Dreams: Spice Island Beach Resort's rooms stretch along the golden sands of Grand Anse Beach (the island's most famous strand). All have oversize whirlpool tubs, Frette linens, Molton Brown amenities and a patio or balcony. The 1,500-square-foot suites come with a private plunge pool. 
11. Jamaica
There's no better place for a laid-back honeymoon, where you'll listen to hip-swaying music at every turn, than Jamaica — the birthplace of reggae.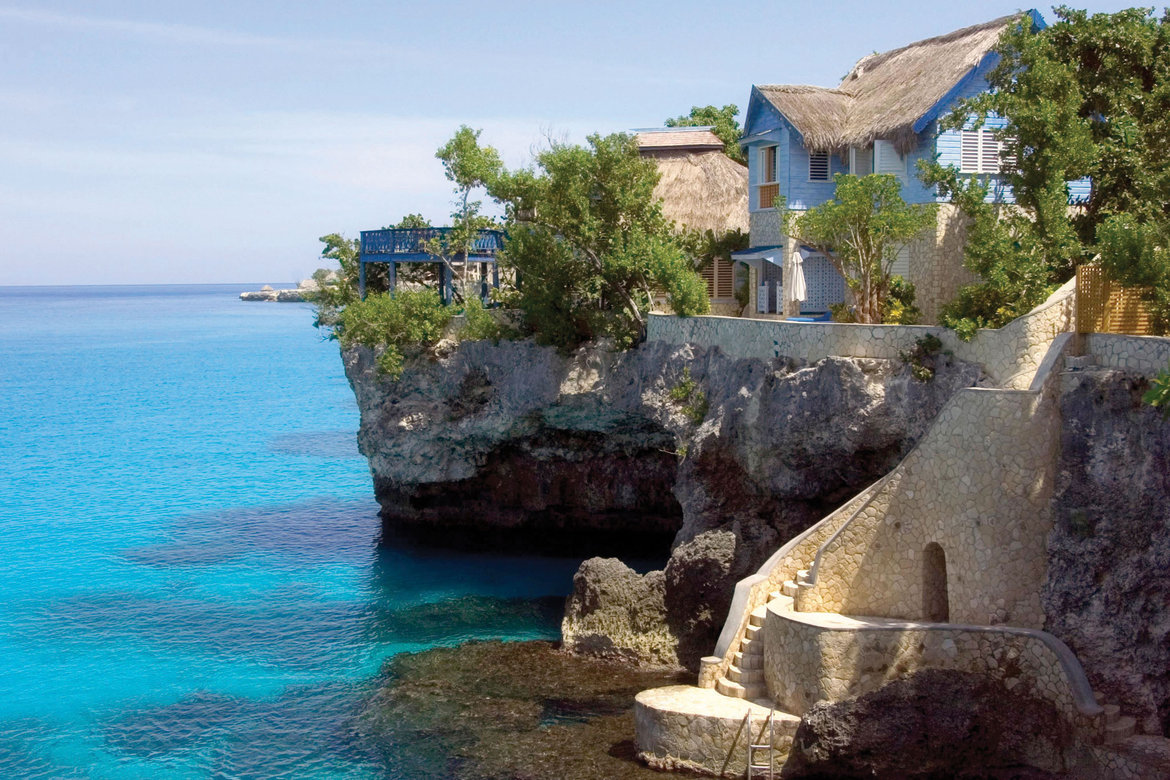 Photo courtesy of Island Outpost
Best for: Music fans. Bob Marley lovers can hop on Chukka Caribbean Adventures' Zion bus tour, which takes you through the countryside of St. Ann, the music legend's home parish. Or, you can take a snorkeling cruise in Montego Bay's Marine Park; after your dive, the music and dancing begin right on deck.
Not for: City slickers. If dusty roads and ordering a Red Stripe beer from a beverage stand on the roadside just aren't your thing, you could while away the hours of your honeymoon at your resort. But if you do, you'll miss out on the people and atmosphere that make the island so special.
Highlight: Traveling in January? Check out the jazz and blues festival, which is held annually in Montego Bay and features contemporary reggae artists like Maxi Priest and Shaggy.
Sweet Dreams: Situated in a secluded area of central Jamaica, Jake's Treasure Beach, an intimate boutique hotel, offers a music library filled with sounds from around the world. One of the best parts about staying there: the affordable room rate. If you don't mind paying a bit more, book a room at the sleek Half Moon Resort in Montego Bay.
12. Martinique
Martinique could easily pass for the south of France — whitewashed walls and red-tile roofs, techno pouring from the open doors of a waterfront disco, the aroma of garlic and wine wafting from some country kitchen, the tricolor flying from French naval ships. It's the tropical beaches — and those ubiquitous coconut palm trees — that keep reminding you that you are actually in the Caribbean.

Photo Credit: M. Jerome Mondiere
Best for: Couples who like to shop together. The boutiques and department stores near Martinique's Place de la Savane, in Fort-de-France, and La Galleria shopping center, near the airport, offer a veritable buffet of French luxury goods for browsing — upscale fashions, perfume, jewelry, wine and gourmet foods — and many of them are straight from Paris.
Not for: Anyone who expects the locals to speak English. Martinique is a full-fledged French department, a status that is similar to Hawai'i's in the U.S. Parlez-vous Français?
Highlight: The local food, which is a delicious combination of zesty Caribbean Creole cooking and classic French cuisine.
Sweet Dreams: Created by a descendant of one of the island's first French settlers, the Cap Est Lagoon Resort & Spa blends old-world pampering and 21st-century amenities like plasma-screen TVs and private plunge pools. A retreat for Euro-rich and royals, the resort sprawls along one of Martinique's most picturesque bays. Those traveling on a tighter budget can opt for the beachfront Hotel Bakoua.
Little Nevis, one of the smallest landfalls in the Caribbean, has a huge heart, making it one of the most friendly islands for visitors. With countryside dotted by old sugarcane plantations and highlands dominated by a hulking volcano, Nevis is also one of the most scenic of the Caribbean isles.

Photo courtesy of Nevis Tourism Authority
Best for: Laid-back honeymoons with an emphasis on activities such as lounging in bed, lying around the pool and maybe a little limin' (hanging out) around the hotel bar at night.
Not for: Adrenaline freaks. Scuba diving, deep-sea fishing, golf and horseback riding are readily available, but Nevis is not the place to come if you want to spend your honeymoon on the back of a WaveRunner.
Highlight: Rent a car and drive the round-island road, only 20 miles and easily doable in a single morning or afternoon. Stop along the way in quaint villages, in old country churches, at the daily street market in Charlestown and on the golden sands of Pinney's Beach.
Sweet Dreams: It would be difficult to find, anywhere on the planet, a more romantic setting than the Nisbet Plantation Beach Club, tucked in a coconut grove beside a beach. Although little remains of the 18th-century plantation — the childhood home of Horatio Nelson's wife, Frances Nisbet — the bygone charm endures, making it a place to act out your own tropical version of Pride and Prejudice. If an ultramodern retreat is your style, the Four Seasons Resort Nevis, on Pinney's Beach, should be just right.
14. Puerto Rico
This huge, mountainous island may be part of the U.S.A., but the thoroughly Latin ambiance gives it the feel of an exotic foreign land. You can base yourself in one place (like San Juan or the west coast) or undertake a motoring honeymoon that encompasses a number of destinations.

Photo courtesy of Puerto Rico Tourism Company
Best for: Couples who think that variety is the spice of life. In Puerto Rico, you can have a big-city or a middle-of-nowhere honeymoon. You can stay at an ultramodern resort or a renovated Spanish plantation estate. You can lounge along a white-sand strand or explore jungled national parks. It's one of the few Caribbean isles that literally offers something for everyone.
Not for: People who don't like to move. Puerto Rico is a cradle of salsa. There, even wallflowers are expected to get up and dance.
Highlight: A night out in San Juan: walking the cobblestone streets of the Old Town hand in hand, dining by candlelight in a café overlooking the waterfront, and then dancing the night away at a crowded salsa club.
Sweet Dreams: Get away from it all at the secluded Bravo Beach Hotel on the island of Vieques, which lies between the main island of Puerto Rico and the U.S. Virgin Islands. Puerto Rico has plenty of other chic sleep options, including the wildly romantic Horned Dorset Primavera on the west coast.
15. St. Barthélemy
This chic French island is all about being gorgeous, rich and famous — or at least pretending to be — whether you find yourself lounging on some beautiful beach, zipping around in a Smart Car or dining at a trendy café.

Photo Credit: Eden Rock St. Barts
Best for: Couples who love spending time (and money) with the beautiful people. One great place to join them is over lunch at the Tom Beach Hotel on St. Jean Beach.
Not for: L.L. Bean-wearing types most comfortable with burgers and beers, or those on a strict budget.
Highlight: Intimate and exclusive, like everything else about St. Barts, the tiny island's white-sand beaches are never crowded, so it's not tough to snag a prime spot. For the best people-watching ops, along with good swimming, water-sports rentals and a selection of restaurants, try Cul-de-Sac and St. Jean beaches. For a strand that's popular with locals, visit pretty Corossol Beach, which is set near a tiny fishing village.
Sweet Dreams: Awash in the colors of the sea and sand, Baie des Anges offers perfectly simple rooms, each with ocean-view terraces. Book a suite with a private pool, and you'll never want to venture off the grounds of the lovely Le Guanahani. All rooms have garden or ocean-view terraces, Hermès bath amenities, and free Internet access.
St. Kitts is home to green mountainside rainforests and historic sites, and its sister island is Nevis. While the island has been independent since 1983, it retains strong ties to its English heritage and offers a taste of an unhurried, uncrowded Caribbean.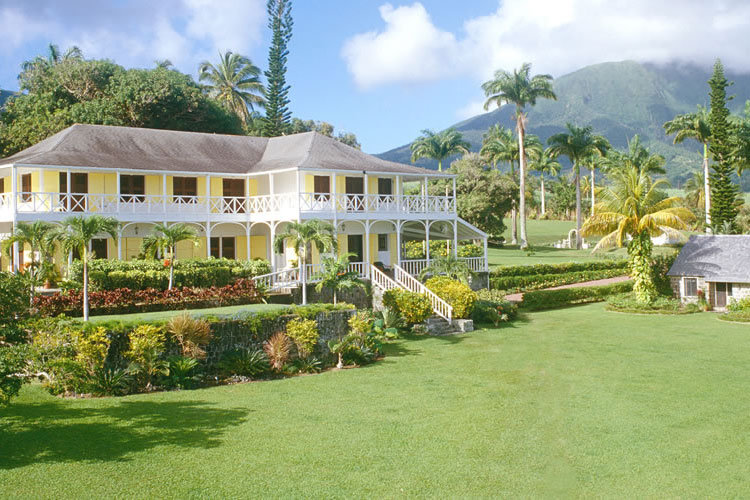 Photo courtesy of Ottley's Plantation Inn
Best for: Nature-lovers. Exploring rain forests, sugar plantations, majestic sea cliffs and the island's famous Mt. Liamuga, an extinct volcano situated at 3,792 feet above sea level, are musts for adventurous, outdoorsy couples.
Not for: Beach-lovers. If lounging on a postcard-worthy beach is your first priority (and will be your primary honeymoon activity), St. Kitts may not have enough idyllic strands to satisfy your sand-and-sea requirements.
Highlight: While some Caribbean boutiques have cheesy, commercial-grade batik clothing on offer, everything at Caribelle Batik is the real thing. Located in an adorable cottage on the grounds of a 17th-century estate, this workshop is open to visitors, who can watch artisans paint the fabrics by hand and see the finished hibiscus-red, canary-yellow and electric-blue garments drying in the sun. It's a can't-miss shopping experience — and a cultural one to boot.
Sweet Dreams: Ottley's Plantation Inn is as romantic as it gets. Situated on a hill 500 feet above sea level, this genteel, boutique resort is surrounded by thick fields of sugarcane, rain-forest trails and, in the distance, panoramic ocean views. Plan to stay in your own private cottage, with luxurious British-colonial-style appointments, as well as a private plunge pool and patio, where the cutest little green lizards are happy to keep you company while you soak up the sun. If you're set on a beachfront location, the Timothy Beach Resort is one of the better ones, and it's a great value, too.
17. St. Lucia
Best known for its dramatic landmark mountains, The Pitons, the French West Indies island of St. Lucia is also home to abundant rainforests, mountainous terrain, and spectacular dive sites.

Photo courtesy of St. Lucia Tourist Board
Best for: Nature-lovers. If you enjoy soft-adventure excursions, then St. Lucia won't disappoint. The town of Soufriëre has some of the best spots for viewing the island's coral reefs. While you're in the area, you can also hike the Fond Gens Libre Nature Trail.
Not for: The unadventurous. The island has remained relatively underdeveloped, so the roads are bumpy, and even the most upscale resorts feel remote.
Highlight: Try a jungle-biking tour at the Anse Chastanet Resort, in Soufrière. Along the way, you'll pass mango, coconut and cocoa trees as well as an 18th-century sugar mill.
Sweet Dreams: For an inexpensive — yet super-cozy — option, stay at Ti Kaye Resort & Spa, a secluded beachfront hotel on Anse Cochon. Rooms have private outdoor showers. For pricier digs that are just as nature-friendly, there's the Ladera Resort, on a hillside in Soufriëre. Rooms are open on one side, giving unobstructed access to a romantic plunge pool.
18. Saint Martin/Sint Maarten
Saint Martin (or Sint Maarten, its Dutch name) has a split personality. About a third of the island is Dutch — gingerbread houses, English-speaking and home to some delicious cheese. The other two-thirds is French — a bit more posh, a bit quieter and wine that's out of this world.

Photo courtesy of Orient-Express Hotels Ltd.
Best for: Flitting back and forth between two very different European cultures. You can have lunch in Paris, dinner in Amsterdam. A morning walk along the North Sea, a sunset stroll along the Mediterranean — or at least their Caribbean equivalents.
Not for: Anyone who thinks a tropical island paradise must have a rainforest and cloud-shrouded volcanic peaks. Truth be told, both sides of the island are well-populated, and the arid, natural landscape doesn't reflect the lush, mountainous idea that many people have of the Caribbean.
Highlight: Tear yourself away from the duty-free boutiques and head for a beach. St. Martin has some terrific strands: Dawn Beach on the Dutch side; Grand Case, Orient and Longue beaches on the French.
Sweet Dreams: Settle into a Mediterranean state of mind at the Hotel l'Esplanade, which sprawls across a hillside overlooking trendy Grande Case. Just steps away are dozens of outdoor cafés and bakeries, as well as the island's most celebrated beach. The front desk can arrange all sorts of water sports, including sailing, windsurfing, deep-sea fishing, and scuba. There are plenty of hotel bargains on the Dutch side, including the historic Pasanggrahan Royal Guest House.
If your romantic fantasies include swashbuckling sword fights (or Johnny Depp), then SVG is the place for you. This lovely archipelago in the southern Caribbean is where Pirates of the Caribbean was filmed. St. Vincent is the volcano-crowned main island; the Grenadines are a chain of smaller upscale landfalls that sprawl to the south along the turquoise sea.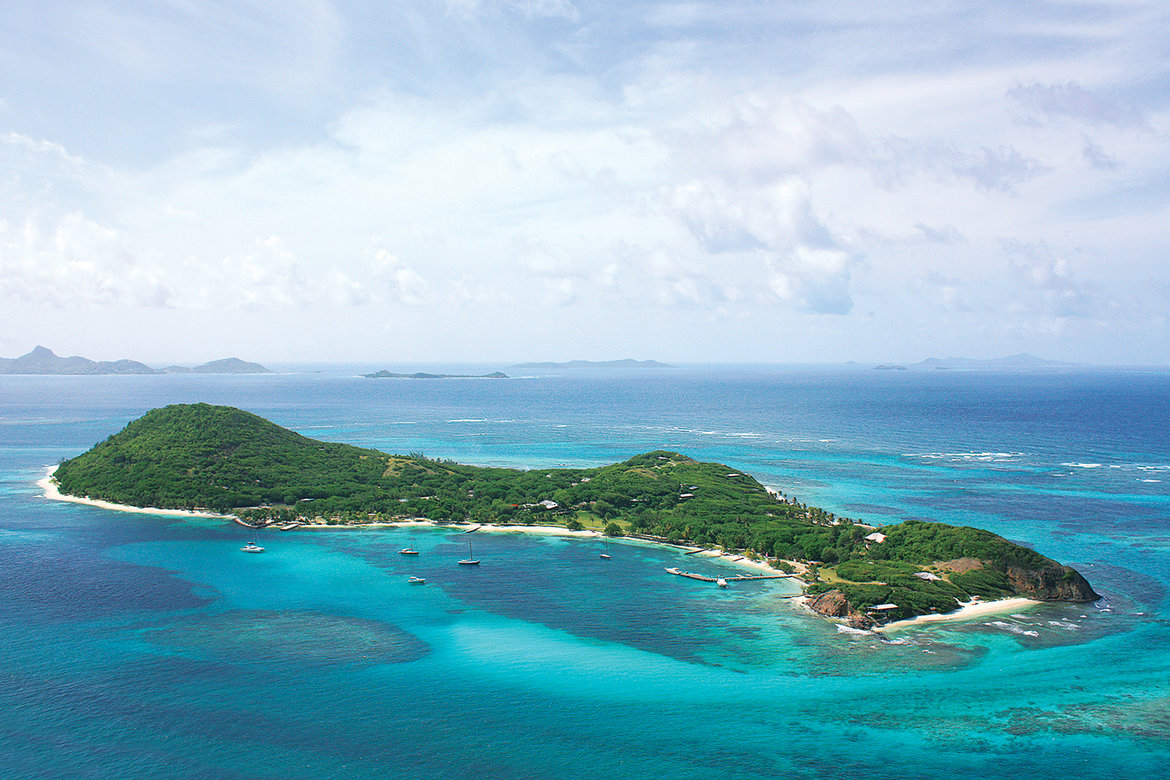 Photo Credit: Wolf Wörster Associates
Best for: Island-hopping. Even if you don't have your own boat, the islands are well connected by commuter flights and ferries. About a dozen boats per day ply the hour-long route between Bequia and St. Vincent.
Not for: Anyone on a tight budget. Many of the posh Grenadines (especially Mustique, Palm Island and Petit St. Vincent) have long been the haunt of the rich and famous. If you have to ask the price, these islands aren't for you.
Highlight: A speedboat trip along St. Vincent's western shore, visiting black-sand strands and places where Depp's Captain Jack Sparrow once frolicked (a.k.a. movie locations). Stop at Wallilabou Bay for lunch and check out the sets still standing from the Pirates filming.
Sweet Dreams: The Canouan Island brings Asian hospitality to Caribbean shores. It's a sprawling mega-resort with its own Trump casino, an Amrita spa, four gourmet restaurants, two white-sand beaches and an 18-hole championship golf course (check out that killer view from the 13th tee). Every room comes with panoramic ocean views and a golf cart for tooling around the lush, 300-acre estate. Young Island, a petite private-island resort just off the coast of St. Vincent, offers romantic digs.
20. Trinidad and Tobago
Trinidad and Tobago are the odd couple of the Caribbean, islands that couldn't be more unlike one another but are now joined at the hip as one sovereign country. With its diverse population and humid lowlands, Trinidad feels more like South America than part of the West Indies. Tobago, on the other hand, is a bona fide island paradise of palm trees and golden sands.

Photo courtesy of the Trinidad & Tobago Tourism Board
Best for: Music fans. The birthplace of calypso, soca, and the steel drum, Trinidad is where the modern Caribbean sound was first heard and continues to thrive. Even if you're not there at Carnival time, you can still catch live music at local clubs and "panyards" where the bands practice year-round.
Not for: People who don't want to leave their resorts and mix with locals. "Trinnies" are a gregarious bunch who love to hang out, brag about their islands and talk about just about anything. Spending some time getting to know them is a high point of any visit.
Highlight: Depends on the island. In Trinidad, it's a visit to the celebrated Asa Wright Nature Centre in the northern highlands, where the rain forest takes center stage. In Tobago, it's beach-hopping your way down the north shore, from Man O' War Bay to Buccoo Reef.
Sweet Dreams: "Hippie chic" flourishes at the Kariwak Village, a funky boutique hotel on Tobago that doubles as a beach resort and holistic health retreat. It's a place where yoga, tai chi and Ayurvedic massage count among the daily activities. The Chancellor Hotel is perfect for couples who seek the lively urban vibe in Port of Spain, on Trinidad.
Just over an hour's flight from Miami, this British territory is actually a chain of 40 islands and cays — many uninhabited — which you can easily hop to from the hub, Providenciales (Provo).

Photo Credit: Paradise Photography
Best for: Exploring. It doesn't get much more romantic than chartering a private yacht to a virtually deserted island for the day. Once there, you and your new hubby can stroll along ultra-white beaches, gaze at wild flamingoes, snorkel in turquoise waters off the world's third-largest barrier reef, then hop back on the boat for a gourmet picnic lunch. 
Not for: Shopping and nightlife. Unlike many Caribbean islands, the Turks and Caicos have no real town center, and there are only two local nightclubs (and the hotel bars).
Highlight: Kayaking to tiny, conch-shell-strewn islands, snaking in and out of mangrove-lined coves along the way (keep your eyes peeled for little nurse sharks and other eye-catching marine life). Big Blue Unlimited, a small eco-tourist company in Provo, arranges kayak trips for groups as small as two.
Sweet Dreams: The Palms is a hip boutique hotel with suites featuring state-of-the-art kitchens, large terraces, and Acqua di Parma amenities. Before the Turks and Caicos developed into a luxury beach destination, there was just one tiny, quaint motel on beautiful Grace Bay Beach. It's still there today, and it's as cute as ever. A two-story, pale-pink, West-Indies-style property with traditional shuttered windows and fretted balconies, Sibonné doesn't have fancy amenities but it does sit on prime real estate.
22. The U.S. Virgin Islands
Of the three main islands of the U.S. Virgin Islands — St. Thomas, St. John and St. Croix — St. Thomas offers more choices in hotels and activities while being the most convenient to reach (most major airlines offer nonstop flights).

Photo courtesy of U.S. Virgin Islands Department of Tourism
Best for: Sailing. The calm waters and soft breezes around the U.S.V.I. make it easy and fun to explore by boat the tiny islands that dot the bays. Winifred Charters sails through Pillsbury Sound to spots such as Mingo, Lovango, and Whistling cays. Along the way. you will drop anchor to take guided snorkeling trips.
Not for: Shopping. At least, not if you're looking for authentic local art and crafts. The bustling port at Charlotte Amalie is packed with shops, but they lean more toward duty-free goods than artisan crafts.
Highlight: Drake's Seat. Travelers flock to this scenic lookout during the day, but the best time to take in the panoramic view of crystal-blue Magens Bay and the British Virgin Islands is at sunset, when the crowds are gone and the two of you can have it all to yourselves.
Sweet Dreams: Honeymooners who are looking to splurge can't top the Ritz-Carlton, St. Thomas. Set on 30 acres out on the far eastern tip of the island, the resort has two private, white-sand beaches and a spa.