For generations, infamous pirates plied the crystalline waters of the Caribbean in search of riches. Today, the islands offer a bounty of golden sands, loads of activities and great hotels.
By: Shea Peters

Photo courtesy of Sandals Resorts
Powder sands, turquoise waters and lush interiors are the siren hallmarks of the Caribbean. Historic sites and stories, however, are less of a trademark for this honeymoon-favorite region. But many of the picturesque islands are actually a treasure trove of pirate lore and history. These beautiful Caribbean nations promise a booty of adventures and arg-ubly some of the best beaches in the area. And yes, there's plenty of yo-ho-ho and a bottle of rum without the plundering.
Grenada
Today, this remote Caribbean island is known as the Spice Isle thanks to its robust production of nutmeg, saffron and allspice. But Grenada has a revolutionary past that includes defending itself against piracy, thereby boasting a handful of stone fortifications. Tour the verdant island's forts on a cultural excursion with Island Routes. Fort Matthew — the largest — is still equipped with ancient bathrooms and kitchens used during times of turmoil. It also flaunts some of the island's best views of the St. George harbor. Another don't miss is Grenada's Underwater Sculpture Park, a collection of sunken statues that are home to colorful fish and underwater fauna.
Where to Stay: Sandals LaSource, the newest member of the all-inclusive, couples-centric resort group, sits on the sands of Pink Gin Beach. The poshly designed property has nine eateries (the breezy Neptunes is a favorite, and the New York-style Butch's Chop House is a must-try), a pampering spa, two pools and endless watersports. Book into a Millionaire's Suite for a private plunge pool and an oversize bathroom a with tub-for-two (room rates start at $329 per person per night and are all inclusive; sandals.com).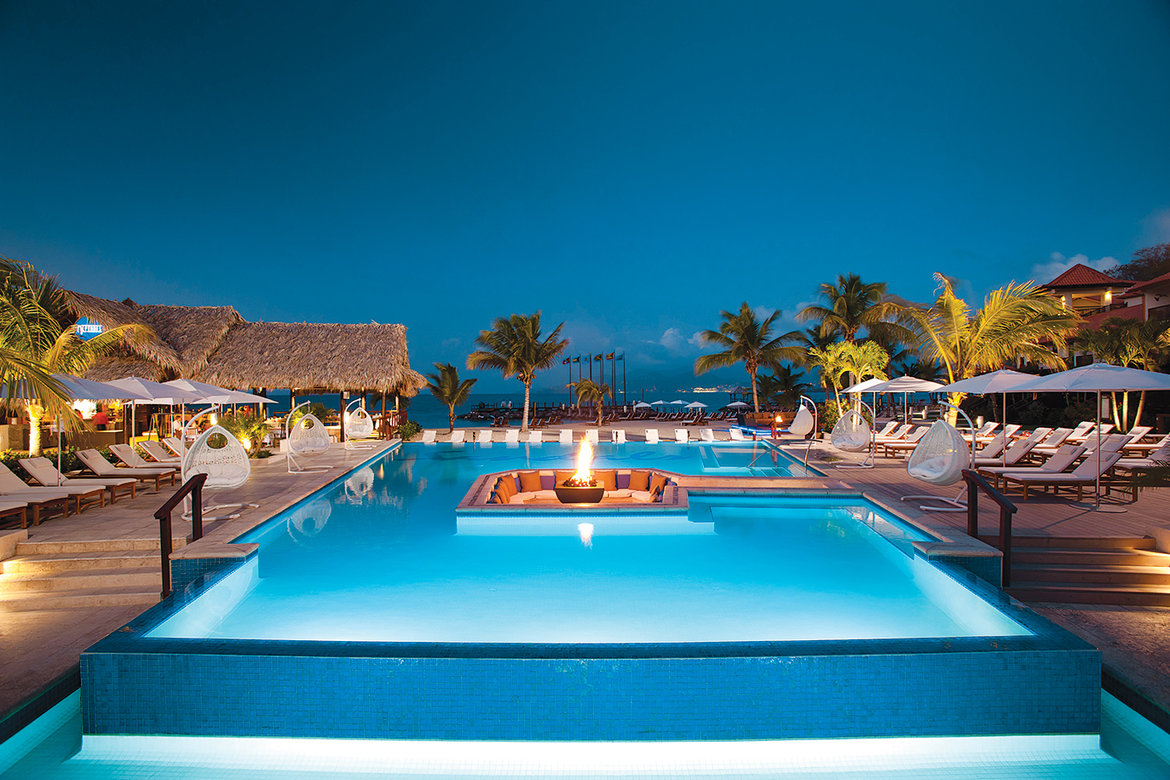 Photo courtesy of Sandals Resorts
Jamaica
One of the richest pirate histories belongs to Jamaica and the lost city of Port Royal, which served as the buccaneer headquarters for much of the region. The city was known for its wealth, high crime and prostitution, the combo of which led to Port Royal being dubbed the "most wicked and sinful city in the world." In addition to pirates, the infamous settlement was also home to many privateers including Captain Henry Morgan, the namesake of the popular rum brand. But it all changed in 1692 when much of the city, which was located on Kingston Harbour, was devastated by an earthquake. The "Sodom of the New World" also suffered a series of hurricanes and a great fire. Today, much of the pirate-popular port remains intact under the water. To explore it you'll need a special license. And it's recommended to dive with local guides, who have the most up-to-date information on the status of exploring the Port Royal ruins. Other non-pirate island attractions include the nearby Bob Marley Museum in Kingston.
Where to stay: Tucked into the mist-covered Blue Mountains, about an hour from Port Royal, Strawberry Hill is the perfect antidote to the raucous pirate history. In addition to the awesome local coffee and cuisine, the intimate mountain retreat offers mindful activities including hiking, yoga and unforgettable spa treatments (room rates start at $345 a night; strawberryhillhotel.com).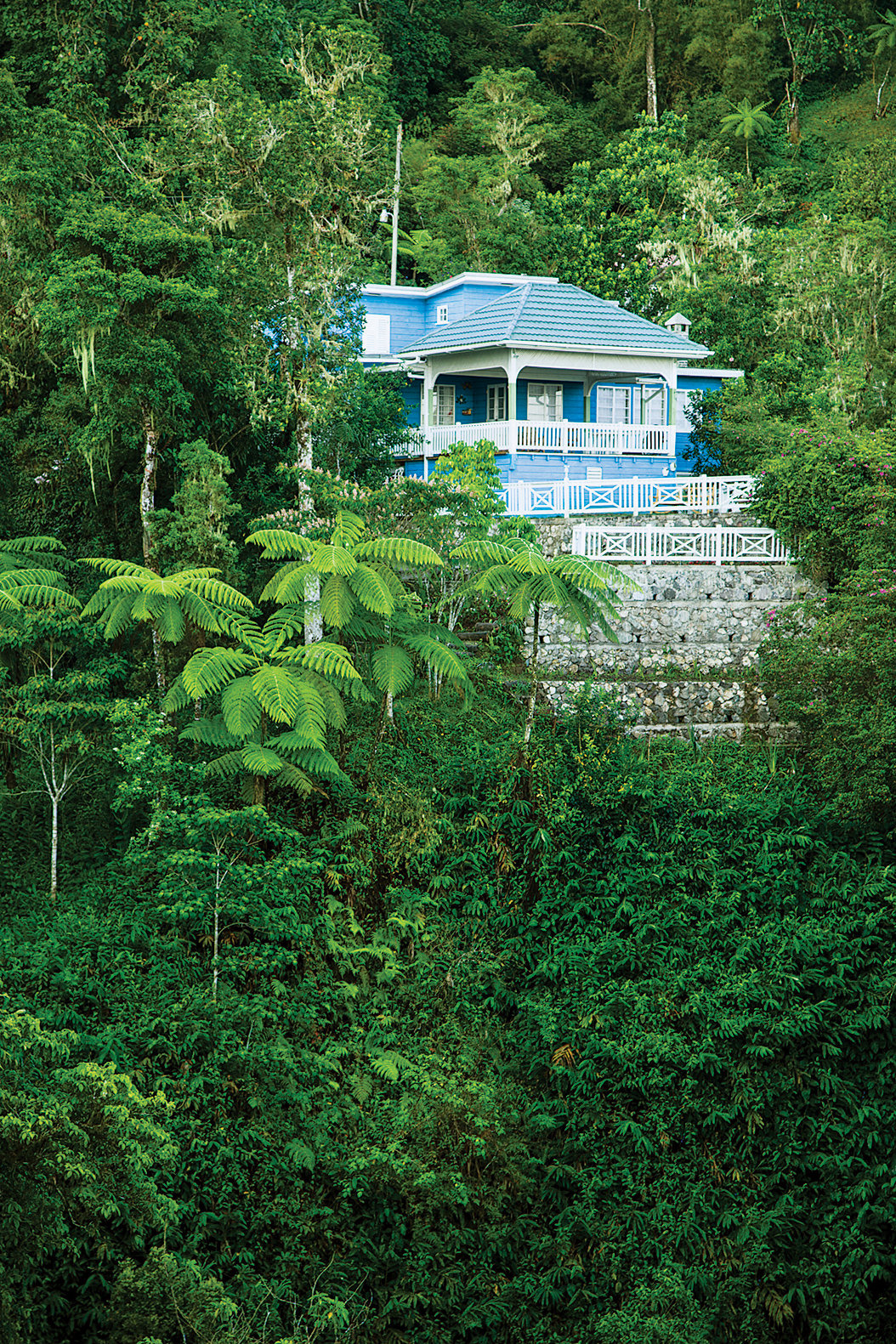 Photo courtesy of Jamaica Tourist Board
Bermuda
Known as "The Isle of Devils" due to its strategic location, this Mid-Atlantic island of pink sand beaches was home to many plunderers of the past thanks to the fact that for some time, piracy was legal. A most notable resident was Blackbeard, who became a bold-faced name of yore for capturing merchant ships that made the mistake of sailing into Bermuda's waters. Follow in his footsteps on the Pirate Adventure Night Cruise, which sails to Pirates Point, a spot that was notorious for looting ships. Enjoy rum swizzles while you listen to legendary tales from your captain and wonder just how far you may venture into the notorious Bermuda Triangle. The boat is equipped with sub-sea lights for night-viewing reefs, fish and shipwrecks from the deck. Back on land head to the Royal Navy Dockyard, which served as a fortification spot, and is now home to some of Bermuda's most picturesque vistas. In addition to housing the National Museum of Bermuda, the Dockyard also has an indoor market.

Photo courtesy of Bermuda Tourism Authority
Where to Stay: Sitting on nearly 100 acres, the Fairmont Southampton is lauded for its golf and spa amenities. Many of the 593 guest rooms offer Atlantic Ocean views; all have large bathrooms and sumptuous bedding. Stay in the Fairmont Gold level for specialized concierge service and more goodies (room rates start at $469 a night; fairmont.com).
Pages