From Kim Kardashian to Jessica Simpson to Lauren Conrad (and more!), these are the gowns we'd love to see our favorite engaged starlets rock down the aisle.
By: Stefania Sainato
There are so many celeb weddings to look forward to that we can barely keep count (just how long are you going to keep us waiting, Jen and Angelina?). 
We can't rub a crystal ball and predict what's in store. So, we did the next best thing and asked top bridal gown designers to sketch their wedding visions for A-list brides. Check out the spot-on styles they came up with — which dress would you most like to wear for your own nuptials?
1. Kim Kardashian 
Yumi Katsura sketched a lavish three-part dress for the soon-to-be Mrs. West. A body-conscious silhouette flaunts the 33-year-old's famous Kardashian curves, while the geometric seams and jeweled bolero fit her new style M.O. — North's mama has been stepping out in more fashion-forward styles as of late (when she's not strapped to a motorcycle in "Bound 2," that is).
"There's no way Kim Kardashian shouldn't be on the cover of Vogue. She's like the most intriguing woman right now. She's got Barbara Walters calling her like everyday," Kanye West said during an interview with Ryan Seacrest.
We think that the outspoken groom would appreciate this ostrich skirt...
...which can be removed to reveal a shorter hemline later on in the evening during dancing. After all, a live musical performance is a must (we nominate Beyoncé to belt out their first dance song!).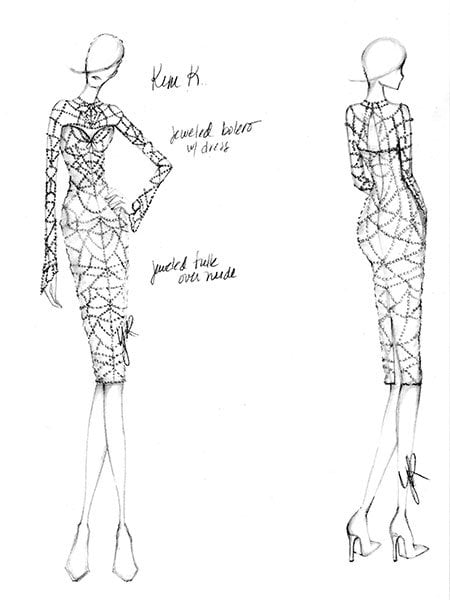 P.S. Check out this hilarious Barbie doll depiction of Kimye's wedding!
Pages