From glamorous gowns to simple suits, find out how these five moms found their perfect wedding-day attire.
By: Sharon Naylor
Bride: Angela Byrd Reed
Mom: Linda E. Byrd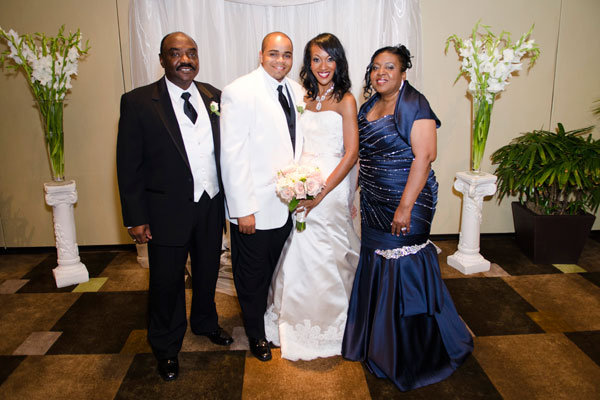 Photo Credit: Afolabi Sogunro of Fotos by Fola 
Wedding Date: July 9, 2011
Wedding Location: The Westin Savannah Harbor Resort in Savannah, Georgia
 Style of Wedding: Semi-formal; outdoor ceremony; ballroom reception
Wedding Colors: Neutrals including ivory, pearl, harvest gold, champagne, light pink
Bride's wishes for mom's dress: "I wanted my mom to feel like a queen on this special day!" said Angela. "I knew that something formal and floor-length would best enhance her poise and grace on the wedding day." Angela wanted her mom to wear something that represented the importance of her role as mother of the bride.
Mom's wishes for the dress: Linda wanted a long, formal gown. She had a few silhouettes in mind before the duo hit the boutiques.
How they found "the one":  Angela and Linda did some research in magazines before heading out and scheduled several shopping days together. They found the dress on their third trip: Linda chose an elegant, royal-blue strapless floor-length gown with ruched layers across the bodice, accented with crystal embellishments. It also came with a matching cap-sleeved jacket. "This experience created another level of memories for my mother and I to share for a lifetime!" said Angela.
Pages