From private nods to public tributes, here are ten ways to pay your respects on your wedding day.
By: Kristen O'Gorman Klein
One of the greatest issues couples struggle with when planning their wedding is how to honor a lost loved one. Whether you choose to acknowledge this person's absence publicly for your guests to share or privately for you alone, deciding how to do that can be challenging—you want to strike the right balance between acknowledging that loved one and fostering a joyous mood for your happy occasion.  

I've been there—my grandmother passed away four months before my wedding, so this was a big issue for me in the months leading up to it. I wanted to include my grandma, because she played such an important role in my life, but I didn't want to dampen the celebratory spirit of our wedding.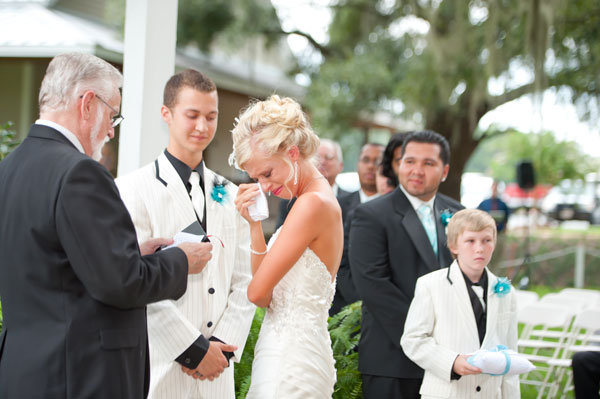 Photo Credit: ZDJ Photography

Before planning a tribute, consider these three important points:

How fresh is the wound?
Your goal should be to recognize that person—without casting a melancholy mood over your celebration. If your loved one passed away a few months before the wedding, you'll need to handle a tribute differently than if you've had time to properly grieve. You have to find your personal comfort level; I knew that if we did a moment of silence at the beginning of the ceremony, I'd lose it. I'd be the bawling bride on the altar who wasn't crying tears of joy. And even if you think you're strong enough to hold it together, consider how your tribute will make your guests feel.

How much attention do you want to draw to this tribute?
Dealing with death is a very personal matter. Consider whether you want your tribute to be for your eyes only or if you want a public message to recognize your loved one (or a combination of both). And if you're planning any kind of public tribute, we recommend informing others who were close to the deceased ahead of time so that they're not caught off guard.

What's most appropriate for that person?
Think about the personality of your loved one you wish to honor. Did she love being the center of attention, or did she prefer to stay out of the spotlight? What were her favorite activities, hobbies, and interests? What connected you two and helped you form a bond? Taking a look at your relationship will help you decide what tribute is most appropriate. 
Next: 10 ways to honor a lost loved ones, from subtle to bold ►
Pages