From private nods to public tributes, here are ten ways to pay your respects on your wedding day.
By: Kristen Klein
One of the greatest issues couples struggle with when planning their wedding is how to honor a lost loved one. Whether you choose to acknowledge this person's absence publicly for your guests to share or privately for you alone, deciding how to do that can be challenging—you want to strike the right balance between acknowledging that loved one and fostering a joyous mood for your happy occasion.  

I've been there—my grandmother passed away four months before my wedding, so this was a big issue for me in the months leading up to it. I wanted to include my grandma, because she played such an important role in my life, but I didn't want to dampen the celebratory spirit of our wedding.
Before planning a tribute, consider these three important points:

How fresh is the wound?
Your goal should be to recognize that person—without casting a melancholy mood over your celebration. If your loved one passed away a few months before the wedding, you'll need to handle a tribute differently than if you've had time to properly grieve. You have to find your personal comfort level; I knew that if we did a moment of silence at the beginning of the ceremony, I'd lose it. I'd be the bawling bride on the altar who wasn't crying tears of joy. And even if you think you're strong enough to hold it together, consider how your tribute will make your guests feel.

How much attention do you want to draw to this tribute?
Dealing with death is a very personal matter. Consider whether you want your tribute to be for your eyes only or if you want a public message to recognize your loved one (or a combination of both). And if you're planning any kind of public tribute, we recommend informing others who were close to the deceased ahead of time so that they're not caught off guard.

What's most appropriate for that person?
Think about the personality of your loved one you wish to honor. Did she love being the center of attention, or did she prefer to stay out of the spotlight? What were her favorite activities, hobbies, and interests? What connected you two and helped you form a bond? Taking a look at your relationship will help you decide what tribute is most appropriate. 
Here, find 10 ideas to fit your needs:
1. Wear something that reminds you of that person.
This is one of the most private ways to honor a lost loved one—no one will even know unless you tell them. This is a great way to keep that person close to your heart without drawing attention to their absence. For my wedding, I wore my grandma's earrings and used one of her brooches in my bouquet. You can also incorporate a favorite photo, a handkerchief, or another little memento into your bouquet. 

Photo Credit: Rebekah J Murray Photography
2. Use something they've given you.
For our engagement present, my grandma purchased a beautiful pair of toasting flutes to use at the wedding. They became even more meaningful to me after she passed away, and I loved bringing them out for the toast! 

Photo Credit: Erin Johnson Photography3. Tribute in the ceremony program.
3. Tribute in the ceremony program.
Short and simple; include an "In Loving Memory" section in your ceremony program.  
4. Light a candle.
A single candle on an entryway table or near your cake display can make a strong statement. Use a flameless candle to reflect that this person's memory will live on forever.
Photo Credit: Longs Photography
5. Have a photo table.
Many couples opt to feature family wedding photos—both of the living and of the deceased—at their reception. It's a nice way for your guests to take a trip down memory lane.
Photo Credit: Kim Fox Photography
6. Toast in their memory.
One of my favorite moments at my reception was when we gathered all of my grandma's relatives and made a toast with her all-time favorite drink. It's a great way to bring the family together for a meaningful moment.  
Photo Credit: Hoffer Photography
7. Dedicate a part of the ceremony to that person.
For one of your readings, choose your loved one's favorite poem or story. Play their favorite song as you walk down the aisle. Since my grandma loved spending summers at the Jersey Shore, we decided to do a sand ceremony in her honor—we even used sand from her favorite beach.  
Photo Credit: Jen Philips Photography
8. Consider your favors.
Did your loved one battle a disease? A donation in his honor to research makes a wonderful and meaningful wedding favor.  Or, consider her favorite treat—a small box of fudge from her favorite candy shop will bring back great memories for those who knew her. Did he love playing the lottery? Give each guest a scratch-off lottery ticket. You can either include a note to inform guests that it's in someone's memory, or you can keep that fact private.
Photo Credit: Dianna Hart Photography
9. Moment of silence.
Especially for religious couples, a moment of silence within your house of worship is a powerful way to recognize a lost loved one. Typically, the moment of silence happens right after your walk down the aisle. 
Photo Credit: Ashley Gillett Photography
10. Save them a seat.
 A physical reminder of the person you're missing, perhaps an empty seat in their honor, is a strong way to recognize a lost loved one. Place a single rose or small bouquet on the chair either before the ceremony starts or as a part of the ceremony. Keep in mind, though, that looking out and seeing an empty seat while you're exchanging your vows may trigger sad feelings.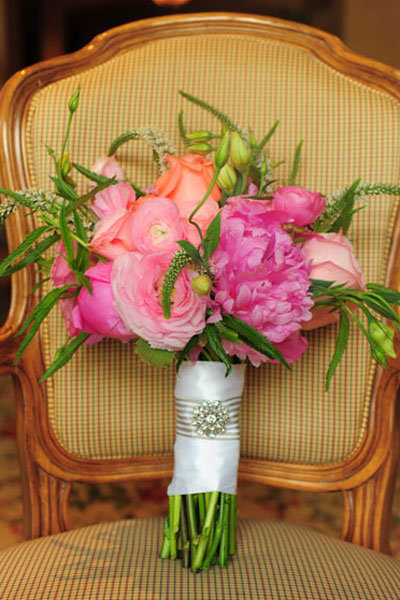 Photo Credit: Holli B Photography
Tell us: How are you planning to honor lost loved ones at your wedding?