Guest blogger: Augusta Cole
With an inherent love for all things design and style paired with creative energy, extreme organization, and a drive for perfection, Augusta is a critical member of the Easton Events team in South Carolina. This senior planner's design-oriented focus, enthusiasm, and superb management skills make her an invaluable asset to clients. She's executed over 100 weddings, private social events, editorial photo shoots and executive level corporate programs.
With summer wedding season upon us, we thought it would be helpful to share some tips on hosting a successful al fresco soirée! Outdoor weddings are a highly desirable way to entertain and celebrate with guests, but they also pose potential challenges. That being said; strategic planning is important. Here are some key things to consider.
What to Consider for an Outdoor Tented Event:
1. No matter how tempting it may be, we only recommend using a clear top tent if you're getting married in a cooler month. Tents act like greenhouses so heat can build up even when it isn't particularly hot. For this reason, it's best to use them when the high is no more than 75 degrees. 
2. Whenever possible, we suggest using pole tents (the ones that are reminiscent of a circus tent), because of their pretty and high roofline. This type of tent looks great from both the exterior and interior. There are new pole tents made from sailcloth that have become available. Their poles consist of wood — they have more of a "natural" feel — so they offer a great new option for tented weddings.

Photo Credit: Patricia Lyons via Easton Events
3. Frame tents offer a little more flexibility than pole tents so they're ideal for areas where other tents options wouldn't work. For example, they can be placed adjacent to buildings, they can be erected on hard surfaces with water barrels and they even work for properties that don't allow for the deep staking of a pole tent. A frame tent has low ceilings and exposed framework so ideally you want one with a material liner.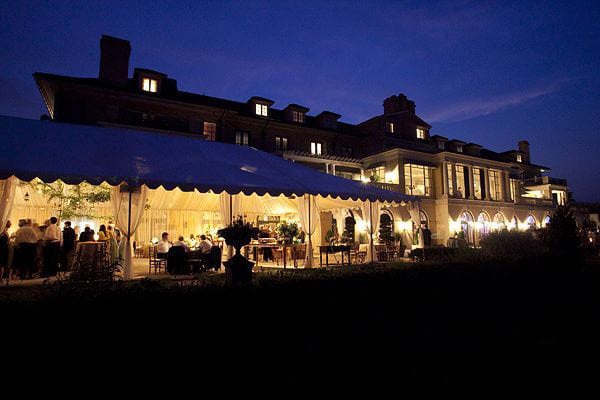 Photo Credit: Lynne Brubaker via Easton Events
Hosting Your Wedding at Home:
4. Don't forget to think through where the wait staff will change and what restrooms they will use. If you are hosting a wedding of 200 guests, you can have 30 to 50 additional staff people who are working the event. One easy solution is to rent some coat racks for the catering tent so that staffers can hang their things.
5. You will also need to consider your band and vendor needs. You likely will need a band tent and a vendor tent. Most bands require by contract that they have a separate space to rest and gather so a 10' x 10' or 10' x 15' tent would be ideal. All of your other vendors need someplace to put their things so having another tent of the same size to accommodate them is a good idea. Ideally, you should tuck these small tents behind a solid sidewall or draped wall of the main tent to hide them from your guests' experience.
6. Additionally, you'll have to develop a game plan for where staff members and vendors will park their vehicles. Logistically speaking, vendors will want to park as close to the reception site as possible, so it is important to give specific instruction as to where you would strategically like their vehicles to be parked to avoid a sea of cars in clear view of your event!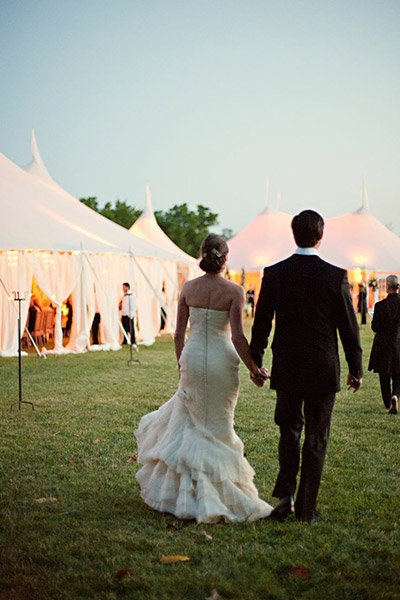 Photo Credit: Patricia Lyons via Easton Events
Outdoor Décor and Lighting:
7. Your pretty floral arrangements shouldn't sit in direct sunlight for more than an hour before guests arrive. so leave your cocktail florals and any other outdoor arrangements tucked inside the tent until 30 – 60 minutes before guests arrive.
8. Be sure to have adequate lighting for your guests' and your vendors' departure. If you are going to make a lovely dash through sparklers, you may also want to display lanterns or luminaries not only indicate to your guests where to stand but also to light their exit.
9. If you use escort cards for a seated dinner event, prevent them from flying away if the wind picks up! Ribbon, rocks, tucked into grass or shutters, tied to branches – there are lots of pretty ways to display cards that will keep them in place.

Photo Credit: Jose Villa via Easton Events
Tips for Outdoor Ceremonies:
10. Try to position your ceremony in a shaded area. We always suggest designing your program be large enough to use as a fan.
11. For a lovely and thoughtful gesture, have water or a refreshing non-alcoholic beverage available for your guests. Offer them pre-ceremony so that they can stay hydrated in the heat.
12. After the ceremony, it is always so thoughtful to offer a basket of cute flip-flops (Old Navy offers cheap and cheerful neutral metallic tones!) to your guests. No matter how often you tell your girlfriends to wear practical shoes, they still wear heels.

Photo Credit: Paul Morse via Easton Events
The Menu:
13. Work closely with your caterer and request that they propose a menu that they feel confident executing having seen the venue and with a good understanding of the predicted temperatures.
14. For warm evenings, you will want to stay away from plated desserts involving ice creams/gelatos; however, doing a quickly passed tray of mini popsicles for late night snacks or a sweet canape would be a refreshing reprieve from the heat.

Photo Credit: Eric Kelley via Easton Events
15. If you are doing a stationed meal outside, we recommend positioning the stations beneath perimeter fans on the tent. The circulating air will keep the food a bit more "temperate" and it helps to shield the platters from bugs.
16. We do not advise serving stationed cheese and fruit displays for outdoor events (especially if they are completely exposed). While they can be beautiful, cheese does not fare well in direct sunlight, and they are a magnet for bugs and flies.
Prevent Unwelcome Critters:
17. In some areas, it is essential that you have a professional company come in and spray to keep the bugs at bay or mist with a yard guard type product before your wedding. Be sure to do so well in advance of any tableware going down on the tables.
Weather Precautions:
18. Since there is nothing you can do to control the weather, it is very important to come up with a back-up plan in case of inclement conditions. Walk through the weather scenarios prior to the wedding week so you and your family can mentally accept the fowl weather plans. This way, you can go into your wedding week feeling prepared, and the weather plan will feel like less of a surprise!
19. Don't forget to have tent sidewalls on the premise in case a storm does blow through — one of the hardest things about doing an event outside is that you have to bring everything with you.
Items to Have on Hand:
20. Here is a short list of things we always bring with us for outdoor events:
Rubber mallet: to tap in any signage.
Bug spray
Suntan lotion
First aid kit
Flashlights
Temperature gun
Broom
Garbage bags
Paper towels
Spray cleaner
Table for the restroom trailer: if you are providing bathroom amenities you will need somewhere to place them.
Painters tarp/plastic sheeting: They are inexpensive and if you're worried about the weather they can protect your escort cards or any cocktail or bar linens that might get wet if a sprinkle rolls through prior to guests arrival.

Photo Credit: Patricia Lyons via Easton Events
Happy planning!
—Augusta Cole