The stars have aligned, and the planner, venue, and photographer of your dreams are all available on your wedding date. But before you jump into it with all three, slow down to consider that you're about to enter into a series of legal agreements. Though signing contracts is no one's idea of fun, they help protect you and your family on one of the most important events of your life, so it's crucial to get them right. We've talked to some of the top wedding vendors to round up six things you should know about wedding contracts before signing them.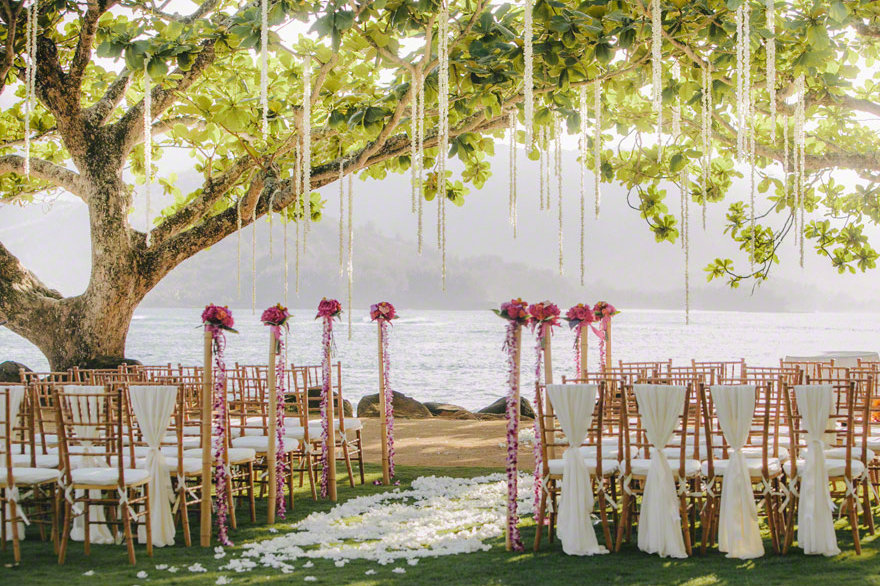 Photo Credit: Clane Gessel
1. Scope of services
The scope of services is the most important part of any wedding contract because this is where your vendor specifies what it is that you will actually be getting for your money. Does your contract say how many hours of service you will be getting or list any products, like photo albums or digital files, that you will be receiving after the wedding? You'll want to be clear both about what is provided and about what is not included, so that everyone's expectations are in perfect unison and there are no conflicts during or after your celebration.
2. In case of emergency
Of course, you would never want to cancel your wedding. But things do happen — hurricanes (like the recent one that canceled dozens of weddings in Cabo San Lucas), illnesses, or even happy news, like newborns in your family, can all cause the need to change the location or date of your wedding. Cancellations can also happen because of unforeseen circumstances in your vendor's life. This is why you need to carefully inspect and agree to the cancellation policy described in your contract, reviewing what happens and the repercussions involved (such as refunding of your retainer).

Photo Credit: Clane Gessel
3. Signatures matter
The name of who signs the contract can be more important than you think. Besides you and your partner, if another party, such as your parents, are paying for wedding services, that legally makes them the ultimate client. That means that if a vendor comes across a familial disagreement, they will ultimately listen to the person whose name is on the contract. Gathering signatures can be a handful to manage — especially when you have upwards of 20 vendor contracts — so we encourage all vendors to offer simple e-signing. Ask your vendor if they offer e-signing through services like HoneyBook or EchoSign to save you time.
4. Flexibility goes a long way
Since the planning process often takes around a year or more, changes along the way are not uncommon. You may decide to move the reception indoors, or your parents may insist on increasing the guest headcount by 30. Wedding planning is a fluid process, so look over your wedding contract and discuss whether your vendor allows for flexibility, as well as what changes made will mean (often it will be things like additional staff or additional cost for time or supplies). And always, always get those changes in writing!

Photo Credit: Clane Gessel
5. Travel means extra baggage
If you're having a destination wedding ,or even if you're simply heading to a vineyard venue outside of your city, traveling to your location is something that should be addressed in your vendor contract. Look out for a surcharge beyond a certain mileage, and discuss if you're responsible for covering airfare and hoteling for your vendor, or if your vendor requires or suggests you to provide them meals. All these travel-related details may change the cost and require additional arrangements on your end.
6. Know your payments
Most wedding vendors will require an initial booking retainer and then either another payment during the planning process and/or a final payment just before your wedding. Make sure the payment schedule and the amounts are all clearly spelled out in your contract so you can budget ahead. As you can imagine, with a dozen vendors, that's a lot of payments to keep track of. To save yourself the headache, we recommend opting for vendors who offer simple online payments — all HoneyBook wedding vendors offer online payments that come with automated reminders, so you can get back to doing the fun stuff like picking flowers and eating — ahem, trying — cake.

Photo Credit: Clane Gessel
—Shadiah Sigala
 Shadiah Sigala is the cofounder of HoneyBook, which helps top event professionals and their inspired clients work together to create memorable experiences. After planning her San Diego wedding from the East Coast, Shadiah started HoneyBook with three cofounders and friends to help make the planning process easier and more modern for all couples.