Taking a great photo of your engagement ring isn't as easy as it sounds. Read on for expert advice that'll help you get a picture worth sharing.
By: Kristen Klein
These days, it's practically a must to share a picture of your engagement ring on social media — it's such a simple way to get the message out there (there's no mistaking what a diamond ring on that finger means!) and it gives your faraway friends and family members a chance to ooh and ahh over your happy news just like your local loved ones. Here, get advice on how to take a gorgeous picture of your engagement ring.
1. Give Yourself a Manicure
You want your beautiful ring to be the focus of the photos, not your chipped nail polish and ragged cuticles. A soft pink polish is always a safe choice, but don't be afraid to choose a bold color that reflects your personality instead. You can also add an accent, like a crystal or an overlay, on your ring finger to really make it pop. Make sure to moisturize your hands right before the picture, and try this trick for picture-perfect hands: "Hold your hand up and count to 12 before moving into the perfect position; your veins and arteries will be less noticeable, and your skin tone will look less red. This is a longtime trick of hand models," suggests LaFonn Jewelry.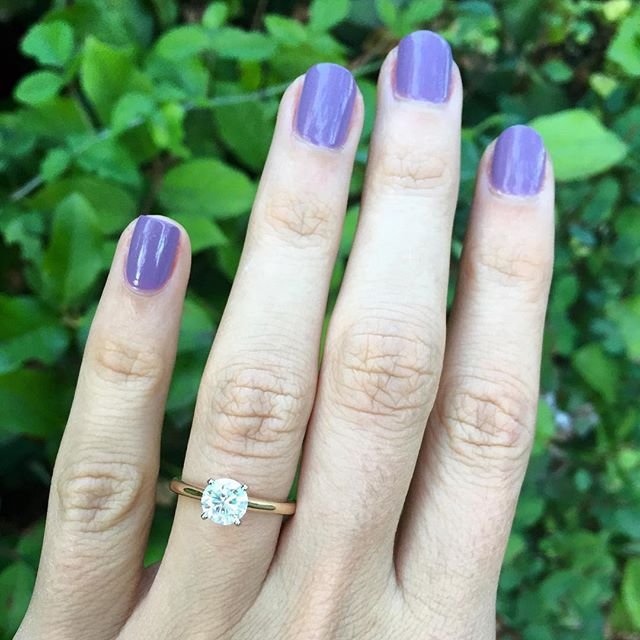 Photo courtesy of @em_cheney via Instagram
Don't have time for a manicure? "Crop out your nails — problem solved."

Photo courtesy of @kristylimbs via Instagram
2. Clean Your Ring
Maybe your fiancé picked up your ring from the jeweler that morning; or maybe it's been sitting around for weeks (or months!). Regardless, every ring can benefit from a quick cleaning. We like Baublerella's Bling Brush Natural Jewelry Cleaner for an on-the-go touch-up.

Photo courtesy of @shelleyk1218 via Instagram
3. Remove Your Other Jewelry
Remember when Lauren Conrad shared an engagement ring selfie — and all anyone could talk about was the "love" ring on her middle finger? Don't make your engagement ring compete for attention. Also, other jewelry can skew how the size of your stone looks.  "This goes for watches, too — a watch with a large face can make the ring appear smaller than in reality based on the mismatched proportions," according to the experts at Ritani, an online custom engagement ring designer and manufacturer. 
4. Choose the Right Lighting
Soft, natural lighting will make your ring look its best, says social media consultant Michael Baggs. Did your fiancé propose at night over a candlelit dinner? Save your ring selfie for the next day. "The best light is outside on a cloudy day or after 4 p.m., when you get the benefit of natural light without the harsh shadows," said Lauren Dunne, co-founder of the luxury nail spa Varnish Lane. 

Photo courtesy of @hilarymontavon via Instagram
5. Play With Your Angles
Don't love the way your hands look in pictures? Instead of a head-on shot, angle your hand to the side, which puts more focus on your ring, suggests photographer Kristin Griffin. And make sure you're showing your ring at its best. "What makes your ring unique? Maybe the center stone is captivating; maybe the setting has a special detail that must be shared. Experiment with different angles to show off your ring's personality," recommends LaFonn Jewelry.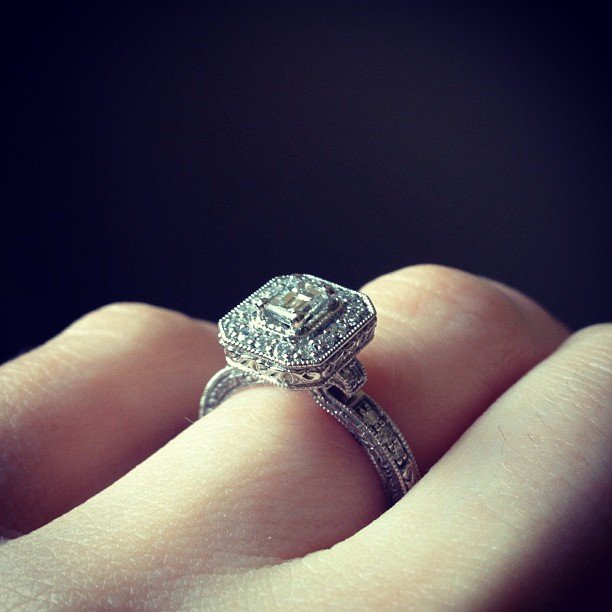 Photo courtesy of k_oliviaann via Instagram
6. Steady Your Hands
It's especially hard with a cell phone to keep the camera perfectly still while taking a picture. Eliminate the blur by supporting both of your elbows on something strong and taking advantage of your camera's burst mode, which snaps up to 10 frames per second so that you can then choose which one came out best, says photographer Melissa McClure.
7. Focus!
Don't rely on auto-focus; on an iPhone, focusing is as simple as tapping the screen right over your ring. Correcting the focus instantly makes your photos look more professional.
8. Don't Zoom
You'll compromise photo quality by using the zoom feature on your phone. Instead, "hold the camera at half an arms length to get the best shot, then crop it closer after you've taken it," suggests online jewelry company Four Mine.
9. Pay Attention to Your Background
"Backgrounds should leave a little mystery to prompt questions about the proposal," says PR manager and new bride-to-be Julie Zappelli. Did he propose on the beach? Capture the sunset over the water in your ring selfie. Popped the question while on vacation? Take your selfie in front of a famous landmark.

Photo courtesy of Casie Walker via Facebook
Or surround yourself with some fun props, like flowers, a jewelry box, a photo, or bridal magazines, recommends destination wedding planner Aviva Samuels of Kiss the Planner.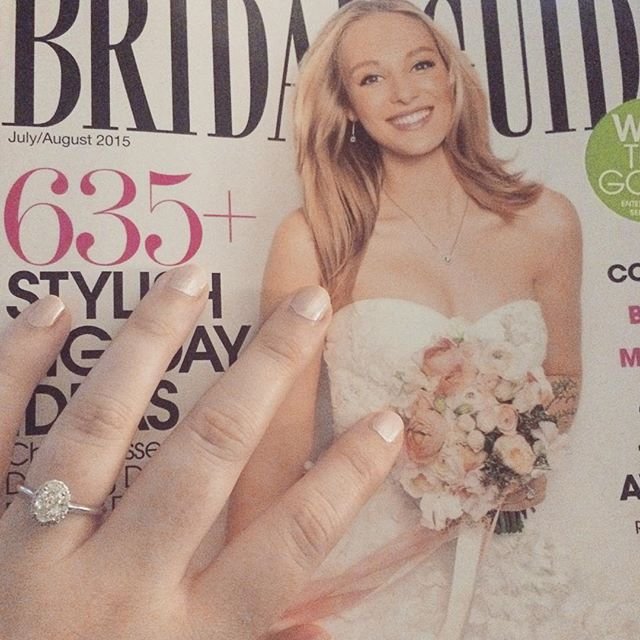 Photo courtesy of @thepatriciamarie via Instagram
"Your kitchen counter in the background is not going to show that ring off to its full potential," adds Kristen Pagan, social content manager for Charles & Colvard. "Use a background that is visually interesting (like a cool texture or color) but not cluttered."

Photo courtesy of @mrsdantuma via Instagram
10. Don't Make it All About the Ring
Yes, everyone wants to see your gorgeous new piece of jewelry, but you can make it even more special with some creative framing. "I love seeing our happy brides showing off their rings with that hand held up next to her face," says jeweler Ron Yates of Yates & Co. Jewelers. "That way, your friends and family can see your dazzling ring next to your beautiful face just beaming with joy!" 
Another idea: "Our favorite engagement ring selfie is one where she is taking a photo of her hand as the main focus, and her soon-to-be is standing in the background," says Kari Journigan of SnapKnot.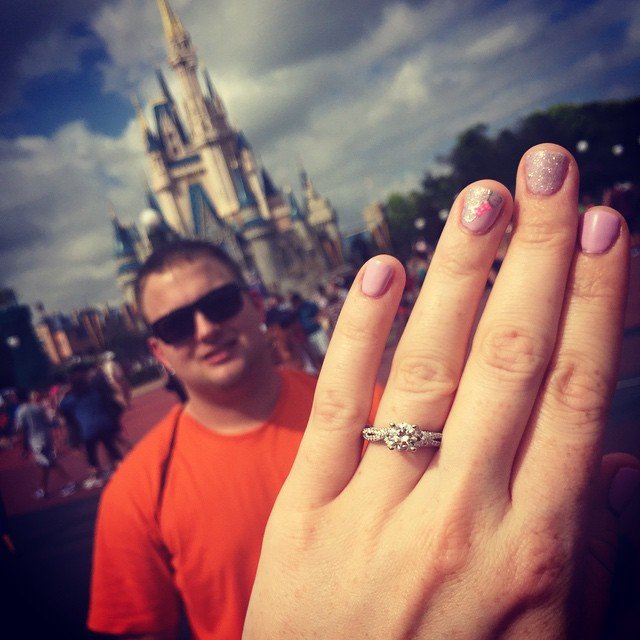 Photo courtesy of @katianne.elizabeth via Instagram
11. Take Advantage of Filters
If you've tried all of these tricks and still don't love your ring selfie, don't be afraid to add a filter. Instagram's native filters can increase or decrease the contrast to really make your diamond sparkle. 

Photo courtesy of @nhmediaprgirl via Instagram
12. Be Choosy
There's absolutely nothing wrong with taking a million photos of your ring — but choose one to share.  "While you are obviously madly and deeply in love with your new ring (as you should be), your followers may not necessarily have the same level of enthusiasm as you do and shouldn't have to be overwhelmed by it," says Samuels.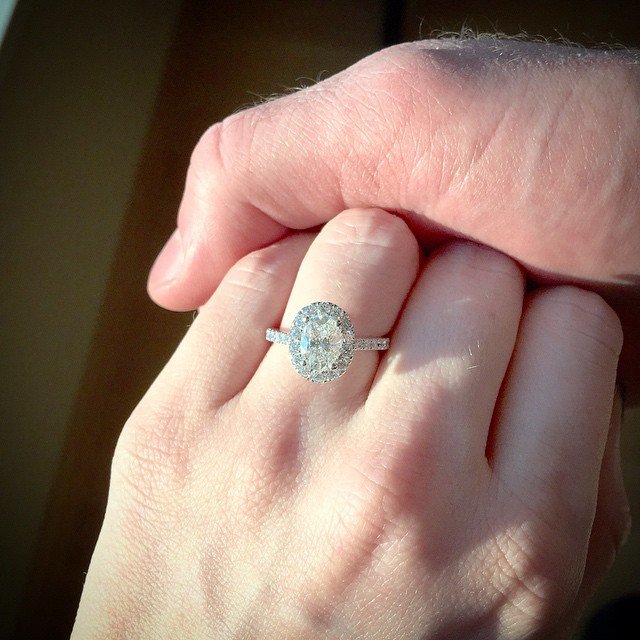 Photo courtesy of @mackenzie_fagan via Instagram
Ready to take your ring selfie? Share it on Instagram, tag it #BGRings, and you may see it featured on bridalguide.com!