Each week, we feature wedding music recommendations from Scratch Weddings, the nation's leader with the best wedding DJs at affordable prices. This week's post comes from DJ Kuato. His unique blend of feel-good music has extended from New York to Boston and overseas in London. He has shared the stage with the legendary Patti Smith and DJed alongside Justin Timberlake, Tim Gunn, and Nigel Barker. His talent has also taken him to NYC's hottest clubs, secured top corporate clients and led to an appearance as the DJ on the hit television series, Gossip Girl. But don't let these A-list names fool you. Kuato is a down-to-earth guy who gets it when it comes to weddings. "I enjoy meeting new couples, understanding their backgrounds, influences and how they got to where they are today. The highlight of the wedding night for me is always watching the bride and groom smile and dance the night away, alongside their closest friends and family members." For Kuato, weddings are special affairs—one of the most memorable nights in a couple's life —so he always comes prepared to rock the dance floor and help make the celebration a tremendous success.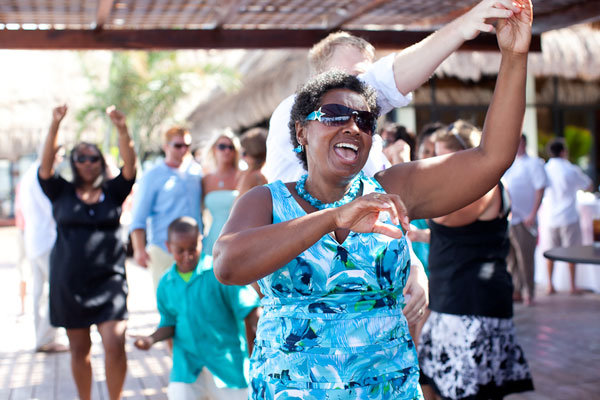 Photo Credit: Skaggs Photography
Wedding Music Genre Spotlight: Reggae
It is important for the reception music to speak not only to the bride and the groom but also to their guests. Many modern weddings include guests from a wide variety of ages, cultures, and lifestyles. Great wedding music can bridge these gaps, form connections, and blend a seemingly disparate group of people into one cohesive celebration.
Whether it's cocktail hour or a post-reception dance party, reggae is an uplifting and surprisingly versatile genre for a wedding. It's been called a "universal language" by music aficionados, and historically it has appealing to the masses from all different cultural backgrounds. Furthermore, reggae's influence can be found in pop hits, including songs by The Police, Blondie, Rihanna, Estelle, and many others.
Couples who ask me to pepper in a few reggae songs are always pleased with the reaction from their guests. It gets heads bobbing and feet tapping; it gets people grooving on the dance floor; and most importantly, it gets the entire room feeling good and smiling. Depending on what the couple asks for, I can do a mini- set of 4-6 reggae songs, or I can mix a few reggae songs into the cocktail and/or dance sets; both get great results.
Check out the songs below to find reggae tunes—both new and old—that will work great for cocktail hour, slow dances, or party songs. Like any genre, reggae has its contemporary jams, as well as old school party classics.
Cocktail Hour 
Classic
Modern

"Boom Shack-A-Lak" - Apache Indian  
"In The Summertime" - Shaggy
"Lottery Spin" - Zap Pow  

"Cupid" - Amy Winehouse
"Magnificent" - Estelle ft. Kardinal Offishall 
"Can't Keep I Down" - Stephen Marley  
Slow Dances 
Classic
Modern

"La-La (Means I Love You)" - Alton Ellis
"Baby I Love Your Way " - Big Mountain
"Many Rivers To Cross" - Jimmy Cliff   

"Hold You (Hold Yuh)" - Gyptian
"No Games" - Serani
"I'm Still In Love" - Sean Paul ft. Sasha
Dance Songs
Classic
Modern

"Hot Steppa" - Ini Kamoze
"Sweat (A La La La La Long)" - Inner Circle
"No Letting Go" - Wayne Wonder 

"Hot Hot Hot" - Crossfire
"Pon de Replay" - Rihanna
"Letting Go (Dutty Love)" - Sean Kingston ft. Nicki Minaj