Each week, we feature wedding music recommendations from Scratch Weddings, the nation's leader with the best wedding DJs at affordable prices. This week's post comes from Unos & Dubs, a DJ that saves a little something for everyone. As an "open format" performer, he pleases crowds with a wide variety of genres and styles, including disco, 80s, top 40, electro, hip hop, and house. He is currently a hot commodity in the nightlife circuit and frequently plays at top bars and lounges throughout Manhattan and Brooklyn's eclectic music scene. "A wedding is just a special day for everyone involved. It's really important for me to play a part in that day....I just love it."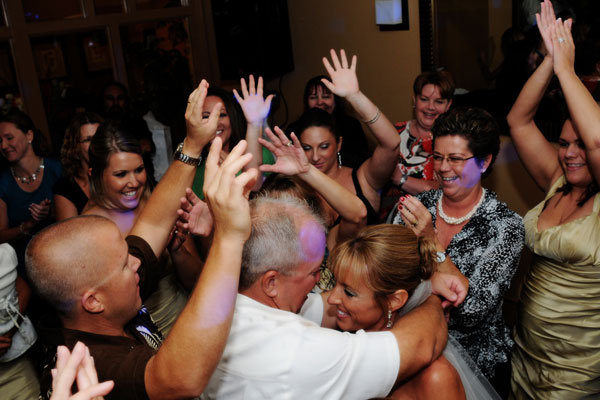 Photo Credit: Weddings by Chris Sherburne Photography
The Hip Hop genre is the essence of cross-genre mixing. Whether you're rocking out to Outkast, Jay-Z, Beyoncé or The Sugarhill Gang, we all have been influenced by this unique and increasingly-popular genre.
The origin of Hip Hop stems from DJs experimenting and playing a mix of Breaks, Funk, Latin, R&B, Rock, and Soul. Because this genre uses so many different genres as its base, every client that I've spun for always requests a good amount of hip hop at their weddings.
An important part of choosing the wedding soundtrack is to include a wide variety of music that makes the couple—and their guests—happy. With that being said, almost all hip hop music has sampled some aspect of other musical genres, so how can you go wrong?
Medium Dance Songs
Classic
"Brass Monkey" - Beastie Boys
"Rapper's Delight" - The Sugarhill Gang
"Hip Hop Hooray" - Naughty By Nature
Modern
"Drop it Like it's Hot" - Snoop Dogg
"Gold Digger" - Kanye West
"Vivrant Thing" - Q-Tip
Fast Dance Songs
Classic
"Treat 'Em Right" - Chubb Rock
"It Takes Two" - Rob Base & Dj E-Z Rock
"Apache" - The Sugarhill Gang
Modern
"The Way You Move" - Outkast
"Encore" - Jay-Z
"Hot in Herre" - Nelly