Each week, we feature music recommendations from Scratch Weddings, the nation's leader with the best wedding DJs at affordable prices. This week's post comes from DJ Vida Ventura, who keeps dance floors moving from coast to coast with her ear for great music. Vida cuts her chops at quintessential Lower East Side hot spots and chic LA nightclubs. From these experiences, Vida has gone on to rock the decks worldwide. Vida's highly-sought DJ style is eclectic and energetic, and she is passionate about bringing her skills to couples looking for a fresh, fun take on a wedding DJ. "I love to mix genres and play everything from James Brown to Michael Jackson to Beyoncé in the same set and appeal to everyone at the wedding."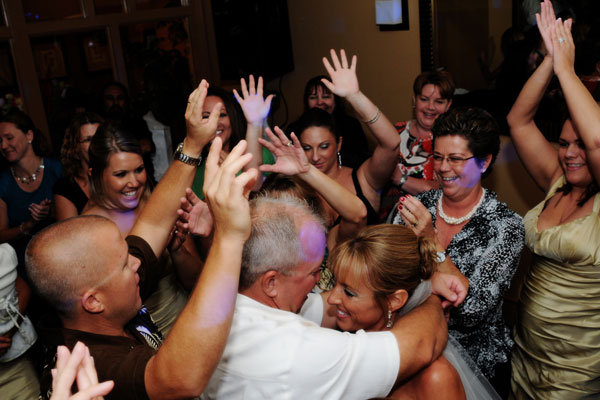 Photo Credit: Weddings by Chris Sherberne Photography
Indie Electronic music is my favorite genre to sprinkle into a wedding. There are some terrific indie songs that have climbed their way in and out of mp3 players—and even radio stations—all over the world. Great indie songs can become quite popular and make excellent additions to any wedding playlist.
This genre fits each section of a wedding quite nicely. During the cocktail portion, I find that it creates a wonderful contrast between some of the more traditional genres, like classical and jazz, and can actually heighten the sound of all songs played by adding versatility and variability. The dinner portion is a wonderful time to play those indie folk-derived love songs. The electronic element of this genre adds a beautiful soundscape that can complement a gorgeous environment with its sense of style and modernity.
Here are some Indie Electronic songs that I love to play at weddings:
Cocktail:
► "Cherry Blossom Girl" - Air
► "Two Weeks" - Grizzly Bear
► "Breathe" - Télépopmusik 
► "Hysteric (Acoustic)" - Yeah Yeah Yeahs
► "Blue Monday" - Nouvelle Vague
Dinner:
► "Paris (Aeroplane remix)" - Friendly Fires
► "We Will Become Silhouettes" - The Postal Service
► "Lisztomania (Classixx remix)" - Phoenix
► "Rebellion (Live)" - Arcade Fire
► "Laid" - James
Dance:
► "A-Punk" - Vampire Weekend
► "Move Your Feet" - Junior Senior
► "Young Folks" - Peter Bjorn and John
► "Around the World" - Daft Punk
► "Over and Over" - Hot Chip
► "Barbra Streisand" - Duck Sauce
Entrance Song for couple:
► "Sweet Disposition" - The Temper Trap