Planning a wedding can be a big job, so we're always on the lookout for tools to help make the process more streamlined and fun. Check out ten high-tech ways to organize a beautiful wedding with unforgettable details — minus the stress.
1. Live-Stream Your Wedding 
Have a close relative or friend who can't make it to your big day because they live far away, are too ill to attend, or simply can't afford it? Facebook Live is a new, interactive way to live-stream your wedding so they can still share in your joy. They can watch the entire ceremony, first dance, and cake-cutting as they unfold, or view the footage at a later time, since it'll be stored permanently on your Facebook page. How it works: First, download the Facebook app on your mobile phone and log onto your Facebook profile. Next, go to your profile page and click on the status bar, as if you're going to write a new post. There, you'll see an icon of a video camera — click on it when you're ready to stream. (Note: If you choose the "friends" privacy setting, then all of your Facebook friends will be able to see your live stream.)
2. Create a Custom Wedding Geofilter
If you're as obsessed with Snapchat as we are (see our snaps @BridalGuide), then you're probably already familiar with geofilters: location-based designs that you can add to your photos and videos. Only people who are at an event can access that particular filter. Now, you can create a custom wedding geofilter to get guests excited about the big day and encourage them to share priceless moments that they capture on their phones. First, you'll have to come up with a design or commission one from Etsy (it should be a PNG file with a width of 1080 pixels and a height of 1920 pixels). Once that's all set, register it on Snapchat's website, where you'll be prompted to fill out your basic contact info, as well as the location you want to set it to (aka the venue where you'll be getting married). If it's accepted, then Snapchat will send you a confirmation email.

Photo Credit: MondayDreamsShop on Etsy
3. Enlist a Virtual Wedding Planner
One of our favorite new wedding app launches is the Loverly Virtual Wedding Planner. It matches users up with a wedding-planning concierge that they can reach out to for round-the-clock support. Couples are also able to choose from three flat-fee planning packages, starting at $49. From hashtag help to wedding vendor recommendations, they can help you cross off those to-dos with ease. You can also use the app to keep track of wedding projects, payments, and more, making it a multitasking must-have.
4. High-Tech Photo Booths
Not all photo booths are created equal! Get one that's social media-enabled to make all those Instagram updates easier. The latest high-tech models, like Giggle and Riot's, are even green screen-capable. Photo booths come with an experienced onsite attendant, fun backdrops to choose from, and hilarious props. After the event, you get a USB drive with all of the photos that were taken at the event, as well as an online gallery. These types of photo booths are a great way to entertain your guests and capture long-lasting memories from your big day.
5. Selfie Stick Alternative 
Just when you thought it couldn't get any better than the selfie stick, PodoLabs released its stick-on camera, creating more seamless, fun images. While the selfie-stick only lets you shoot from arms-length, this camera sticks to any surface, enabling you to take snapshots from any angle or distance you choose. It weighs only 1.8 ounces and can store up to 8 GB of memory. It can last up to two hours without having to be recharged. It also comes with a useful flash function.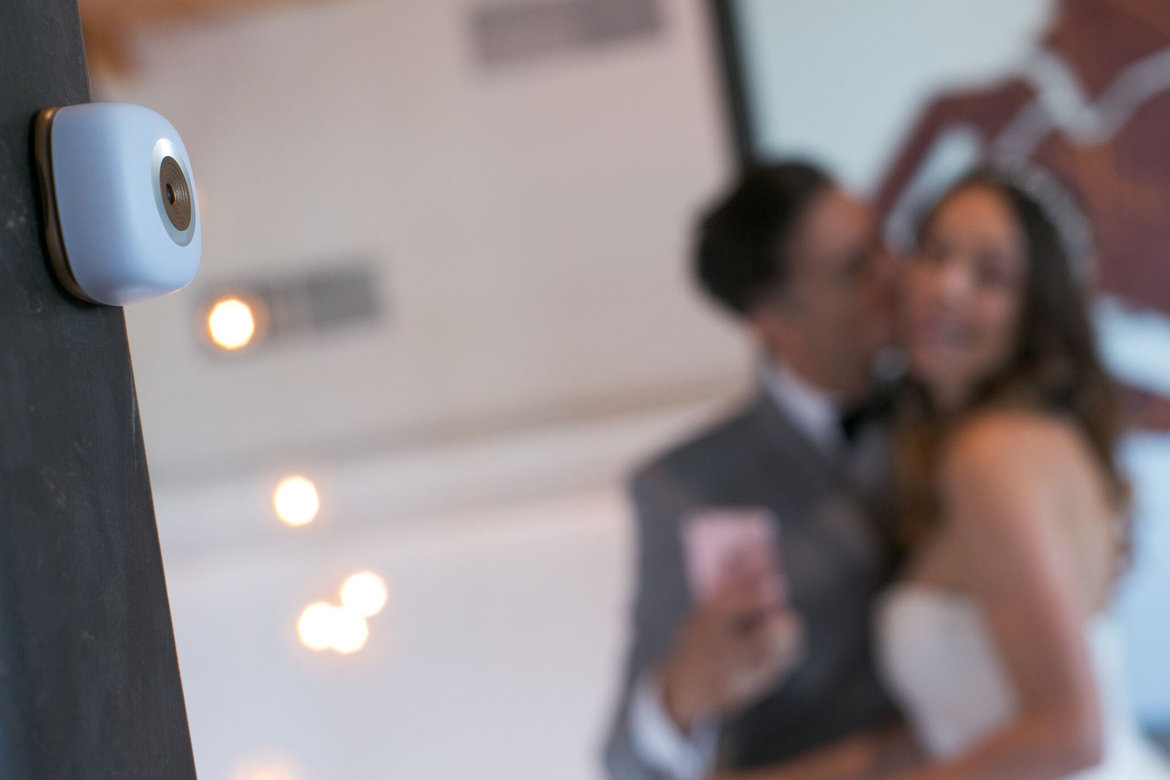 Photo Credit: Augie Chang Photography / Planner: Amazáe Events
6. Universal Online Registries 
While traditional registry websites only allow you to add gifts from a specific store, universal registries like NewlyWish compile products and experiences from multiple retailers into one list, helping you stay organized throughout the process. They're an easy and convenient way for you to register for your favorite household items, unique experiences, and even honeymoon cash. Take advantage of tools such as flexible gift holding (to schedule delivery of your gifts only when you're ready for them), a group gifting option (so guests can contribute toward big-ticket items in any amount they wish), and a 10% registry completion discount.
7. Design Your Own Invitations Online
Easily design and order wedding invitations, enclosure cards, response cards, envelopes, and more using sites that have ready-made templates, like Minted. In just a few quick and easy steps, you can design wedding invitations that your guests will adore. Begin by choosing the color, trim, type of paper, and format of your choice. Then, personalize your invites by entering your names and any other information that you would like them to include. Select how many cards and labels you would like to purchase, and you're all set.
8. Avant-Garde Place Cards 
Place cards are an easy way to get guests excited about the festivities to come. 43Layers uses 3D printing technology to turn their names into beautiful laser-cut works of art. Choose from acrylic or wood finishes in different colors. Even after the wedding, these place cards serve as a sweet reminder of your big day. 43Layers also offers other personalized items such as cake toppers, table names, signage, and more.

Photo Credit: Augie Chang Photography / Planner: Amazáe Events / Place Card: 43 Layers / 
9. Rent His Tux Online
Sites like Menguin allow you to order the tuxes for your groom and groomsmen without ever having to leave your house. In just two easy steps, he can have his entire outfit coordinated for the big day. First, he chooses the type of jacket he wants, according to price and style. He can customize his look with a shirt, tie, shoes, vest, suspenders, pocket square, and socks. Next, he inputs his height, weight, shoe size, age, and any other necessary measurements. Repeat with your groomsmen's info. The tuxes will get delivered straight to your door!
10. Get Fit Using Your Phone
Planning a wedding can be very time-consuming, and healthy living tends to take a backseat to floral arrangements and invitations. Apps like MapMyRun by Under Armour can help make fitness fun again. It maps out running routes for you to follow on your workout and tells you how long it'll take to complete each course. Use the workout log function to compile the date, type, route, distance, and duration of all your workouts into one convenient log. It even includes a coaching function for extra motivation, and music to listen to while you work out.
—Sydney Axelrad