Celeb weddings are a not-so-secret indulgence.  Between the glamorous head-to-toe outfits, the unbelievable luxury, and all of the fanfare leading up to the celebration, we eat it up by the spoonful. And while most brides don't have a celebrity-sized budget, there are a few key pieces that can be worked into your wedding day without accruing that sky-high price tag.
So without further ado, here are 10 steal-worthy tips for translating the details from our favorite celeb weddings into your big day:
1. Pack those bags and get ready to jet set!
Destination weddings are "oh so celeb" — think Justin Timberlake and Jessica Biel's Italian nuptials or Stacy Keibler's recent Punta Mita "I do." Hosting your nuptials abroad helps you pare down the guest list and with the beauty of a far flung locale, décor is at a minimum. Plus, you have your honeymoon spot already built in. Another great option is a semi-destination wedding at a domestic locale or even your hometown, which will still give your guests the experience of traveling somewhere new.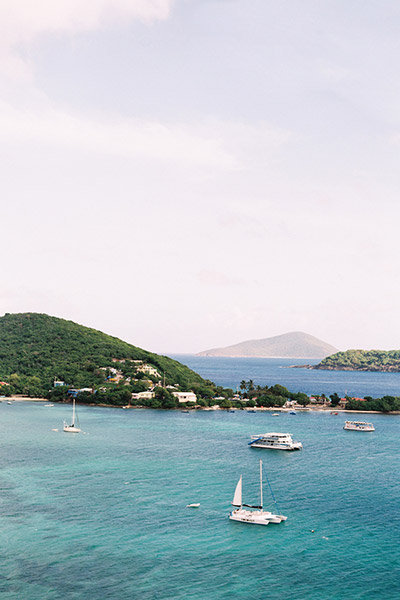 Photo Credit: Clary Pfeiffer /
2. If a wedding planner isn't in the budget, consider hiring a day-of coordinator, instead.
Rather than planning alongside you for months leading up to the big day, a day-of coordinator will swoop in and help run the show. This means you can do all the prep work but then sit back and let someone else take the reigns on the actual day so you can really enjoy yourself without having to worry about managing everything.
3. Choose flowers that are in season and grown locally.
You may have your heart set on peonies but if they aren't in season, they'll have to be flown in from afar. This can increase the price by as much as five times that of an in-season alternative. For example, using the English garden rose is a great alternative because it's available well out of the short peony season but still allows for an extravagant look.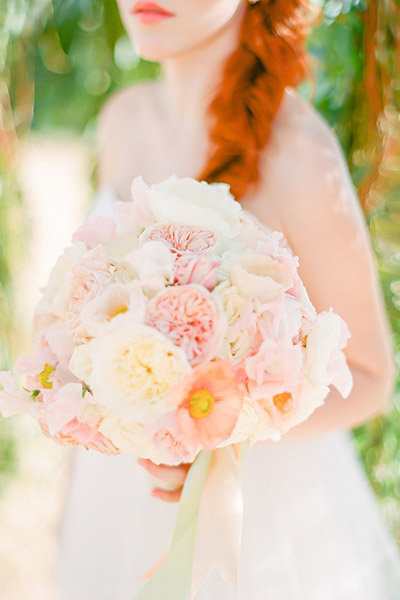 Photo Credit: Coco Tran Photography
4. Choose a palette of different colors for your bridesmaids' dresses.
Jenna Bush Hager's leading ladies wore a pastel rainbow of hues and the effect was totally gorgeous! This allows each girl to choose a style of gown in her specific price point, all while contributing to a chic overall look. Our favorite on-trend bridesmaid moment? Sequins and glam.

Photo Credit: Jose Villa
5. Keep the guest list small, which will allow you to go more elaborate on everything else.
From the food to the bar to the table décor and everywhere in between, opting for a small, more intimate affair will cut costs and allow you to really spoil your guests.
6. Plan a wedding in the off-season or any day but Saturday.
If you're in love with an al fresco affair like Molly Sims', consider having a Sunday morning brunch wedding, which has an elegant feel but is much more cost-effective than an evening celebration. Simply serve up mimosas and yummy breakfast foods (hello, omelet station!), and let the fun begin.

Photo Credit: Gia Canali
7. Pick one designer piece that you can't live without.
Pair it with a curated collection of budget-friendly accessories.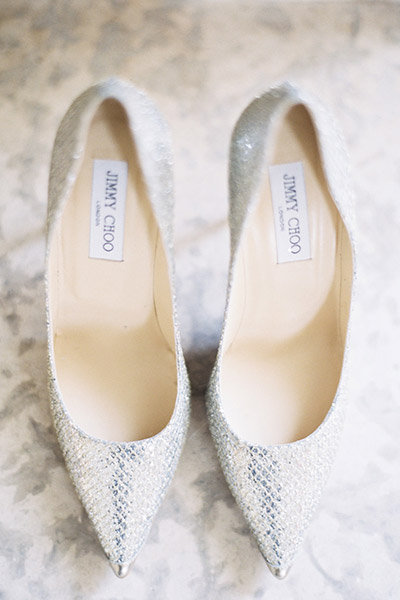 Photo Credit: Lani Elias Fine Art Photography
8. Focus on the head table and really pack on the glam factor.
This will create a focal point that wows without the cost of blanketing an entire reception. Opt for sequined tablecloths, rows of pretty candles or a floral garland for a luxe look for less.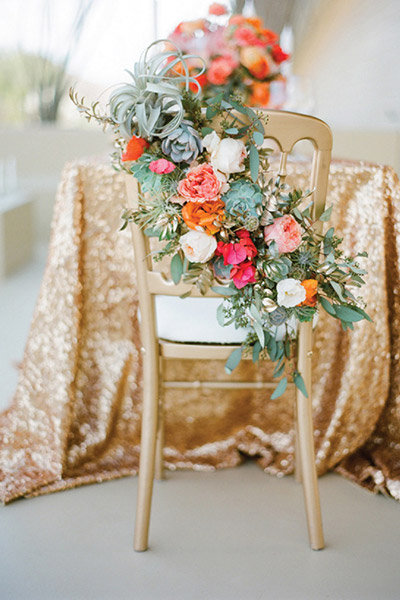 Photo Credit: Jose Villa
9. Add personal touches to your day with DIY projects.
Think Limoncello favors reminiscent of the Italian vacation where you got engaged or handmade favor bags with your own monogram. Personal details like this make a wedding day feel hand-crafted and high-end but when doing it yourself you can save big bucks.

Photo Credit: Troy Grover
10. Pick a honeymoon spot a little off the beaten path with all the charm of a major destination.
Spots like Buenos Aires, Croatia or Belize (which is where Reese Witherspoon and Jim Toth honeymooned) are gorgeous but don't come with the higher price tags of more popular locales.
—Abby Larson