A new poll by American Express reveals that wedding spending is on the rise — and it's not just the bride and groom who are shelling out more on their dream day. According to data collected from over 1,500 respondents in the United States, about 69 million people will attend at least one wedding in 2013, and they plan to spend 59 percent more than they did last year. So where is all of this money going? Here, a breakdown of what it costs to attend (and throw) an average wedding.
Guest Costs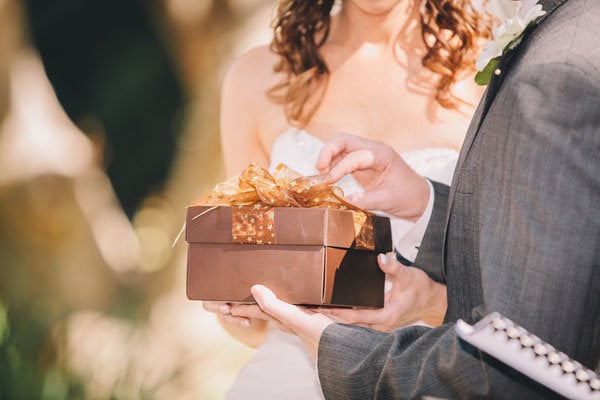 Photo Credit: Evermore Photography
Celebrating the love of family and friends comes at a price: $539 per wedding, to be exact. This includes the average cost of a wedding gift, which is $108.
When deciding the price point of a gift, research suggests that family members spend the most, $179, and co-workers spend the least, about $66. (Makes you feel less guilty for not inviting the entire office, doesn't it?)
Not sure what to give? The majority of responders said they'd love to receive cash, even though most guests (35 percent) end up gifting something from the registry. 
Bridal Party Expenses

Photo Credit: William Innes Photography
Being a bridesmaid or groomsman is a great honor, but it can get pretty costly. Bridal party attendants spent an average of $577 in 2012, which is about $200 more than the year prior. This includes: Getting dolled up, transporting oneself to and from the wedding, and celebrating the bachelor/bachelorette hijinks.
Amex also asked 'maids if they rewore their gowns after the wedding — only one third of respondents actually did. A slightly bigger percentage of participants plan to donate their dress to a family member or second hand shop. Consider giving your bridesmaids a swatch of fabric in your preferred hue and letting them pick their own dress, or, if you're set on a specific style, contribute towards the cost as part of your thank-you gift to them. 
Bridal Budget 

Photo Credit: Stephanie Brauer Photography
No matter how big or small the wedding budget is, every couple has to decide which elements of the experience are most important to them.
So what's at the top of the priority list? The majority of respondents (67 percent) believe that food is worth splurging on, followed by the reception venue, cake, dress, and entertainment. We were surprised to find that photography wasn't mentioned anywhere, since brides we've interviewed say they're spending top dollar on must-have photos.
Over one third of newlyweds are cutting back by paring down the reception or eliminating it altogether. Others are skipping the wedding planner, creating a smaller guest list, choosing cheaper stationery, and opting for less extravagant décor. 
DIY is hotter than ever — over 70 percent of participants had at least one do-it-yourself element in their wedding. Top projects include: Guest favors, centerpieces, save-the-dates, invitations, reception music, and the wedding photo album.
A few daring brides, about six percent of those polled, took on bigger projects like making their own wedding gown and baking their own cake. 
Tell us: What are your biggest wedding splurges and savings? 
—Mary Gillen