Future honeymooners listen up! There is no better time to treat yourselves to the trip of a lifetime than now.
As a lifelong coach/economy passenger, I recently had an opportunity to fly Air France Business Class to Paris for a stay at Le Royal Monceau Raffles. The flight was a life-altering experience—how will I ever go back to coach?
With Business Class, check-in is a breeze, you have priority boarding and then there's the seat itself: a private, comfy and spacious pod equipped with a large-screen entertainment unit (tons of movies, TV shows, documentaries, music), noise-canceling headphones, a mirrored storage cabinet, a plush pillow and blanket, slippers and socks, an amenities kit, and the pièce de résistance—with the push of a button your seat converts into a flat bed with plenty of leg room. As one who can never sleep upright on a plane, train or anywhere vertically this was a luxury, and after indulging in watching movies, I slept for several hours. The result: I arrived in Paris feeling well rested and never experienced jet lag throughout my stay. The food and drinks on the flight are delicious and plentiful with a menu of choices for entrées, desserts and snacks. Plus, the service is incredible.
Set up a honeymoon registry, save your dollars and use credit card points toward a Business Class flying experience. It's a treat you both deserve! And, even if you don't fly Business Class if you are a Flying Blue member you can access the lounge for 45 Euros (about $52 dollars a day ).
At the Paris-Charles de Gaulle airport, the recently redesigned Air France Business Lounge is truly awesome. This immense 34,444 square-ft. space features everything travelers need to relax and rejuvenate. There's an interactive digital screen at the entrance that you can navigate to find your way around. The lounge is bright and airy with sleek modern furnishings and comfortable seating. There are charging stations galore to battery-up digital items. In the center of the lounge is "Le Balcon" a gorgeous bar area that affords a sense of intimacy beneath a golden, mirrored ceiling where specialty cocktails are served every evening from 7 to 9 p.m.
Photo: Le Balcon
You'll also find a detox bar:
Photo: Detox Bar
A Clarins spa that offers 20-minute facials:
Photo: Clarins Spa
Two saunas, large showers and an "Instant Relaxation" room perfectly designed for some shut-eye.
Photo: Relaxation Room
There are also two private rooms, "Le Club"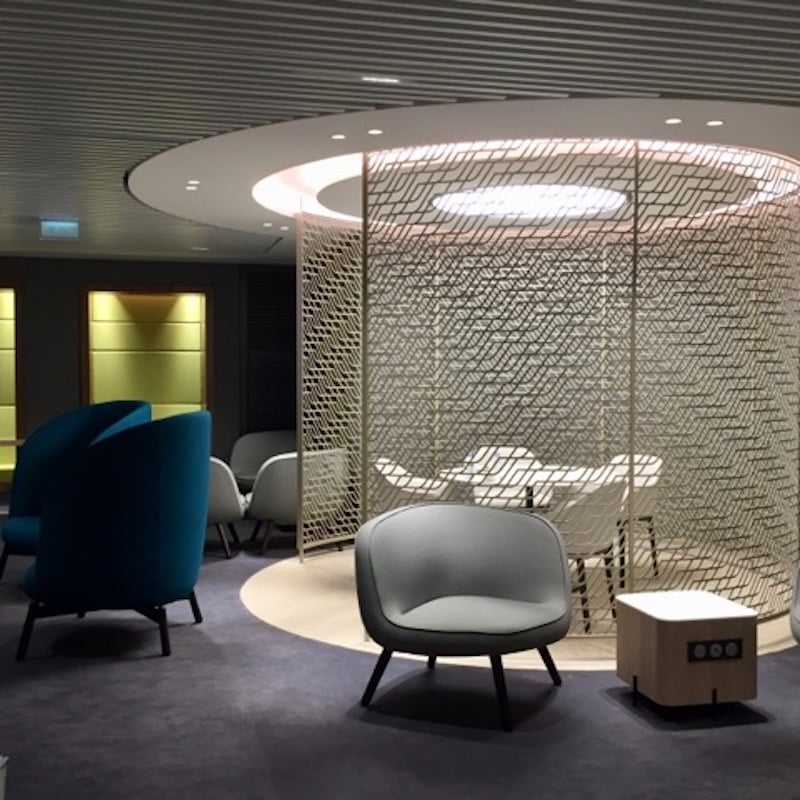 Photo: Le Club
and "Le Petit Salon," plus a Kids Room for the little ones. An "At Your Service" area is available where the Air France staff can help you book a shower or sauna or even change a seat or flight. Trust me: When your boarding time is announced you'll wish you had more time to enjoy this ultra-luxe lounge, airfrance.us.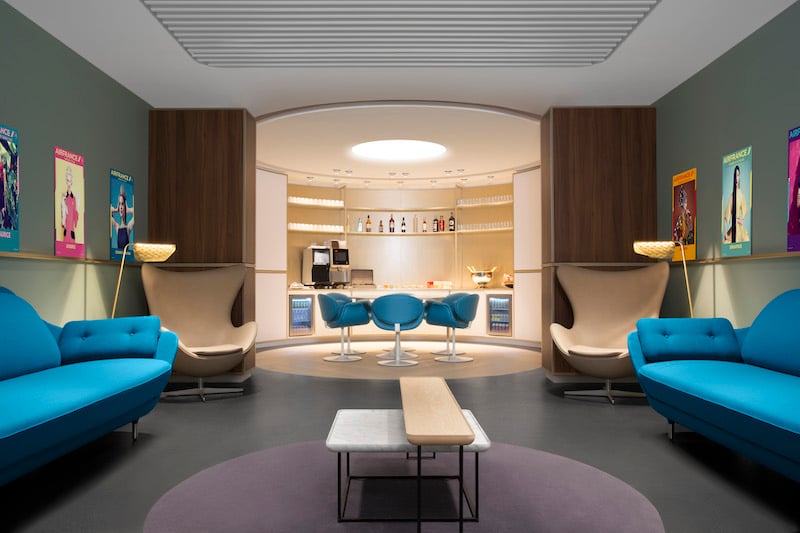 Photo: Le Petit Salon
Once in the City of Lights my stay at Le Royal Monceau Raffles was fantastic.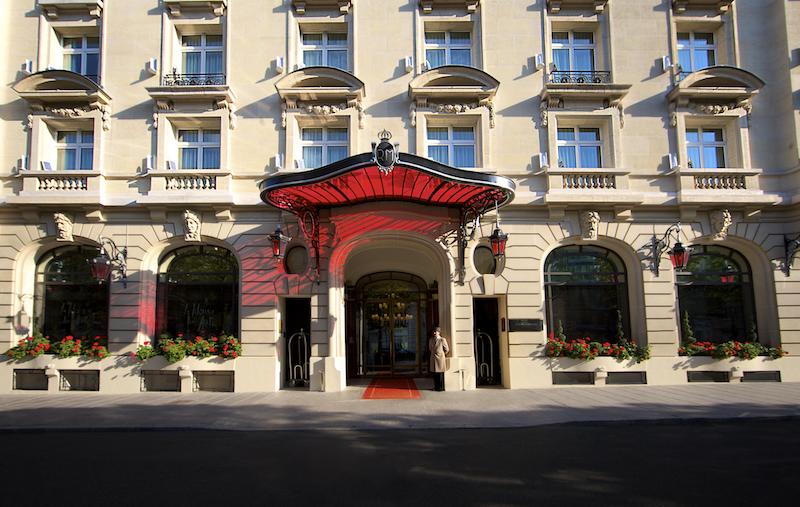 Photo: Le Royal Monceau Raffles
This five-star luxury hotel reopened in 2010 after a two-year transformation spearheaded by noted designer Phillippe Starck. It is a contemporary, warm and welcoming haven and the service is impeccable. The rooms, designed to make visitors feel at home, are elegant, modern and spacious. The bathrooms are mirrored and glam and in each room there's an acoustic guitar that guests can play. A variety of artwork fills the rooms—including a "kitschy" piece of art like one you might have in your own home (you know, that not-your-taste gift from a relative or friend that you feel obliged to display when they visit.)
Photo: Hotel Room
Art is celebrated at Le Royal Monceau. They have a dedicated Art Concierge, Julie Eugène, who will take you on a guided tour of the hotel upon request. This is a must as Julie is a wealth of knowledge and reveals all of the art/design elements you may easily miss (a closer look at the amber-hued Murano glass lamps reveals a "bull" in honor of Picasso's native Spain). Julie will also explain the creative intent behind the hotel's design and artwork. You'll visit the hotel's Art Gallery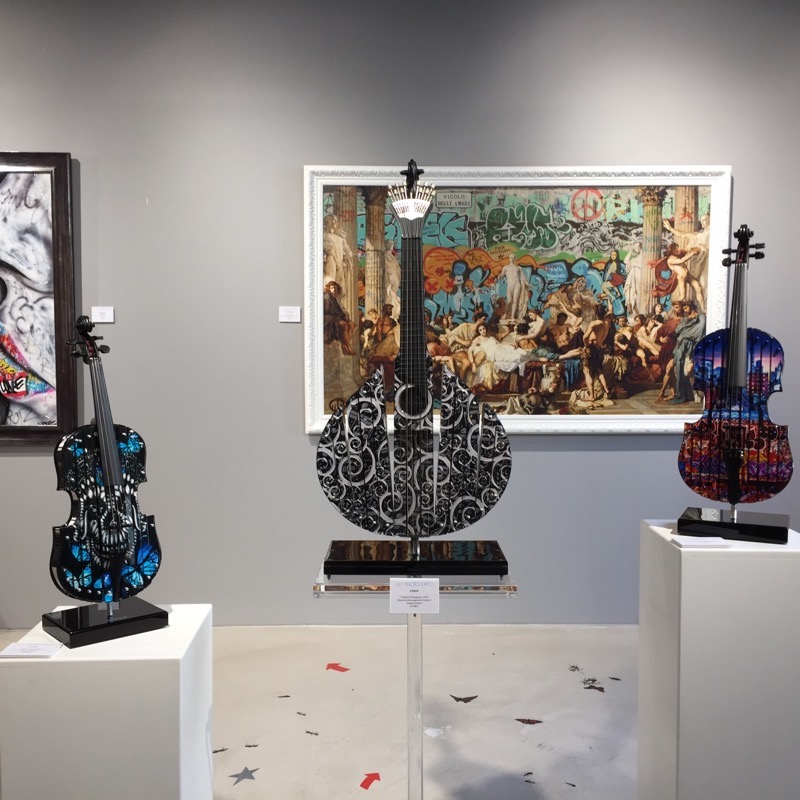 Photo: Gallery
Art Bookstore and 99-seat cinema—available for guests to book for private screenings.
Photo: Cinema
Julie can also arrange visits to other art galleries, exhibitions, auctions, concerts, live performances and more—a service offered by no other hotel in Paris. Julie accompanied us to Palais de Tokyo to see the latest contemporary art exhibit and her enthusiasm and love of art enhanced my appreciation. (In Bridal Guide's May/June 2019 issue, on the newsstands in mid-March, Julie will be our "Travel Insider" and offer more tips for enjoying the hotel and City of Lights.)
There are exceptional restaurants at Le Royal Monceau and every meal was outstanding. Matsuhisa Paris is the first restaurant in France featuring cuisine created by world-renowned Chef Nobu Matsuhisa. The menu is extensive and every dish mouthwateringly delicious. You can't go wrong ordering any of the sushi and sashimi dishes and I especially loved the crispy rice with spicy tuna and salmon and the baby spinach salad with dry miso. Be sure to take a Sushi Class with Executive Chef Hideki Endo. Watching this master at work was a thrill and under his patient tutelage I managed to create a satisfactory sashimi and sushi dish.
Photo: Cooking Class
The Michelin-starred Il Carppacio features savory Italian cuisine and its sleek, colorful décor with chandeliers and pendant lights beneath a glass conservatory serves as a fitting salute to sunny Italy.
Photo: Il Carppacio
Dining outdoors on The Terrace, a garden-like enclave where umbrella-shaded tables surround a languid pond, we indulged in Il Carppacio's artichoke tart with black truffle vinaigrette, risotto with asparagus, scorpion fish with Sardinian bead and a tantalizing tiramisu.
Photo: Terrace
Le Bar Long is an inviting spot for cocktails and pre-or post-dinner drinks.
Photo: Le Bar Long
It also serves as the dessert room for La Cuisine restaurant's weekend brunches when the high, narrow bar is transformed into a dessert table covered with decadent treats from Pastry chef Pierre Hermé.
Photo: La Cuisine
The Sunday Brunch at La Cuisine is not to be missed. Eggs made to order, breads, pastries, salads, cheeses, brioche, oysters, mini-burgers and sandwiches and so much more are there for the taking. (Try the glazed, fruit-filled croissant—it's heaven-on-earth delicious and the Eggs Benedict and cheeses are sublime.) Sunday Brunch is a great time for people watching too as guests, tourists and native Parisians flock to La Cuisine for this celebrated feast.
I would be remiss if I did not tell you about the Spa My Blend by Clarins tailor-made for much-needed pampering.
Photo: Spa My Blend 
Facials and massages are available (my one-hour body massage was pure bliss) and a full range of Clarins body and cosmetic products are on hand for purchasing or for a full-on makeup session. The longest indoor swimming pool in any Parisian hotel clocks in at over 75 feet—bring your swimsuit!
Photo: Pool
There are seven treatment rooms, a sauna and a fitness room and a personal trainer is available as well as a swimming coach for private lessons.
Paris is fabulous to visit any time of year but in summer it exudes a certain joie de vivre: The tree-lined streets and outdoor cafés are abuzz and the parks are lush with greenery. Le Royal Monceau Raffles, located on Avenue Hoche, is a romantic, honeymoon-perfect haven and is just blocks away from picturesque Parc Monceau, the Arc de Triomphe and the Champs Elysées. A stay here guarantees the dream trip of a lifetime; raffles.com/paris.
– Diane Forden, Bridal Guide editor-in-chief
For more European honeymoon ideas, visit The Most Underrated (and Affordable!) European Cities.