The Kentucky Derby takes place on May 7th — in celebration, check out creative wedding ideas inspired by the most exciting two minutes in sports! 
When Pigs Fly Events put together a wedding inspiration shoot that's filled with equine accents, and a special dose of Southern charm. Event planner Courtney Stone walks us through how any bride can achieve this chic and timeless look.
The mane attraction: A stallion dressed up for the occasion with a lush green garland. If you're tying the knot in a rustic farm setting, "Use creative modes of transportation for your guests, like horse-drawn wagons, tractor pulls, and carriages," Courtney says.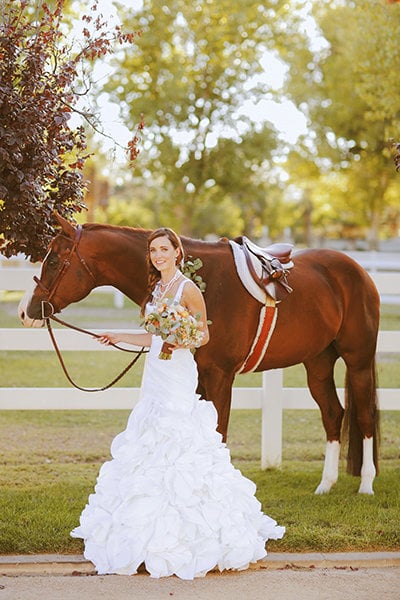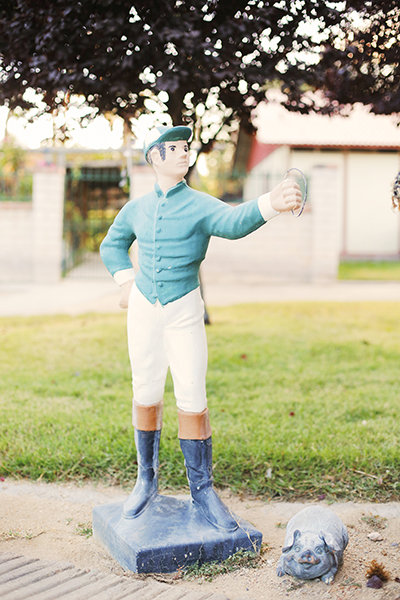 "Equestrian life is entwined in nature. Let the beauty of dusty trail rides and organic farming breathe life into your event décor," Courtney says.  Start with greenery (think eucalyptus and lush ferns) and then add feminine colors like soft rose and peach.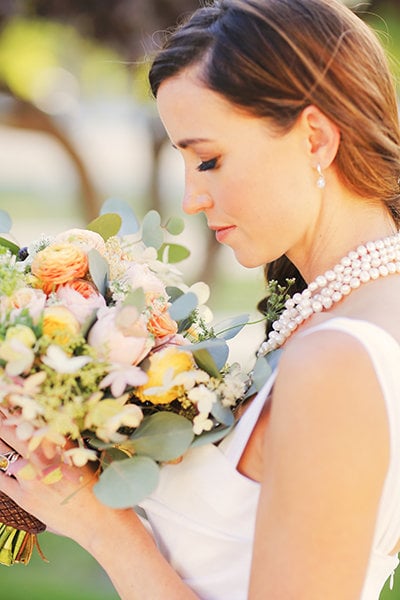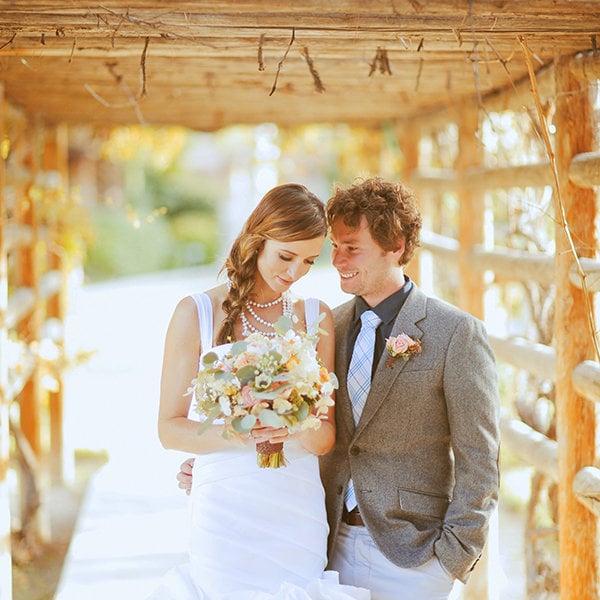 A patterned bow tie and gray suit make for a dapper groom's ensemble. "Gingham, florals, and bold stripes are the perfect way to infuse personality into your design," Courtney says.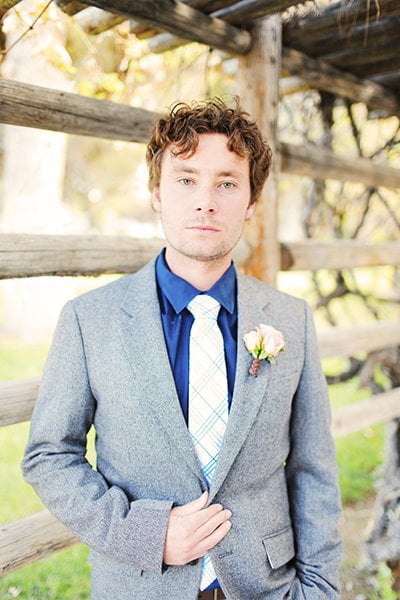 Masculine touches like leather accents were incorporated into the invitation suite, among other printed items, to add texture.
"When you choose to have a wedding with Southern influences, there's a good chance that your venue will be in a farm setting with a gorgeous barn with grassy knolls as backdrops," Courtney says. For a unique dining experience, have your guests dine inside the barn and use hay bales (along with sofas and coffee tables) to create a lounge-type environment.
Does your venue permit using candles? If so, then light up your big day with vintage lanterns and homemade turquoise mason jars ("Tint mason jars with food coloring, or buy them pre-colored, to create candles that match your color palette").
"We think it is so important to add your personality into your wedding by both being a part of the design process and letting your loved ones participate in the end results," Courtney says. This shoot features illustrated leather tag escort cards with images that reminded the bride of her guests.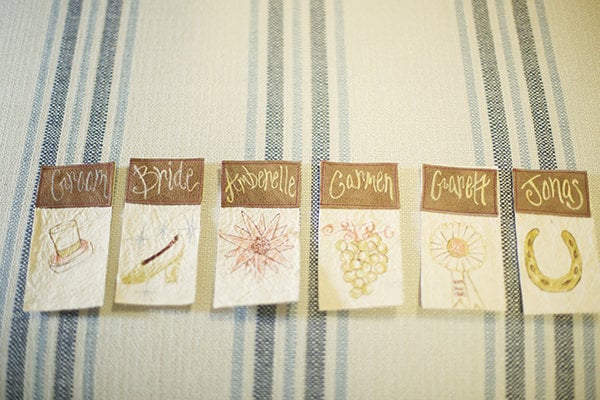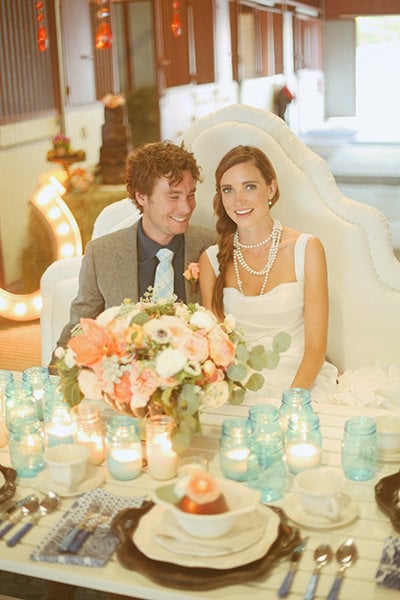 More fun ways to personalize your event: Enlist your family to help bake pies for your dessert stand or make homemade jam or brew for the guest favors. You could also dress up the affair by having guests wear hats reminiscent of The Kentucky Derby and British glamour.
These blue suede shoes were hand-painted by an artistic friend.
"Place settings are another fantastic place to incorporate earthy elements. We left peaches with delicate florals on each guest's plate as a sweet welcome gift, but you could also swap them out for herbs like rosemary for a simple way to dress up your table," Courtney says. 
These beautiful butter spreaders hand-stamped with the phrase "thoroughbred and butter" were the impetus behind creating this shoot. Modern Juliska napkins and vintage-inspired dinnerware complete this beautiful tablescape.
Ask your caterer to incorporate produce from the farm into the menu for a food-to-table feast. This shoot had an "equine candy bar" that overflowed with raw carrots, oats and apples. "Guests were invited to treat the farm's horses to desserts as well as themselves," Courtney says.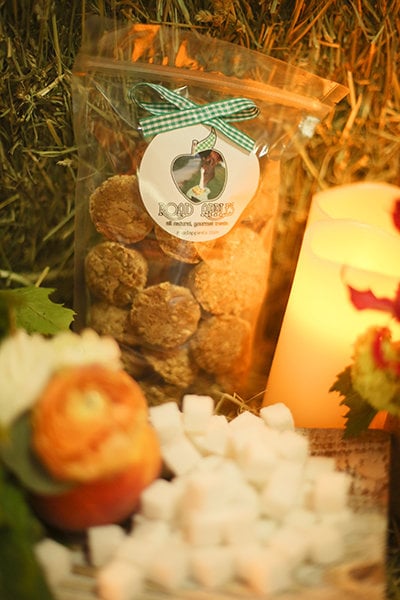 End your big day on a sweet note with a decadent chocolate cake featuring horseshoe accents.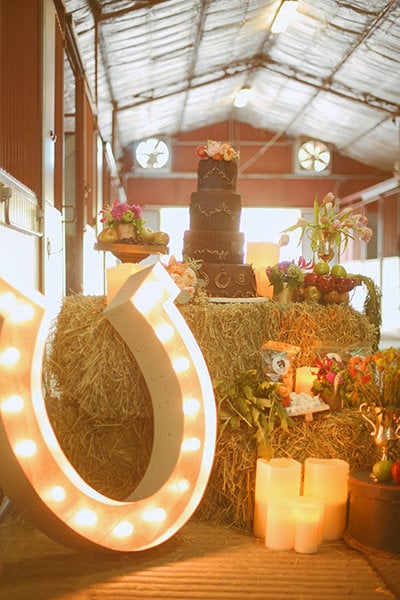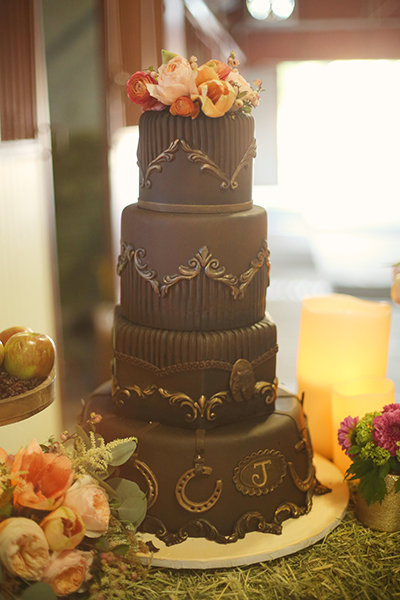 Signature cocktails are another fun way to bring your theme to life. For a wedding centered around Kentucky Derby influences, a mint julep is the natural choice. You could also incorporate a bourbon tasting with Colorado Whiskey and Basil Haydens: "Give your guests a special copper tumbler as a great favor and keepsake! Have a set engraved for your own personal bride and groom chalices for the day," Courtney says.
Vendors:
Planning, Decor & Design: When Pigs Fly Events
Photography: Gideon Photography
Videography: NP Films
Venue: Private Home in Las Vegas
Florals: Layers of Lovely
Wedding Dress: Mina Olive Bridal
Horse Muffins: Road Apples
Cake: Las Vegas Custom Cakes
Calligraphy and Place Cards: When Pigs Fly Events
Invitation, Save the Date, and Menu Cards: Paper and Home
Thoroughbred & Butter Spreader: Sycamore Hill Etsy
Models: Janay Oakland & Garrett Morgan
Hair: Jaclyn Braverman (Studio Salons Las Vegas)
Makeup: Shauna Morgan
—Stefania Sainato