Here, photographers give us the scoop on which clothes make the cut for camera.
1. Wear an outfit that feels like you. "We usually tell our clients that the most important part of what they wear is that they feel like themselves. Whether that means that they're wearing jeans and a t-shirt, a swimsuit or a full suit, we're happy if they feel happy," said Tony Hoffer. The outfit that you choose will help set the mood and influence how your photographer shoots you, in the context of your location.
Whimsical: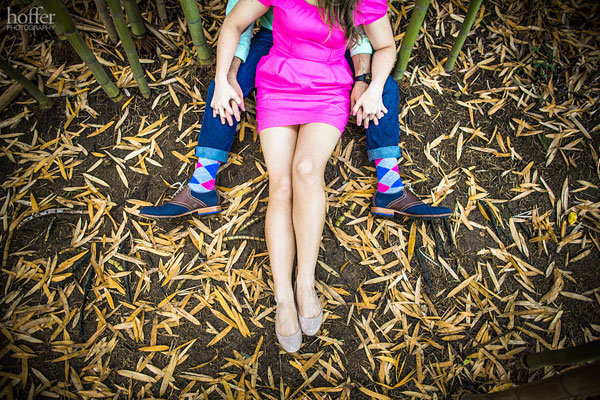 Sporty:
Sexy!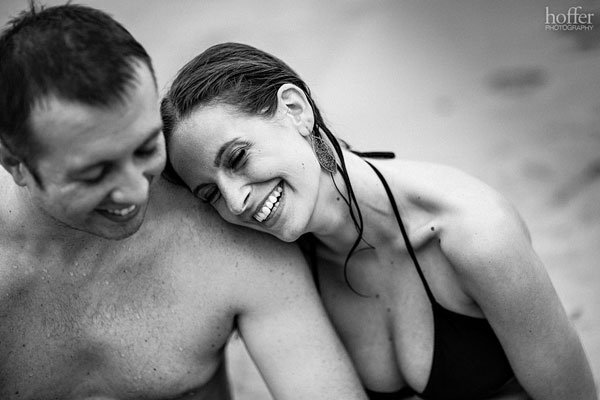 Photo Credits: Hoffer Photography
2. Comfort is key. Sure, a classic portrait can be breathtaking, but often it's the action shots—leaping into the air, laying out in the sand or grass to gaze at the sky, planting an impromptu kiss—that are the most impactful. You can't do any of that if you're too worried your arms look jiggly in that strapless dress (one of the toughest outfits to work with, according to photographer Kirsten Lewis).
"Make sure that your outfit is easy to move around in and fits you well. The better you feel in your clothes, the more relaxed and 'yourself' you will be during your shoot, which will result in you looking your best in your pictures," she said. 
Photo Credit: Kirsten Lewis
Photo Credits: Hoffer Photography
3. Don't be afraid to wear bold colors. Before you go the all-white route, take into consideration that bright hues really pop on camera. Couple Marie and Justin (pictured below) wore complimentary (read: not matchy-matchy!) ensembles at their engagement shoot that would pair well with any background.
"Even simple trees looked like a fresh, fun shoot because of their stylish choices! I also dig the pockets because it gives her something to do with her hands," said Kristen Weaver, their photographer. If rainbow shades are de rigeur for you, pump up the volume with color-blocking like bride Sue (also pictured below). Weaver assures us it's flattering and won't date your photos as more trendier pieces.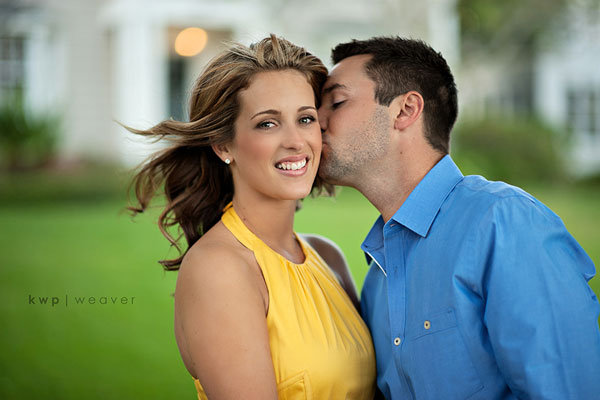 Photo Credits: Kristen Weaver
4. Throw a fun accessory or prop into the mix. At a recent shoot with photographer Abby Rose, the bride-to-be brought along a floppy hat (pictured below), which made for some darling photos. "Most couples aren't used to posing in photo shoots—an accessory of some kind can help them feel a little more 'styled' and 'warm them up' (this was actually one of the first few frames I captured at that session)," she said.
Don't limit yourself to jewelry: Pets, guitars, jerseys from your favorite sports team, and signs add visual interest, too. 
Photo Credits: Abby Rose
Photo Credit: Kristen Weaver
5. Consider an outfit change to switch things up. This is a must for couples considering a creative-themed movie engagement shoot. Pack a classic outfit on hand to take a few traditional shots you'll still love 60 years from now.
"We always encourage couples to bring a change of clothes for the classic portraits later on, but the natural fun ones seem to get chosen first," said Josh and Leslie McCracken, who shot the "Up"-themed photo below.
Photo Credit: Modern Photographics
Photo Credit: Brooke Aliceon Photography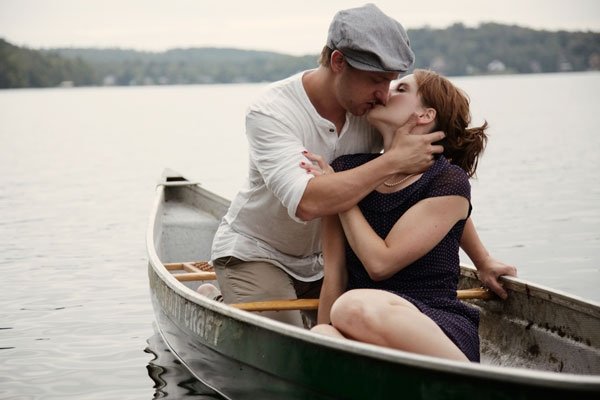 Photo Credit: Blushing Bride Studio
This couple takes the cake for following all of these style rules and then some—they even switched horses when changing outfits!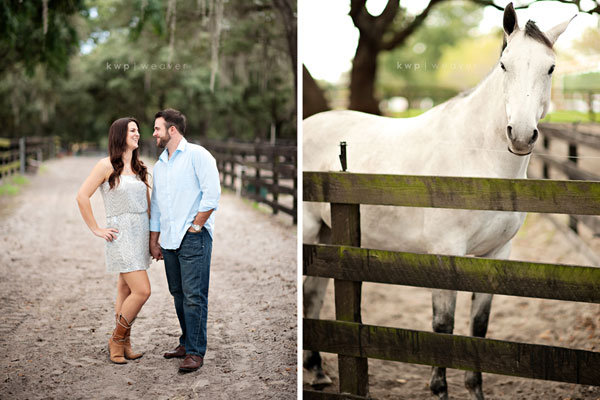 Photo Credits: Kristen Weaver
—Stefania Sainato