We real brides are constantly planning ahead, painstakingly plotting all the grand details of our big day. One thing you definitely don't want to forget: The exit. I honestly don't know what Corey and I are doing for ours, because as a fun surprise, my mom is coordinating it! I can't wait to see what she has up her sleeve. Sure, it'll be tough to top a dramatic, long walk down the aisle for your entrance, but if you plan it right, the exit from your ceremony or wedding party can be just as memorable. Here are some romantic, funny, unique exit ideas we love.
1. Jedi jet off. This might not be for everyone, but how adorable is this sendoff for the ultimate Star Wars couple? I'm not entirely sure why they're holding ponies on a stick (any guesses, readers?) but I love the glow from the light sabers.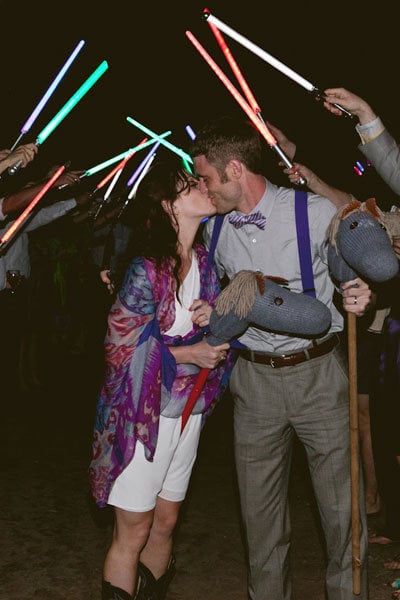 Photo Credit: Whitney Martin Photography
2. Beach theme bounce. If you can come up with a sendoff that fits your wedding theme, then I vote that you should go with it. This lighthearted, whimsical exit perfectly complements an intimate destination wedding on the beach.
Photo Credit: Meg Baisden Photography
3. Sparkling sayonara. This exit is becoming quite trendy, and from the photo below, it's easy to see why. Twinkling lights and well-wishers create a magical atmosphere. Not only are sparklers great for photos, but they're also inexpensive. I would definitely do this one (Mom, are you reading?).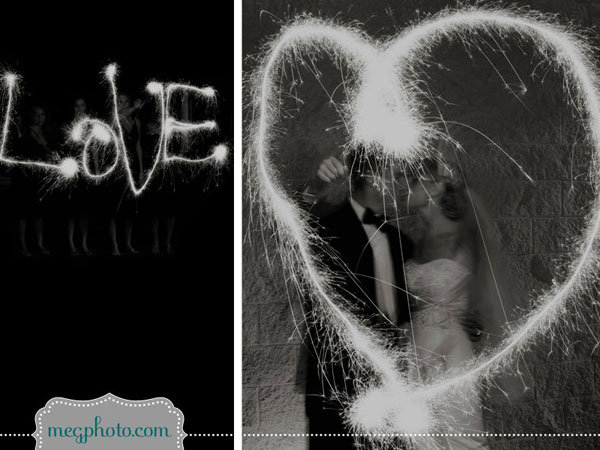 Photo Credit: Meg Baisden
4. Confetti toss. Let's be honest—the exit is all about a major photo opp! And how cute and colorful is this one? (Check with your church or venue to see what their rules are regarding what you can toss and what's considered a major don't before you have an angry clean-up crew on your hands.)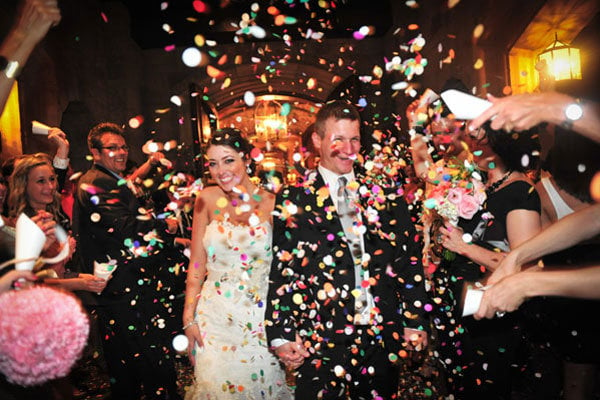 Photo Credit: Holli B. Photography
5. The "sneak off." This one doesn't work for every bride. If you have a lot of friends and family who have come from out of town and don't get to see you very often, a proper goodbye is recommended. But if the party is nearing completion and you just can't wait to get some alone time with your new Mr., I think it's super romantic to sneak away from the crowd. Besides, by the end of the night, you've hopefully already spent some one-on-one time with your guests.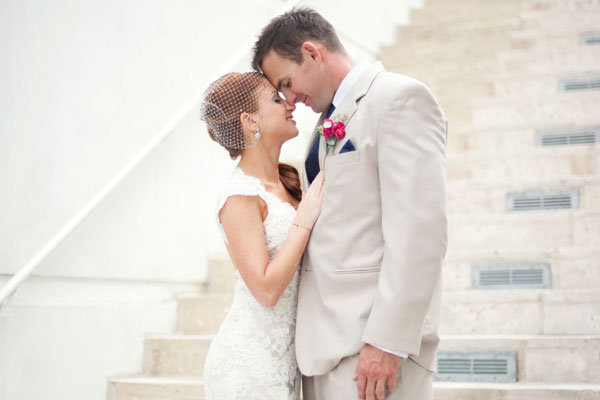 Photo Credit: Justin & Mary Photography
6. Vintage romance. Sometimes, all you need is an impressive getaway car to leave a lasting impression on your guests. I personally get choked up when I see couples whisked away by an antique ride. Plus, it makes for a great photo opp and doesn't require tossing anything.
Photo Credit: Long's Photography
7. A twist on tradition. Typically, brides and grooms rush away from their wedding while dodging bird seed, lavender or rice. If you're a traditionalist at heart, consider having guests throw big, fluffy flower petals or blow bubbles, instead.
Photo Credit: Rebekah J. Murray
Tell us: Real brides, what is your getaway plan for the wedding?
— Nikki Stroud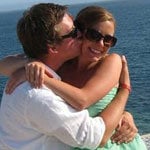 Nikki Stroud is a real bride who is learning every step of the way when it comes to wedding planning. She and her fiancé, Corey Allan (both Ball State alums), will be married in September of 2012 in front of their friends and family in Indianapolis. Glittering ivory lights, exposed plumbing and sleek wood floors depict their romantic yet rustic venue in the Downtown area. The couple hopes to incorporate personal touches to make the celebration truly reflect their relationship.