Skipping the first look? Here's how to keep your guests busy while you take photos.

Photo: Layce Bauman Photography via Alston Mayger Events
Keep guests active! "Weddings are all about capturing the moment, so why not set up a champagne cart selfie station? Design the cart to fit the theme of your wedding with flowers and balloons. Provide the perfect backdrop for your guests to snap their own pictures! Want to take it to the next level? Add a personalized wedding sign to celebrate the happy couple in each picture! Your guests can pass the time sipping and posting their pictures, giving everyone who isn't there major FOMO." —Ashley Vipond, Co-Owner, Champagne Social Co.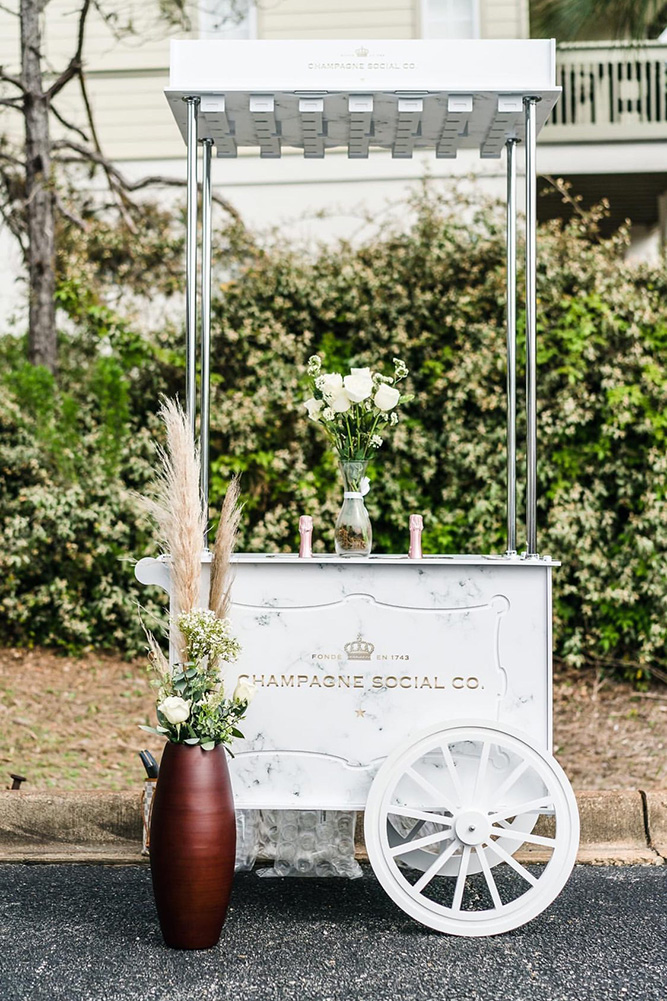 Photo: Becs Jpg Photography via Champagne Social Co.
Set up food stations. "Snacks keep guests busy, and good snacks make guests happy! You can't go wrong with providing some great food for your guests." —Daria Kapusta, Manager, Precious Pics
Include immersive entertainment. "The best way to keep your guests entertained during your newlywed portraits other than the usual food and drink in abundance is to have some amazing immersive entertainment! Depending on the number of guests, make sure you have enough actors, dancers, magicians, and entertainers to keep everyone busy. You can have a mix of one-on-one entertainment such as magicians, illustrators, perfume creators, or poets mixed in with some more general entertainment like dancers, performers or musicians." —Charlotte Ricard-Quesada, La Fête
For an outdoor space, set up games. "Some of our favorites include giant Jenga, Connect Four, or corn hole — guests love these, and they'll definitely be entertained! Bonus points if your venue has a table tennis or pool table for extra game time." —Daria Kapusta, Manager, Precious Pics

Photo: The Vondys via Honeyfitz Events
Hire a live entertainer, like a cartoonist or caricaturist. "This is a fun and unique activity for your guests to enjoy during your cocktail hour. They'll be able to leave at the end of the day with a special keepsake from your wedding, and we promise, they won't forget this! Another option we love is a tarot card reader or palmist — again, such a unique experience for your guests!" —Daria Kapusta, Manager, Precious Pics
Offer plenty of passed appetizers. "Outside of activities and places to sit, tray-passed appetizers are always a hit and allow guests to mingle at their own pace rather than get in a line right away for a light post-ceremony snack." —Ashley Lachney, Owner of Alston Mayger Events
Set out comfortable lounges and fun photo opps. "You can never go wrong with an open bar, but I love when my clients tell me a priority of theirs is that their guests have fun. I love working with them to create wow moments via soft seating and lounges, fun photo opportunities for themselves like a floral wall or neon sign, and guests have lined up in droves lately when an Instamax guest book is present." —Ashley Lachney, Owner of Alston Mayger Events

Photo: Layce Bauman Photography via Alston Mayger Events
Create a treasure hunt for guests. "What better way to keep everyone busy than a miniature treasure hunt?! Hide little telreasures with references to you and your partner, your relationship, and your wedding day and set out notes and hints for guests to find each clue." —Daria Kapusta, Manager, Precious Pics
Set up a DIY bar! "Give your guests the freedom to get creative with their beverages with a DIY bar offering a variety of flavored syrups and garnishes like fresh herbs and fresh fruit. A specialty mixologist can create craft cocktails for everyone to sip on." —Daria Kapusta, Manager, Precious Pics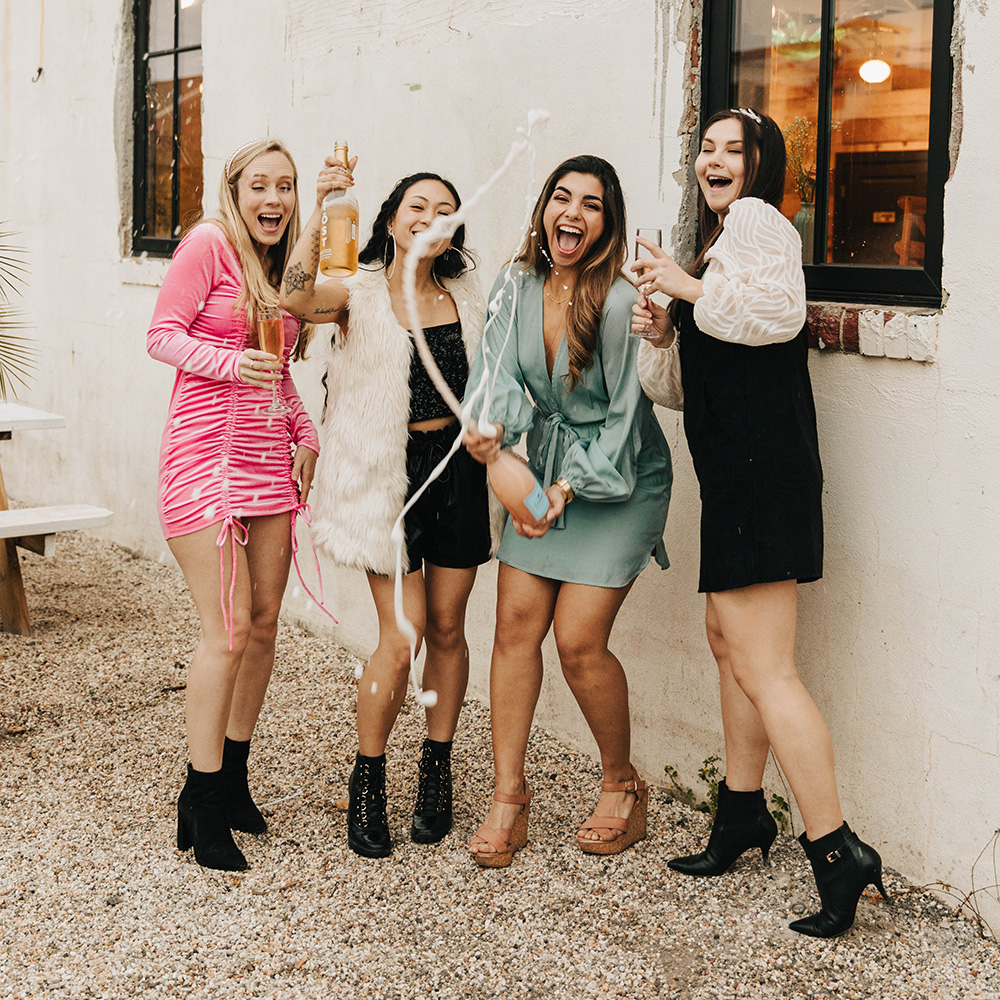 Photo: