I recently purchased my bridal headpiece during a sample sale at Bridal Styles in Brooklyn, NY, a boutique that's been around for over 25 years (my aunt bought her wedding hair accessory there in the '80s!).
At first, I balked at trying on anything that even remotely resembled something Dutchess Kate would wear. As time ticked by—and I admired the other brides' clips—I had fun trying on more ornate styles. (After all, when else is it socially acceptable to wear a bejeweled crown in public?) Here's what I learned about the art of accessorizing from my consultant, Kassie.

In case my fiancé Jason is reading: No, this isn't the style I picked!
Decide what your hairstyle will be in advance.
You'll have to know more than just whether you'll wear your locks up or down. For example, if you're set on having a bun, do you envision a high ballerina style or a low one that is swept to the side? If you're blessed with long, thick hair, consider bigger hair accessories that can stand up to the weight, rather than daintier ones, which will be less noticeable.

Photo Credit: Zenobia Studios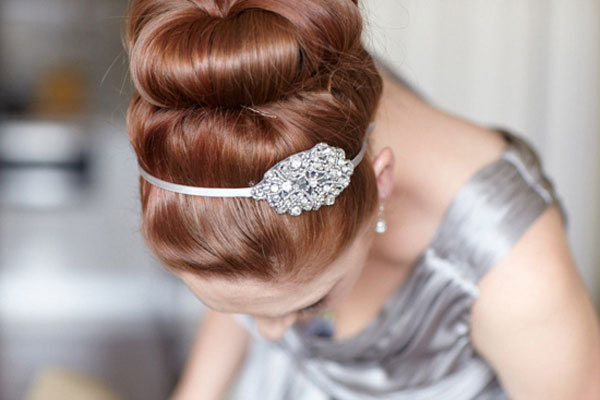 Photo by: Fennel & Fox Photography on Polka Dot Bride via Lover.ly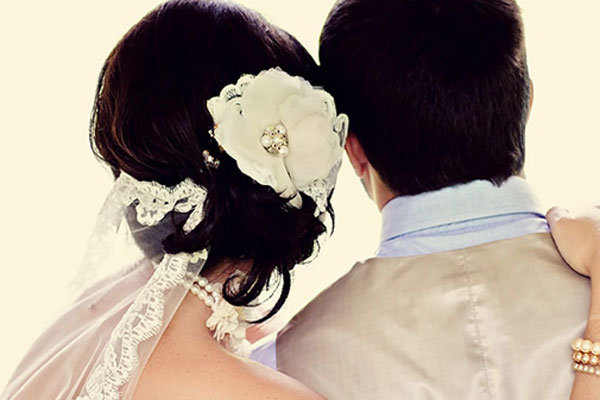 Photo by: Picsee Studio on Wedding Chicks via Lover.ly

Photo by: Jonas Peterson via Polka Dot Bride

Photo by: Anne Robert Photography

View each hair accessory from all angles.
When you went gown shopping, you checked out each potential dress from the front, back, side, and up-close. This is the same concept: Get a 360-degree view of each headpiece you try on by asking the salesperson if they could snap a pic on your phone. (You might feel silly at first, like I did, but I found that accessories do look different depending on your vantage point.) The shape of your headpiece will influence how it looks from a distance—scalloped edges, scroll work, or an asymmetrical shape (a popular style recently), stand out more than one with a uniform size throughout.

Rhinestone hair wrap From Tessa Kim Shop

Photo by: Maria Angela Photography

Photo by: Erich McVey on Wedding Chicks via Lover.ly

Photo by: Rebekah J. Murray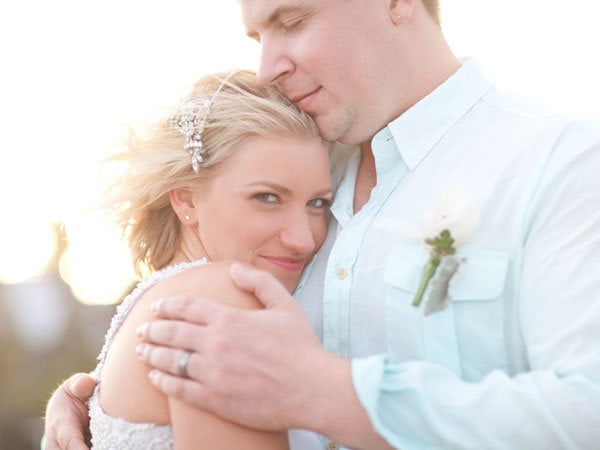 Photo by: Thompson Photography Group on Every Last Detail via Lover.ly
Take the color of the metal into consideration.
The hue of the headpiece should complement the color of your gown. For example, if your dress has beadwork that is off-white or silver, a stark white headband may appear too bright next to it. If your style is vintage-inspired, consider a hair clip or headband that has exposed metal (rather than one that is completely encrusted in crystals).

Photo by: Emme Wynn on Bridal Musings via Lover.ly

Headband by BHLDN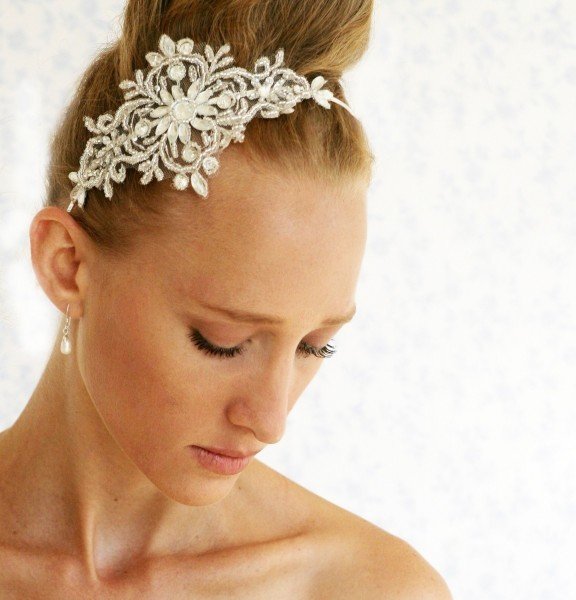 Photo via Old, New & Borrowed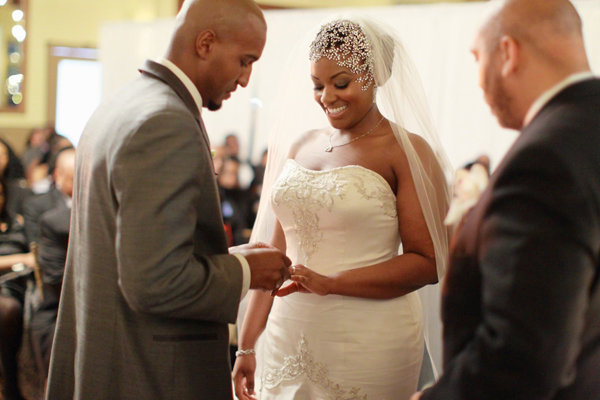 Photo by: Ahmetze via Lover.ly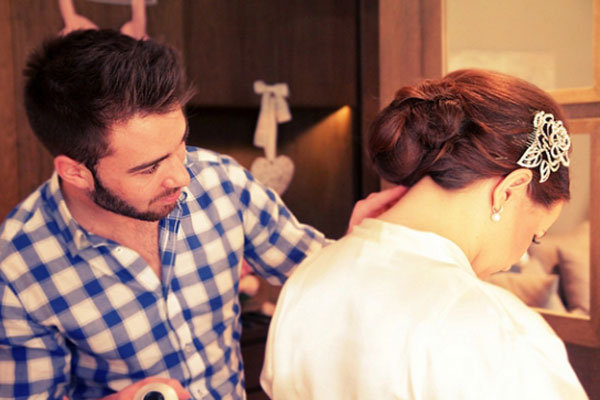 Photo by: Nadia Attura on Destination Inspirations via Lover.ly
Adjustment is everything.
A bridal headband can look completely different depending on if you place it flat against your head or lift it up at the crown. As a general rule of thumb, the higher you place it, the more dramatic the look. This applies to hair clips and pins, too: Apply them closer to your face if you want them to stand out more.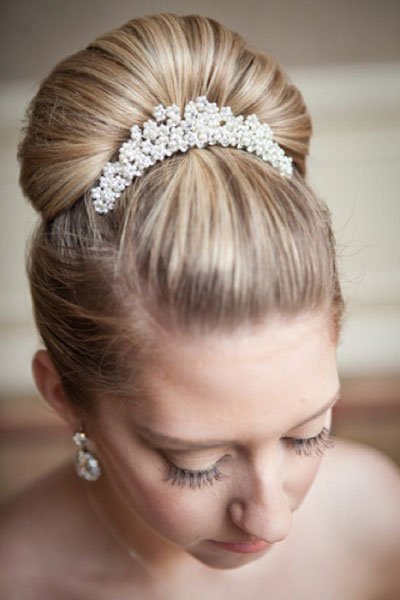 Photo by: Happily Ever Borrowed on Heart Love Weddings via Lover.ly

Photo by: Meg Courtney Photography

Photo by: Emme Wynn Photography on Bridal Musings via Lover.ly

Photo by: Kali Lu Photo on Wedding Chicks via Lover.ly
"Renee" Hair Flower from Serephine

Photo by: Nordica Photography on Engaged & Inspired via Lover.ly
All of your accessories should work together in total harmony.
Your jewelry, headpiece, and veil should enhance your look, not distract from it. Edit, edit, edit — I went with a simpler veil than what I had originally envisioned, so that the focus would be more on my jewelry (priorities!).

Photo by: Jaja Samaniego on Bride and Breakfast via Lover.ly

Photo by: Natalia Zamarripa Photography on Every Last Detail via Lover.ly

Photo by: Jodi Miller Photography on Southern Weddings via Lover.ly

Photo by: Wendy Hickok Photography via Lover.ly

Photo by: Elizabeth Messina on Snippet and Ink via Lover.ly
Tell us: Which photo above is your favorite? I'm partial to the last one, even though I ended up buying a style that's totally different.
—Stefania Sainato