When it comes to shoes, I've been that girl at the party. I'm the one in the sexy red-soled stilettos who has to take breaks from dancing after only two songs, grinning through gritted teeth, just one step away from face planting (my fiancé's always there to catch me). At only five-foot-two-inches tall, I've come to accept that beauty involves a little sacrifice.
But after one too many nights limping home, I swore that my wedding would be different. I want to float down the aisle, dance my heart out, and kiss guests goodbye with sure-footedness. True to my promise, I took the newest shoe styles for a whirl around the BG office to see which ones could stand up to the big day. I wore each one for a full workday from eight-fifteen to five o'clock. (As you can imagine, I was quite the sight with my business-casual attire and twinkle toes!)
It was worth the sheepishness: The 10 pairs below passed the test of a full day's wear, including jumping, dancing and sitting. (Important note: Nothing will ever be as comfy as these flats, so I went into this with the realistic expectation that my knees would be a little sore by the end of this experiment.)
Thank you to my lovely colleague Kristen O'Gorman Klein for shooting all of the photos below!
Comfort Level: A Step Above Slippers
Catherine by Benjamin Adams London
Can you tell that Kate Middleton inspired this shoe? I fell head-over-heels for this limited-edition pair, just like I did with its muse. The mesh inserts help balance the sparkle factor and make it more wearable to boot. Comfort Level: 10 out of 10
Style 5355 by MENBUR
Can't decide between a sandal and a peep-toe? This shoe combines the best of both worlds: The mesh sides allow air to circulate while still maintaining the look of a traditional bridal shoe. At the end of the day, the top of my heels was just a little chafed. Comfort Level: 10 out of 10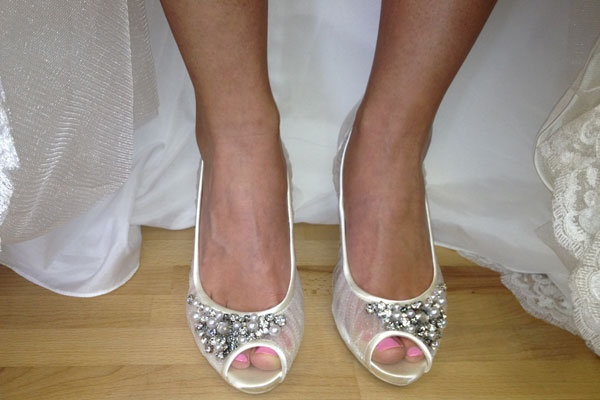 Bow Tied Wedge by Milk & Honey
Mom recommended this brand to me at the very last minute, and I'm so glad that she did. My co-workers couldn't even tell that it was a wedge, just looking at it from the front. Milkandhoneyshoes.com also gives brides the opportunity to custom-design their wedding shoes based on shoe type, back and straps, trim, embellishment, color, and more. You can even add a "something blue" insole! Comfort Level: 10 out of 10
Nude by ECCO
ECCO has a reputation for making some of the most comfy footwear, and now it's easy for me to see why. Although this isn't your typical "bridal" shoe, I can see this wooden heel fitting right in at a rustic barn wedding or intimate outdoor garden party. Comfort Level: 10 out of 10
Shine by Allure Bridals
I was skeptical that the rhinestone appliqués, although gorgeous, would get in the way, but they didn't at all. The well-balanced design was so easy to walk in that at one point, I forgot I was even wearing them. Comfort Level: 8.5 out of 10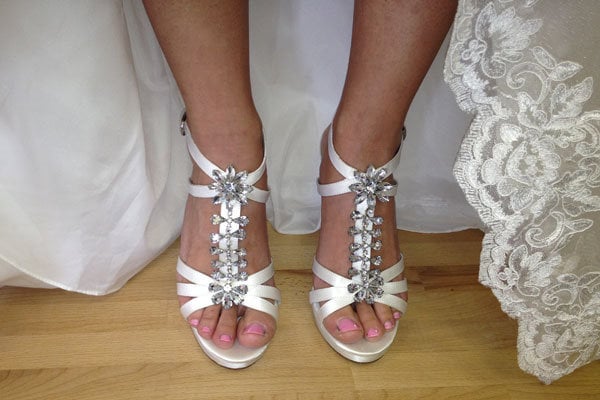 Comfort Level: Walk the Line Between
Paulette by Gwyneth Shoes
Drawn to its classic tie-knot design, I was happy to find that it's also extremely wearable. There's plenty of arch support and it was easy to keep my posture balanced. The only caveat is that the closed toe felt a little confining by the end of the day, so it's ideal for brides getting married in cooler temperatures. Comfort Level: 8 out of 10
Liz René Couture
I'll take diamonds over pearls any day, but there's something about this design that I found charming. The heel was just high enough to make me feel leaner and more elegant. Comfort Level: 8 out of 10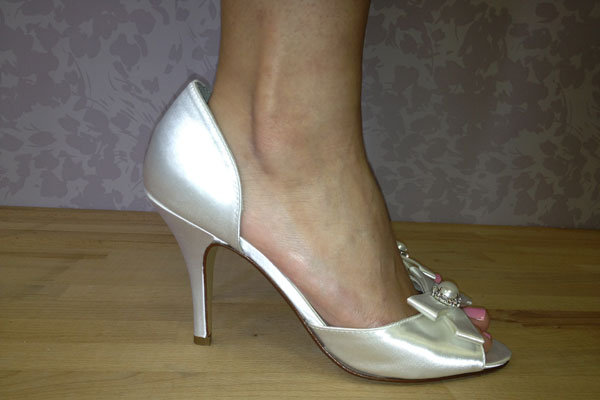 Comfort Level:  High Heel Masters, Only
L'Amour by Angela Nuran
An ex-ballroom dancer, Angela created this line of shoes after getting frustrated from having to compete in uncomfortable heels. I knew the back-story, and had high expectations for these glitzy little ladies (the crystals are customized and applied by hand). I wore them at a fashion shoot, and the extra-thick padding throughout the heel, arch, and ball of the foot helped me run around with ease. Comfort Level: 8 out of 10
Cerise by Aruna Seth
When I met with this lovely British designer—a favorite with celebrity brides—passerby stopped in their tracks to pick these heels up off the café table (permission bedamned). "Cerise" is the tallest (and what I like to think of as the sassiest) in the bunch, but the platform and thicker heel make it cushier than any other designer shoes I've ever worn. Comfort Level: 7 out of 10
Elizia by Nina Shoes
Many brides I know have been singing the praises of Nina shoes for years. The straps made it a little easier to carry off such a high heel, but I had to be mindful of my posture in these. The shoe has a glam gold tinge in person, and the mother of pearl detailing is soft and pretty. Comfort Level: 6 out of 10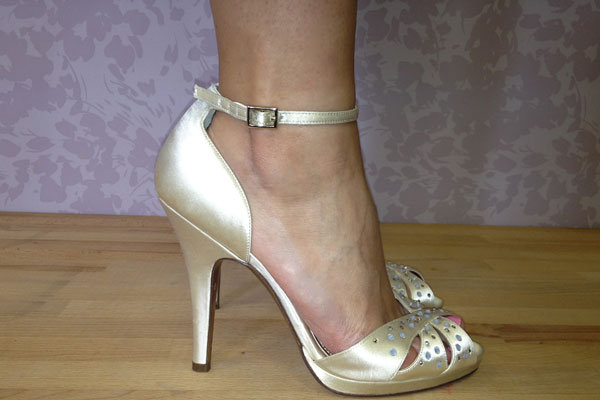 How to Pick Comfortable Shoes:
Shoes that fit the following criteria will be the easiest to wear: Thick heels that are two inches or less, a broader and deeper toe shape and materials that allow your foot to "breathe" (leather is said to be best). The steeper the curve is between the heel and toe box, the more pressure you're putting on your foot.
Once you've selected a style you like, pick up the high-heels in one hand and determine how much they weigh. You don't want to be weighed down on your wedding day—the gown is heavy enough already!
Then, follow an old podiatrist trick: Knock on the bottom of the shoe. If it sounds like knocking on a door that means there's not enough cushioning. You can also press your thumb along the ball of the foot area and arch to see if there's substantial padding, which will help with shock absorption. When you're ready to put them on, walk on a hard floor (every shoe feels better on carpet).
UPDATE: As a few BG brides have pointed out, a few of the shoes were a little too large for my feet (I'm a size 7.5), but they fit just enough for the purposes of testing. For your actual wedding day, make sure that your heels fit to perfection.
Which shoes would you pick for your wedding? I can't decide for mine!
—Stefania Sainato