Throughout the wedding process there will be elements that entice you to spend a little more than you were planning on — and we all know how tempting those can be! Some splurges are worth every penny while others may leave you with a case of serious budget regret. Here are a few guidelines to help you decide where to cut corners.
1. The Champagne Toast
The champagne toast is a wonderful tradition and something that I personally love as a champagne drinker. Unfortunately, it's also one of the biggest wastes I tend to see at weddings since most guests prefer to toast with their beverage of choice, if given the option, which means that their champs will go untouched or they'll barely sip it. My recommendation to all of my clients who want to cut costs is to skip the bubbly and just make sure that all of your guests have a drink in hand.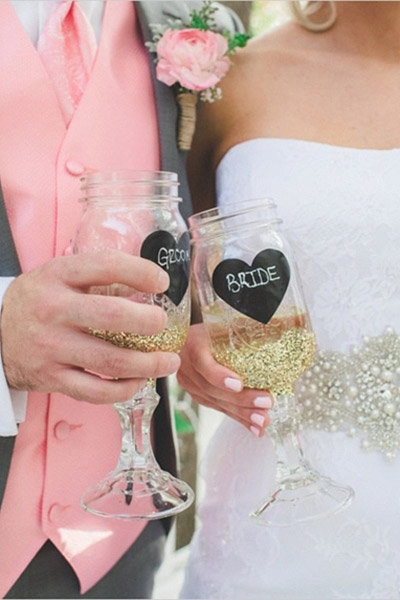 Photo Credit: Park Road Photography on The Wedding Chicks via Lover.ly
2. The Cake
However you decide to approach the dessert course, my advice here is to simplify. There's no rule that says you must serve cake — think of it more as an opportunity to share your favorite treats with your guests. For example, maybe your wedding calls for cookies and milk or pie and root beer floats. 

(Left) Photo Credit: Pure7Studios on Every Last Detail via Lover.ly
(Right) Photo Credit: Amy Hutchinson Photography on Munaluchi Bride via Lover.ly
I come from a family of cake-lovers so not having one simply isn't an option. However, my cake will not be some overly dramatic style that requires countless man hours and has a huge price tag. I'm leaning towards having a trio of simple, smaller cakes in a variety of flavors that all of my guests can enjoy.
If you want to have a cake-cutting ceremony, consider serving sheet cake to your guests instead of paying for a tiered confection. Besides the huge savings, the beauty of sheet cake is that it can be pre-plated and served the second after you cut the display cake. This ensures that less goes to waste because it's at the forefront of guests' minds that they better grab a slice before hitting the dance floor all night!

Photo Credit: Emily March Photography on Heart Love Weddings via Lover.ly
3. Wedding Rentals
Although I adore a well-designed place setting from the amazing, creative vendors out there like Casa De Perrin, most guests will not know the difference between specific glasses or appreciate the cost of a colored cut crystal goblet. However, what they will remember is how their meal was presented and how delicious it tasted when they cut into it. I can assure you that a simple white plate with a beautifully presented entrée course can be just as impressive as the same meal served on a different plate.

Photo Credit: Jose Villa on Society Bride via Lover.ly
There are other, more cost-effective ways to play up your table décor than renting expensive tableware and linens. For example, you could get creative with your napkin fold, handwrite a thank-you note for each guest's place setting or add a spring of fresh lavender to every dish. All of these small touches will leave your guests thinking how tastefully simple and elegant everything was.
4. Guest Favors
Personally, favors are something I can do with or without unless there's some emotional or personal significance to the item. For example, I'm not a fan of personalized M&Ms or bubbles; these are the types of favors that will get left behind or eaten before guests even leave the wedding. They also cost more than you'd think! In my opinion, anything with your name etched into it, whether it be glassware, bottle openers, or containers, also aren't worth the splurge. If you have a lot of guests traveling from a long distance to your wedding, then you may want to avoid items that they can't easily pack in their suitcase, such as planted herbs.
I advise my couples to think local by offering something useful that guests can take home with them, such as cooking oils and spreads from the region where they're getting married. By creating something that is a reflection of your wedding, you are inviting loved ones to continue to remember the celebration and to bring that joy into their homes. Or you can skip the favors entirely by hosting a late-night snack station or take-home breakfast treats station, instead. These are great additions to your catering budget.

(Left) Photo Credit: Tamiz Photography on Style Unveiled via Lover.ly
(Right) Photo Credit: Emily RC Photography on Fab You Bliss via Lover.ly
5. Luxe Centerpieces
I'm a sucker for beautiful flowers but I also know how much they can cost. What I love about wedding centerpieces is that they are a complete reflection of you as a couple and don't need to follow any specific guidelines. Who says that your centerpieces have to be completely draped in expensive blooms? Instead, I would suggest displaying a collection of simple, in-season flowers, more greenery and décor accents such as candles, driftwood or even antlers from your father's collection. Most of your guests may not know the difference between a peony or a hydrangea but they will notice the small details that are a reflection of the two of you.

Photo Credit: Caroline Tran on Enfianced via Lover.ly
A great designer or florist won't try to talk you into more than what you need, want and have budgeted for; what they will do is create a beautiful tabletop that is reflective of your personalities, budget and wedding vision. Don't feel that you have to go over-the-top and spend hundreds of dollars on your centerpieces. Think of it as an opportunity to get creative and find something truly unique to your special day.
Of course, there are many other ways that you can trim your budget without sacrificing style, such as asking a friend or relative to officiate your ceremony or calling upon talented friends. Remember that what's truly priceless is celebrating with loved ones and creating memories that you'll cherish for the rest of your life.
Tell us: What are you skimping and splurging on?
— Davia Lee
P.S. Have an interesting wedding planning story to share? Apply to become a real bride blogger here ►

Davia Lee is a real bride, entrepreneur, lead designer and wedding planner for Davia Lee Events. She loves all things sparkly, fashionable and girly. In contrast, her fiancé, Jesse, is a "man's man" — beard and all! They are the poster couple for "opposites attract" and prove that true love knows no boundaries. Their greatest wedding-planning challenge will be finding a middle ground where all of their wants, needs and dreams will meet. We can tell you this, though — when everything aligns, their big day will be fabulous!