Time's a-ticking—I'm only about two months away from saying "I do!" My fiancé Michael and I are looking forward to the future and we can't believe that our two-year engagement is quickly coming to an end. I've learned so much about myself and wedding planning in general throughout this amazing journey. BG brides, I'd love to recap my highs (and lows) with you all...
1. Don't sweat the small stuff.
This isn't the first time I've admitted that I used to suffer from wedding obsession. After our engagement, I encountered many sleepless nights; I would lay in bed, wide awake, debating everything from venues to flowers to bridesmaid dresses. I can't recall exactly what made me snap out of it, but I will share the best planning advice someone told me: No one will ever care as much about your wedding as you do. (I'm pretty sure my guests could care less if I opted for sheer overlays or plain linens!) Just remind yourself why you're throwing this big party in the first place—not to show off your planning skills, but to celebrate that you've found your soulmate.
2. Two years can be an awfully long time.
Michael and I decided on a two-year engagement because we were convinced it would take us that long to save funds and plan the wedding of our dreams. In retrospect, we only really needed about one year to accomplish everything...I wish we had known this in the beginning. We are so eager to be husband and wife that we've even thrown out the idea of getting hitched at city hall. We're trying to remind ourselves about all of the time and energy we've put into planning and how our wedding will be well worth the wait. My best advice for recently-engaged brides is to not wait more than a year unless it's truly necessary.
3. Celebrate your engagement, just you and the groom-to-be.
Immediately after Michael proposed to me at the South Street Seaport in Manhattan, we hopped on a ferry to Staten Island to share the amazing news with family and friends. We spent the entire weekend celebrating with loved ones, and although it was great to include them in such a momentous event, I recommend keeping your engagement a secret for as long as you can. My sister Laura and her fiancé Kevin got engaged while they were on vacation in Miami, and they didn't share the news with anyone until they returned to New York. How romantic is that, to share such a great secret with the love of your life?
4. Your plans will change and change...then change again.
My centerpieces have evolved many times throughout this experience, from a cluster of vases to low arrangements, back to high, then finally low again (for now). When we first started planning, I felt that I needed to decide every aspect of the wedding right away—what a waste of time! Your plans will constantly transform as you find inspiration on your favorite bridal websites, visit with your vendors and attend other people's weddings. Just remember that this is normal, so your best bet is to go with the flow.
5. If it's meant to be, it will be.
Last September, I started searched for my wedding shoes and even asked my BG brides to help me decide which pair I should choose. I opted for Kate Spade's "Bloom" style, tried them on in person at the store, and eagerly went online to order them, only to find out that they were sold out in my size. I called the company to inquire about this and an apologetic representative told me that particular style had been discontinued. This may seem like a complete overreaction, but I was devastated. I tried to move forward and search for a new pair, but nothing compared to the original ones that I wanted. I began stalking the website weekly and couldn't believe my eyes when I saw a 7.5 one day, my size! I ordered them immediately and am thrilled to report that the shoes fit like a glove.
6. Your guest list should be comprised of people that you know.
Creating a guest list for your wedding can be very tricky. You and your fiancé have your own list of family members and friends to invite, but then you need to consult with both sets of parents to see who they'd like to include. I recommend telling your parents and in-laws that due to budget limitations, you only have room for X people. Do you really want strangers (aka your dad's coworker that he hasn't seen in 10 years) at your wedding reception? 
7. Decide on your honeymoon goals and stick to them.
Michael and I decided early on that we do not want to spend our honeymoon waking up early and going on tour after tour. We know that our honeymoon will be a chance to catch our breath and process all of these new changes. I recommend sitting down with your groom-to-be and deciding what you'd both like to get out of your honeymoon:  Do you prefer a quiet beach retreat or a chance to travel abroad?  You should each make a list of your top three destinations and compare. Try to find some common ground and remember that you should both be going on your dream vacation!
8. Allow others to help you plan!
When you are in full-out planning mode, the idea of letting others take the reins and plan your shower or bachelorette party may seem off-putting. How can you ensure that these events will be exactly what you've dreamed of if you're not involved in the process? It's super important that when your loved ones volunteer to throw a party in your honor, you graciously accept their assistance, then sit back and relax. My mother and sisters have been planning my pre-wedding events for months now and it has been so enjoyable NOT being involved. I love that my only responsibility is to show up and have a blast!
9. Your registry won't be your only chance to purchase new items for your home.
When Michael and I created our registries, I was so paranoid I was missing items that I would constantly ask my mom, sisters and friends to check them constantly. I would stalk friends' registries for inspiration and then add and delete items from my own on a daily basis. Eventually, my sister Lisa provided me with a much-needed reality check. She reminded me that my shower is just the first of many shopping trips to score items for my future home. Michael and I will constantly be adding to our home décor over the years, so the registry is just a starting point.
10. Aim to please no one. It's your day!
I will end my list with this simple reminder: The only two opinions that matter are yours and your future hubby's. Block out advice that others are dying to give you and trust your instincts. The end result will be a beautiful wedding day that reflects the love you share as a couple. 
Can you relate to my top ten list? What do you wish you knew after you got engaged?
—Crista Camerlengo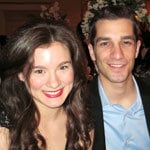 Crista Camerlengo is a real bride and the co-founder of Style She Wrote, who will tie the knot in July 2012 with Michael, her fiancé of six years. This chic NYC couple describes their wedding style as "modern romance"—fitting for a pair who had their first date at a quaint seaport and became engaged in the same spot, overlooking the Brooklyn Bridge. This fashion-forward blogger loves to infuse her traditional taste with unexpected contemporary accents.