My fiancé Edwin has surprised me with my fair share of "mush" throughout the years, including take-out picnics in the living room and 5 a.m. phone calls just to say "I love you." I often find myself wondering how I can sweeten our wedding the way that he's sweetened every day of our relationship. Here are some ways that I plan to surprise my groom on our wedding day. I hope that these unexpected moments make him smile that much more and kindly remind him that our big day is about us—he truly is my happily ever after.
1. Make a "love notes" journal. The Mr. is a published author and while I couldn't be prouder, he isn't exactly the king of public speaking or even conversing in a private setting. However, he knows just how to melt my heart by scattering love notes around the house. I will publish each one in a leather-bound journal, along with new letters written by me, and give it to him on the morning of our wedding day. It doesn't cost a lot, but the sentiment is priceless.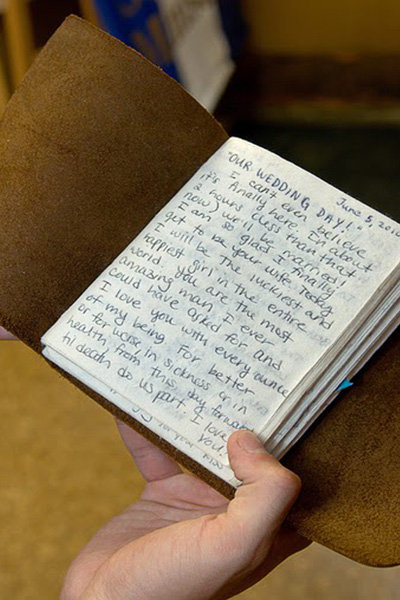 Photo Credit: Wildflower Weddings
2. Get your bridal party in on the fun. Although I adore all things mush, we all know I can't deny my inner sass, which is why I just may have my girls flash my groom a message right before I walk down the aisle. Not only is it adorable, but he'll never expect it...

Photo Credit: Wedding Day Dreams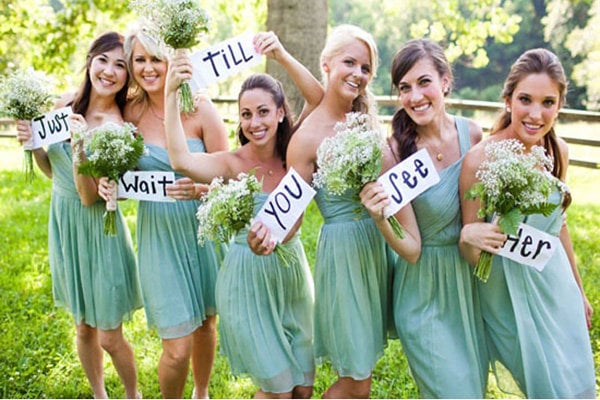 Photo Credit: The Lovely Find
…or have your girls text him the message instead. Either way, he'll be counting the seconds till you walk down the aisle! 
3. Engrave his wedding band with a meaningful message. It can be a verse, your wedding dates or something that is sure to make him laugh. (While he knows about this idea, the Mr. will not know what I choose to engrave—he will surprise me with my own engraved ring on the wedding day as well).
Photo Credit: Susan Stripling
4. Plan a private moment after the vows. We're marrying in Italy near a lake, so after the vows, I plan on surprising Edwin with a magical boat ride for two. The guests will be mingling during the cocktail hour, so it's the perfect time to sneak in some alone time. If you're having a fall-themed wedding, consider having a hayride, instead.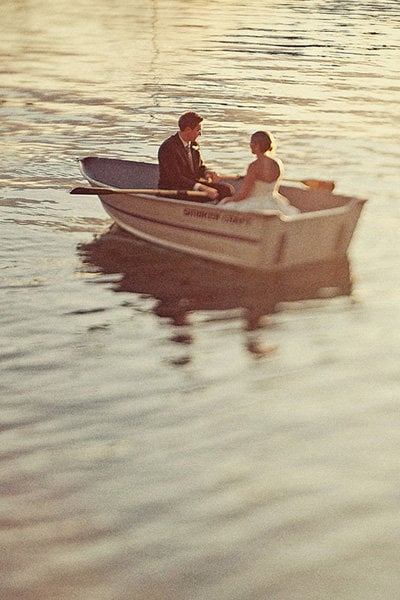 Photo Credit: Green Wedding Shoes
5. Include his favorite foods. It's 12 a.m.—do you know where your man is? Mine is snacking away, and since food is the way to a man's heart, why not include some of his favorite munchies at the wedding? Add them in for cocktail hour if he's a hamburgers-and-hotdogs kind of guy, and you want your reception menu to be a bit more upscale. Or have a midnight lounge where you serve breakfast items like mini pancakes, quiche and donuts, to celebrate his favorite meal of the day.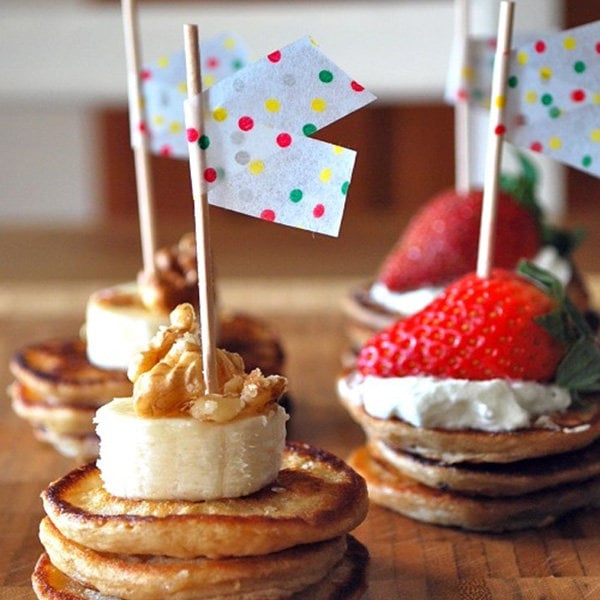 Photo Credit: Family Bites
6. Have breakfast in bed the day after the wedding. Nothing is more romantic than waking up to your guy as his wife for the very first time. But with crazy events and the never-ending hosting that comes along with throwing a wedding, you may be too busy to enjoy lounging the day after. Ask your Maid of Honor or planner to send over breakfast in bed, which could be just the cure. 

Photo Credit: Zsa Zsa Bellagio
7. Take some boudoir photos for him. It's a trend that I L-O-V-E and couldn't be more of a fabulous gift. You don't have to channel the vibes of Playboy, but you can make it sensual by wearing his favorite sports jersey or his 9-to-5 business shirt (and nothing else). Although most brides surprise their groom with boudoir photos on the wedding day, I plan on giving him mine either on our honeymoon or one-month anniversary so that he won't see it coming.

Photo Credit: Charlotte Boudoir
BG brides, which of these ideas would you try for your own wedding?
— Angelica Bragg


Angelica Bragg is a real bride and the blog maven of The Bridal Detective. She and her fiancé, Edwin Mirzayans (a published author), are planning a destination wedding at the Italian Lakes in Summer 2014. With a stunning backdrop and "la dolce vita" attitude, the couple's soirée will be intimate and romantic, all while celebrating two cultures. When the couple returns from their Italian road trip honeymoon, they will throw a glam after-party with all of their loved ones back home in Jacksonville, Florida.