Hi everyone! The next wedding-planning project I'm working on is our engagement shoot. Our lovely friend Valerie offered to take the photos for us shortly after we got engaged, but my fiancé Gray and I decided to wait until this fall to do them. No one (and by that, I mean me) looks happy and pretty in Florida's summer weather. 
Since our wedding photographer lives five hours away from us, near our ceremony/reception site, we decided to not do engagement photos with her. It was simply too difficult to manage the scheduling aspect of it. But working with our friend has been super fun.
Val and I brainstormed ideas with Gray's occasional input or veto. I knew I wanted it to be more natural and casual, as opposed to a staged or formal look. That just didn't seem like Gray or me. Here are some factors we decided to keep in mind that have helped with the brainstorming process:
1.Wear comfortable clothes.
Sure, you want to look nice. But, if a ballgown isn't your everyday style, why wear it in an engagement photo? I'd love some "normal" shots of us walking downtown or in a park near our house. I've also seen some friends from my Penn State days take really cute photos wearing PSU sweatshirts while walking around the campus or tossing a football.
Val came up with the idea to do an outfit change so that we'll have photos where we're slightly dressed up, but we'll also have ones where we're wearing jeans and nice shirts. Nothing too fancy, but I thought that was more "us."

Photo by: Laura Murray Photography on Bridal Musings via Lover.ly
We're looking at doing some coordination with the color blue. Gray brought up the idea of going shopping for new clothes for it, but I think I'm sticking with a tried-and-true blue Calvin Klein dress. I would never go so far as to pick out Gray's outfit — I'd rather let him wear what he wants — but I did mention the color coordination. Everyone is different though. 
2. Don't overthink it.
When Val and I first talked about the photos, she asked what type of things Gray and I liked to do together. I sort of froze because I was thinking about what would look good in photos. I finally came up with the fact that we both are big readers. Val instantly responded that we could do great photos of us with books or newspapers.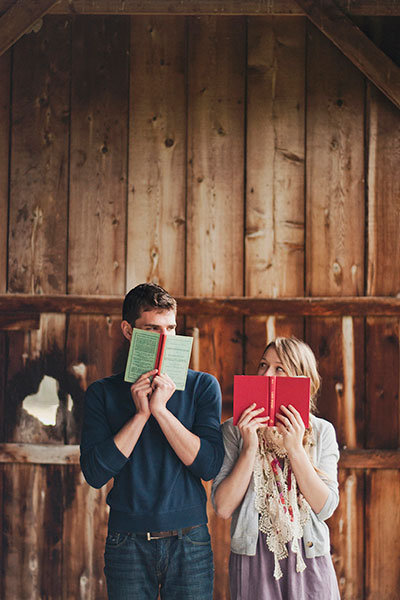 Photo by: Cozbi Jean Photography on Glamour & Grace via Lover.ly
But there are plenty of other options too. Love board games? How cute is a photo of a Scrabble or Monopoly match? Or, if you love fall activities, take advantage of pumpkin patches, hayrides or apple orchards. There are endless options!
3. Use what you have around you.
Though we are still finalizing the plans, we're looking at a beautiful park that is full of gardens and an old home for our more formal ones. I love the stone pathways, the trees with Spanish moss and the reflecting pool on the property. It's got a very old look to it, almost like it comes from the book The Secret Garden. I can't really think of a more beautiful area for our photos.

Photo by: Elizabeth Messina on Kiss The Groom via Lover.ly
But, I was caught off guard by some photos I found on a local photographer's blog that used very simple backdrops that few people would consider right off the bat. Tallahassee has some beautiful brick buildings and walls that make for a really simple type setting for some more casual photos. I've also seen great photos from friends at local libraries, diners, bridges and beautiful buildings in their hometowns.
4. Don't be afraid to say no.
Val brought up the idea of cutting hearts into the newspaper, but I vetoed it. It seemed too cutesy for Gray and me. If you think an idea isn't you or you aren't comfortable with it, say no.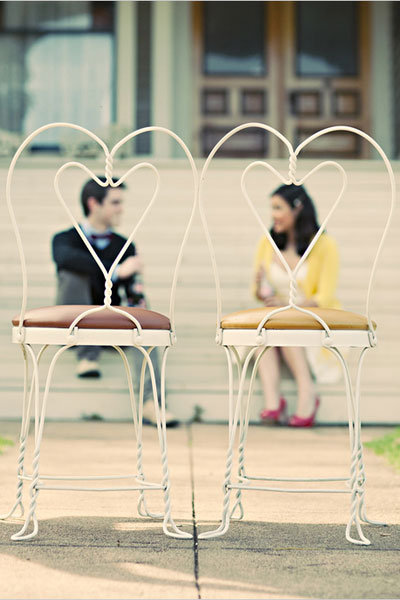 Photo by: Celebrate Life Photography on Wedding Chicks via Lover.ly
It doesn't necessarily have to be an issue with a prop though. Maybe you really aren't comfortable with PDA and don't really need a photo of you and your significant other smooching. Or maybe you don't like suggestions for outfits or locales. Do what you want to do.
5. Look at wedding blogs to get a better sense of what you like.
Do you want every photo up close and personal or would you like the photographer to be at a distance? Do you want more candid shots or very styled/posed shots? I'm still working through this myself. For us, we'd like more on the candid side, with probably a photo or two of us more styled. I have a little more than a week to figure it out!

Photo by: Alixann Loosle Photography on Inspired By This via Lover.ly
We're still trying to figure out how best to use the photos, but we'll likely incorporate them into our save-the-dates and our wedding website (another thing on my to-do list). And, let's face it, it's just nice to have a photo of you and your sweetheart for posterity.
I've also been to weddings where couples put together photo collages as part of the décor. I'd love to have an engagement photo nicely displayed with photos of Gray's and my parents and grandparents out for everyone to see. 
Our "photo shoot" is next weekend. I'll let you all know how it goes!
Tell us: Are you taking engagement photos? Why or why not?
— Kathleen Haughney

Kathleen Haughney, a native of Pittsburgh, and her fiancé, Gray, work as journalists in Tallahassee, FL. The couple met in November 2010 and were engaged this past Memorial Day. They are currently planning a 50's/60's beach themed wedding that will take place in Florida's Space Coast.