Brides are always searching for the next best way to inject unique style into their wedding design, myself included. Lately, I'm loving bold patterns and prints! The best part about them is that a little goes a long way. Carry the theme throughout your details by lining your invitation envelopes with a patterned design, tying a strip of fabric around your bouquet or opting to have your bridesmaids wear polka dots for instant sass.
If you're looking for inspiration, then you're bound to find stylish ideas at your nearest fabric store. Whether you gravitate towards black and white stripes or a colorful ikat print, there's a different print or pattern for every wedding vibe. Check out some of my favorite ideas below!
Chevron
This just might be my favorite pattern and with good reason — it's entirely universal as to the vibe it can give off. Pair it with black and white and it instantly becomes a modern design element. Add bold punches of color with backdrops and tablecloths (like the photos shown below) and your bash takes on more of a playful feel.
Bonus tip: Confused about the difference between chevron and herringbone? The two patterns are almost identical, but one way to always know if you're spotting chevron is if it makes a continuous zigzag shape.
Dessert backdrop photo via Society Bride
 'I Found My Man' card by Zazzle
Ampersand sign by ByFarr on Etsy
Cake by Erica OBrien Cake Design 
Chevron tablecloth/runner photo by Gabriel Ryan Photographers / design by Jesi Haack
Polka Dots
This happy pattern is guaranteed to put a smile on your face. Start with your bridal party when looking for inspiration and let your bridesmaids shine in polka-dotted frocks. If you love the mismatched trend, add lace or another neutral for varying contrast amongst your leading ladies.
For a more subtle approach to infusing polka dots into your design, select a tone-on-tone design or use the dots as texture (like the wedding cake shown below).
Kraft paper place setting via Pink Wallpaper
Polka dot cake photo by: Harrison Long Photography  / Cake by: Sugar Butter Flour 
Ceremony sign photo by: Mi Amore Foto via Weddbook
Kraft paper gift wrap photo by: Jessica Burke
Bridesmaids photo by: Elario Photography
Stripes
Hello, chic and modern wedding! I love how stripes can create a major style statement on a small budget. This pattern is perfect for a nautical or preppy-themed bash. Incorporate bright accent hues for contrast.
Bridesmaids photo by: Kate Osborne Photography via Snippet & Ink
Striped curtains photo by: Landon Jacob Photography via Southern Weddings
Striped cake photo by: Ruth Eileen Photography  / Cake by: Russell Morin Fine Catering
Striped menu place setting by: Julie Mikos / Paper goods by: Anne Millett of Mira Aster
Striped linens photo by: Tec Petaja via Pizzazzerie / Design by: Brocade Designs
 
Ikat
This pattern is a mix of chevron meets watercolor and the combination couldn't be lovelier. It has a softer effect than some other prints and it works especially well for bohemian weddings. Ikat looks dashing on tablecloths and creates that "wow!" moment when guests enter your reception area.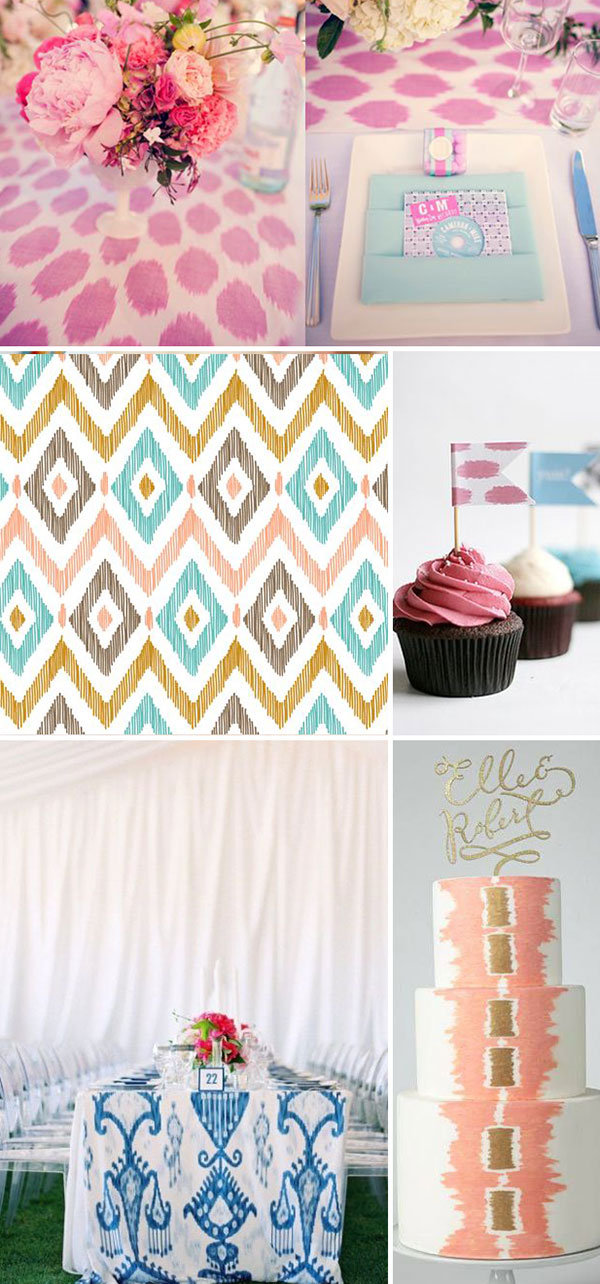 Purple tablecloth photos by: Ever Whim Photographs via Ruffled
Ikat fabric pattern by: Spoon Flower
Cupcake flags by: Yummy Cupcakes
Blue tablecloth photo by: Jose Villa
Cake by: Sweet and Saucy
Geometric Shapes
Various use of geometric patterns and shapes couldn't be more on-trend at the moment. This type of pattern would look amazing in a modern loft or a stylish rooftop celebration. Not only can you use fabrics with geometric-shaped patterns, but you can also install printed backdrops for your ceremony space or photo booth!
Save-the-date via: Peter Loves Jane 
Geometric backdrop photo by: Izzy Hudgins Photography via Before the Big Day / Event planning and styling: Simply Savannah Events
Geometric cookie photo by: Lauren Fair Photography via Ruffled 
Geometric 3D design installation / photo by: Amanda Megan Miller Photography / concept and art direction by: Indie Wed / via 100 Layer Cake 
Geometric printed menu photo by: Jamie Davis of Greenhouse Loft via 100 Layer Cake
Tell us: Which print is your favorite? Check out my new series on stylish pattern options for more fun ideas!
— Angelica Bragg


Angelica Bragg is a real bride and the blog maven of The Bridal Detective. She and her fiancé, Edwin Mirzayans (a published author), are planning a destination wedding at the Italian Lakes in Summer 2014. With a stunning backdrop and "la dolce vita" attitude, the couple's soirée will be intimate and romantic, all while celebrating two cultures. When the couple returns from their Italian road trip honeymoon, they will throw a glam after-party with all of their loved ones back home in Jacksonville, Florida.