Our wedding on September 2nd was an amazing party; we were thrilled to celebrate the most important day of our lives with 140 people we love, but mostly, with each other. Throughout the planning process, we strived to not only create an event that would reflect both of our personalities, but also prepare ourselves for marriage. Check out some of our favorite moments and photos below!
Pre-Ceremony
I woke up in my bridal suite at a downtown hotel around 8:02 a.m. (I feel that even numerals bring me good luck). My mom and sister treated everyone to bagels, mimosa essentials and coffee before we headed to the hair salon. Getting ready was fun, yet terrifying: This was it!
I had to accept that it was going to rain for most of the day, which made matters more stressful. I originally decided to wear a half-up, half-down hairstyle, but was forced to switch to an updo, thanks to the downpour. Do prepare an inspiration board with back-up hairstyles just in case you're faced with the same dilemma, like I did. I would have felt prettier with part of my hair down, but I embraced the more classic, formal look.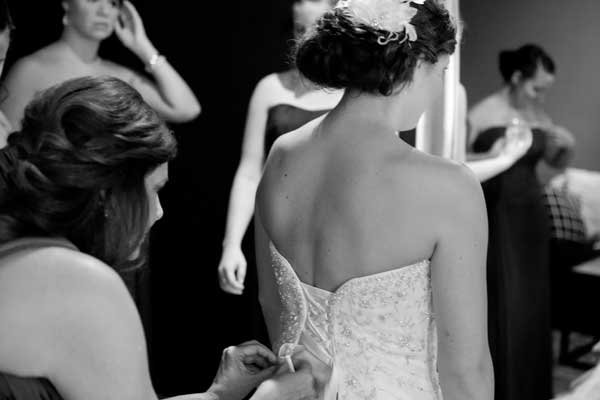 Our Look
Your wedding gown: It's what you dream about as a kid, research intensely as an adult, and you're hopefully still in love with it 20 years after the wedding. I chose a crystal-encrusted gown with ruffles from Christina Wu. It was the exact opposite of what I had set out to purchase—demure, vintage, lace—but I loved it. (Read why I broke the golden rule of dress shopping.) It felt strange and exciting to know that this time, I would actually wear my gown for an entire evening, where I'd get to dance, sit, and walk in it.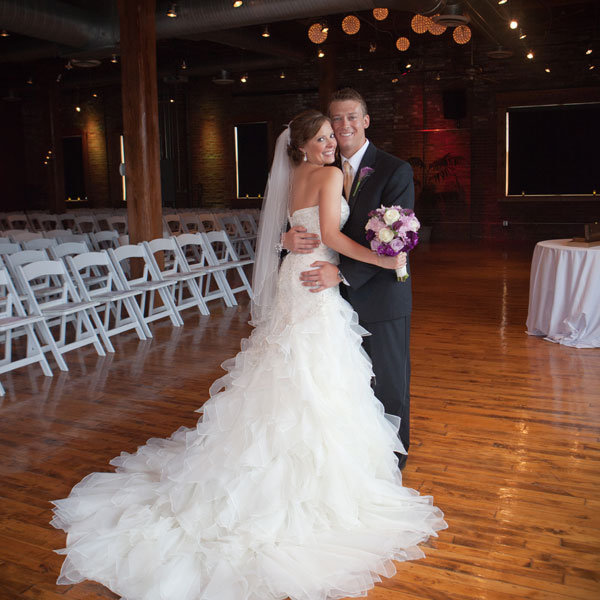 I accented my dress with Swarovski crystal drop earrings, a feather and crystal hairpiece, and my engagement and wedding rings (which I had sautered, or joined, together). I wore three pairs of shoes: Pink rainboots, crystal high-heeled sandals and platform flip-flops for the reception.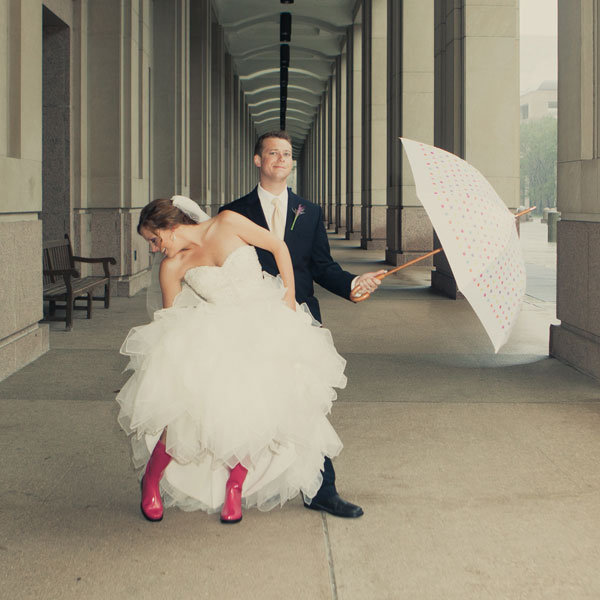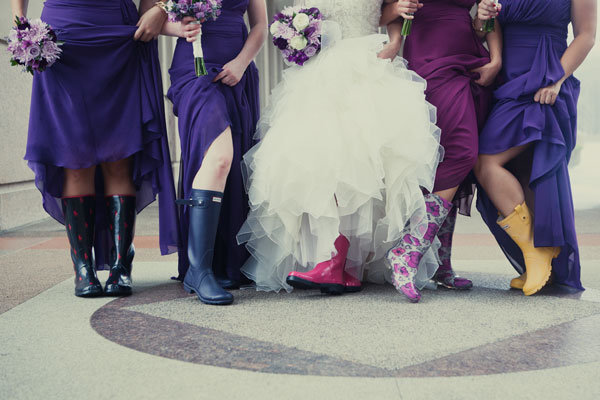 My bridesmaids wore purple chiffon gowns from Allure with a sweetheart neckline. (Take a look back at five lessons we learned while shopping for their bridesmaids dresses.) The groomsmen rented black tuxes with two-button jackets and wore purple ties. My maid of honor wore a raspberry dress to stand out, and in similar fashion, our best man wore a tie in that hue. Despite some wardrobe issues (broken suspenders, rain-soaked gowns), I thought they all looked amazing!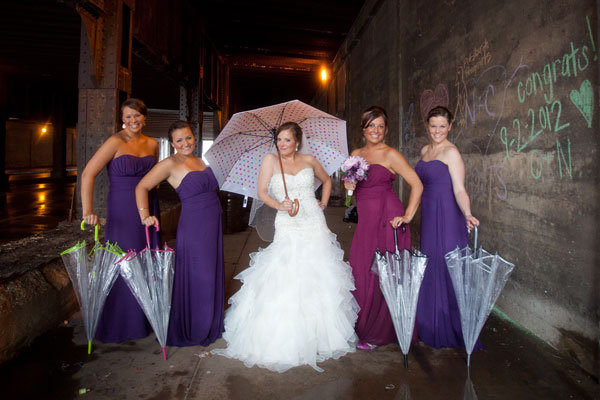 We chose to do a first look. So far, I had kept my emotions in check, but this was the part I was particularly worried about, since I tend to be a crier. It happened so fast—the moment was incredibly sweet. Although I did tear up, it wasn't the ugly, dramatic cry I had been so anxious about.  He told me that he loved my dress and we shared a few kisses before heading out for photos.
Ceremony
Our ceremony and reception took place at the Mavris Arts and Event Center, located in downtown Indianapolis. It boasts sleek, polished wood floors, exposed beams, and twinkling ivory lights throughout. There's also an outdoor garden and rooftop patio. 
The wedding party, Mom, Dad and I waited just one room away from the ceremony space, peeking through a gas fireplace to watch guests arrive. As we waited, Dad and I talked about...his shoes. He wasn't pleased that Mom made him rent his footwear (which was uncomfortable, apparently), while the groomsmen wore black shoes they already owned. I was relieved to talk about something non-emotional.
We went the unconventional route and chose music that meant something to us personally, which I definitely recommend. We chose "Love and Some Verses" by Iron & Wine for the bridal party and "Sigh No More" by Mumford and Sons for my bridal accompaniment. After Dad and I slowly marched down the aisle, the music screeched just as we approached Corey. Luckily, the issue was temporary and I forgot all about the disruption (for the time being).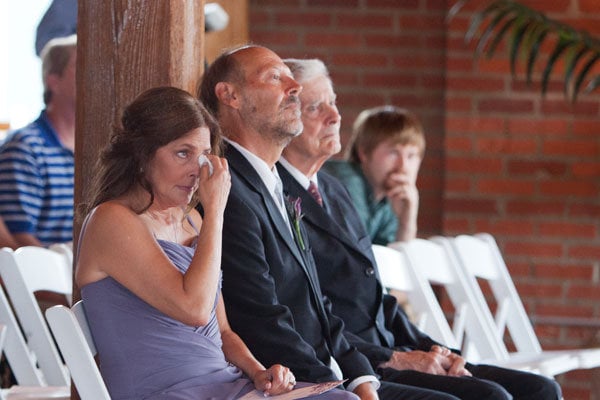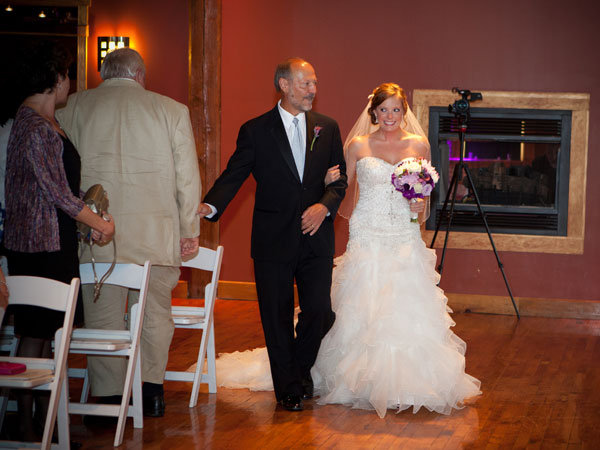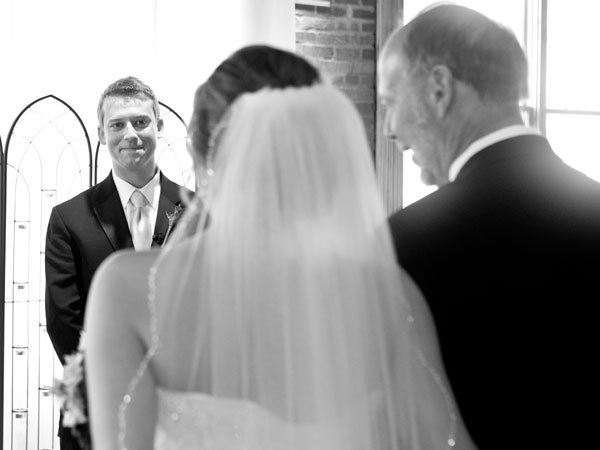 Our ceremony was very personal. The reverend told a story about how Corey and I met at Ball State University. He described how our love persevered despite life challenges (including job searches and long-distance living arrangements). I took the time to drink in the moment, staring at Corey and focusing on not crying. In our vows, Corey promised to always respect me and treat me right. I vowed to always be his number-one fan. (Check out more tips on how to make your ceremony unforgettable.)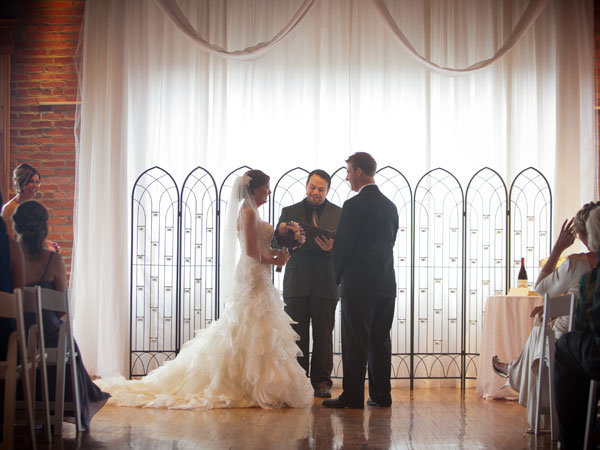 We had a wine box ceremony, where we placed handwritten love letters (to be opened on our one-year anniversary) and a bottle of wine into an engraved box from Etsy, sealing it shut. Although it was a simple touch, it meant the world to us. I can't wait to read what Corey wrote to me!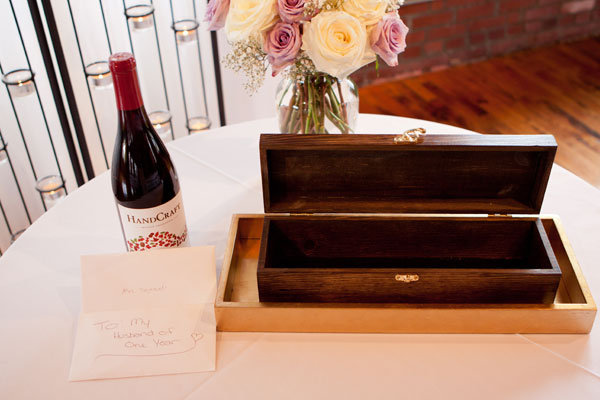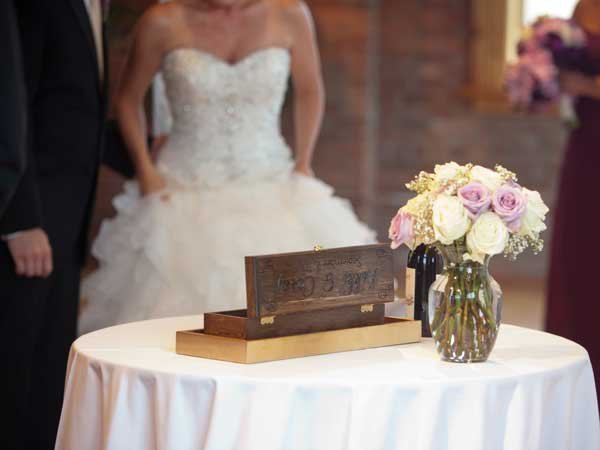 We kissed and were pronounced Mr. and Mrs. Trojanowski. Our recessional song began ("On Top of the World" by Imagine Dragons). Corey asked, "Are you ready to go back down that aisle?" I wasn't, but off we went. Those were the best minutes of my entire life. Corey looked so handsome and I felt like the most blessed person alive.
Reception
The Mavris Arts and Event Center went above and beyond. Our day-of wedding coordinator arranged to have our drinks of choice waiting at the table so that Corey and I didn't have to go to the bar. When we asked if the food could be served on a delay so we could chat up some tables, they graciously accommodated our last-minute request.
We used an all-white tablescape accented with deep purple napkins. We saved on flowers by buying them in bulk and having a crafty family friend put the centerpieces together herself. We incorporated old glass vases and wine bottles (that we had spray-painted gold) to give the centerpieces vintage flair.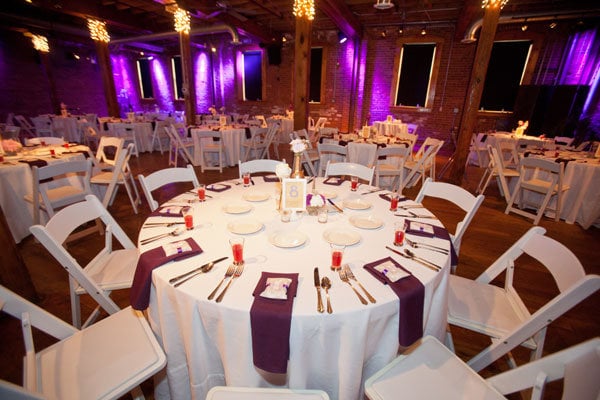 Additional décor included frames that contained fun facts about Corey and I, a guest book with our engagement photos, and a huge frame on an easel (with more images of us).
For the bridal party entrances, everyone did their own pose. My MOH and best man chose the "Tim Tebow"—Corey and I were hiding in a stairway at the time, so we didn't see what they had done until we got our pictures back from the photographer!
Corey and I had a formal reception with all of the token milestones (a garter toss, bouquet toss, father/daughter and mother/son dance). I'm a traditional girl at heart! If you want to have these wedding traditions, I say go for it.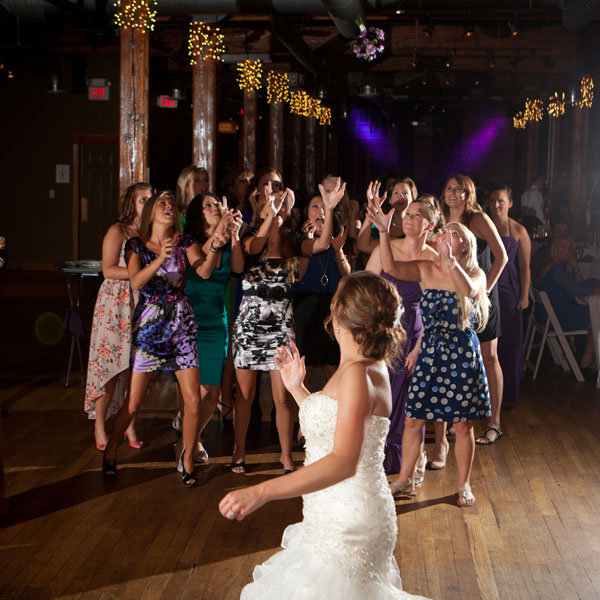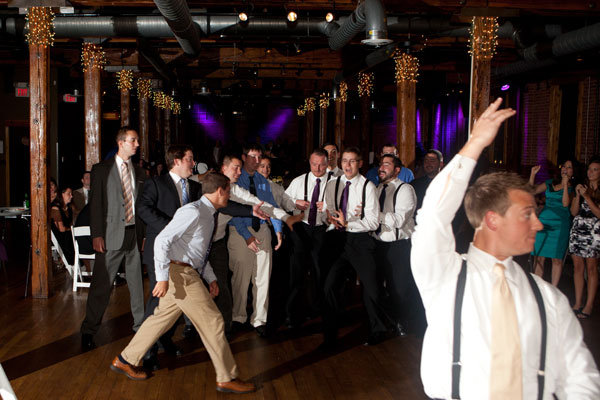 At my sister's wedding, Dad busted out his old Warren Central ball cap (from my high school) during their father/daughter dance. I had forgotten all about it until my own wedding, when I saw Dad sprint away to retrieve it. I was extremely emotional about our dance, so it was great to start it with a big laugh.
My Dad and father-in-law also decided that they wanted to sing at the wedding, so to our surprise, they performed a touching rendition of "Sitting on the Dock of the Bay."
My maid of honor, Allison, and Corey's best man, Jim, both gave toasts at the reception. Jim recited a top 10 list of why we belong together as a couple, a lá David Letterman (who is a fellow Ball State alum). My sister took the "roast" approach, poking fun at our pet nicknames for each other ("Big Guin" and "Little Guin"). Both speeches were perfect.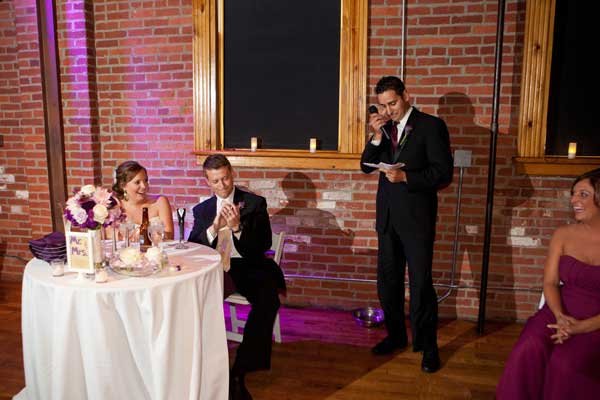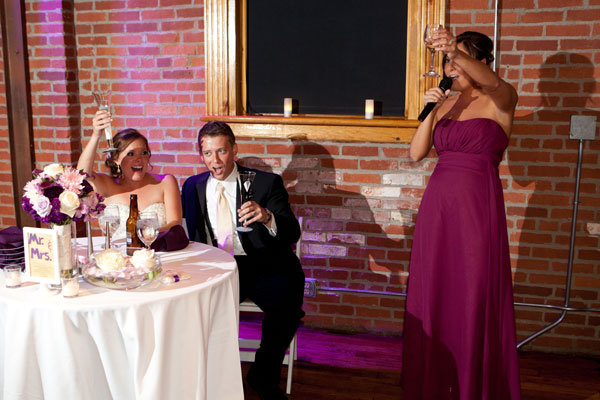 With hundreds of eyes on our every move, our dance felt incredibly intimate. We talked and swayed to the music, happy to finally be married. It was surreal, romantic and unforgettable.
Another highlight of the evening was watching my parents dance to rap songs, despite not being fans of the genre. Whether it was because of the overall excitement of the day or just an unconscious desire to get low, I was ecstatic to see Mom and Dad dancing up a storm.
It was unbelievable to see all of my family, friends, coworkers, former colleagues and more, all in one room together. It was also great to meet people in Corey's life that I had only heard about. There were lots of new faces for both of us, but also many familiar ones; being surrounded by all of them was so meaningful.
I don't regret a single dollar spent on our fabulous cake from Simply Perfection Cakes. We had four different flavors, and although I only got to taste two of them, it was a major highlight of my night. (Check out photos from our cake tasting adventure!) 
As a surprise, Mom rented a vintage car, the Johnson Phantom Excalibur, to take us away to our hotel suite. The car was sexy—there's just no other way to word it. We loved the ride to the hotel and wished it would never end.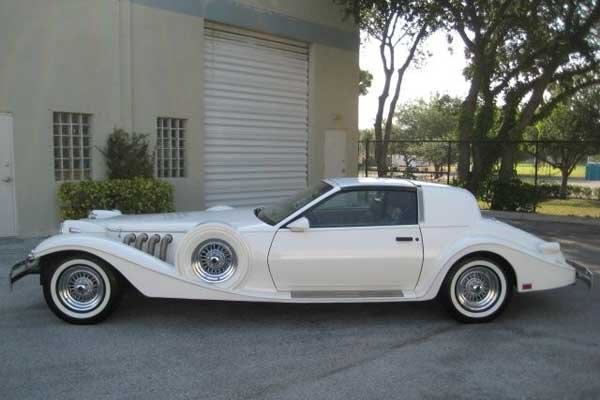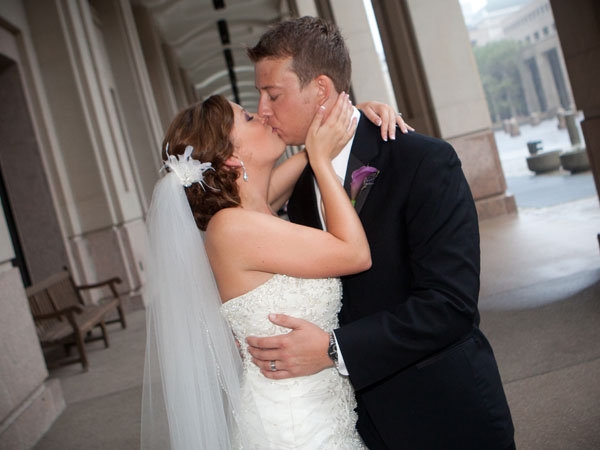 Photos courtesy of Kiera Photo
— Nikki Trojanowski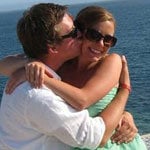 Nikki Trojanowski blogged for BG throughout every step of her wedding planning. She and her husband, Corey Trojanowski were both married in September 2012 in front of their friends and family in Indianapolis. Glittering ivory lights, exposed plumbing and sleek wood floors depicted their romantic yet rustic venue in the Downtown area. The couple incorporated personal touches that made the celebration truly reflect their relationship.