When you think about your wedding-day look, I'll bet you picture the beautiful, white gown you spent weeks picking out. However, your dress is just one piece of the puzzle: there are shoes, makeup, undergarments and jewelry to consider. But we brides don't stop there. Many of us, including myself, even want to accessorize our hair. And oh, the choices there are! Here, 20 adornments that made it into this brunette's Etsy shopping cart.
1. Jeweled Clips
I am head-over-heels about Swarovski crystal-encrusted clips and combs right now. Boasting a royal feel, these vintage-inspired combs and hairpieces are quite the statement piece. Big or small, these work on up-dos and down-dos flawlessly.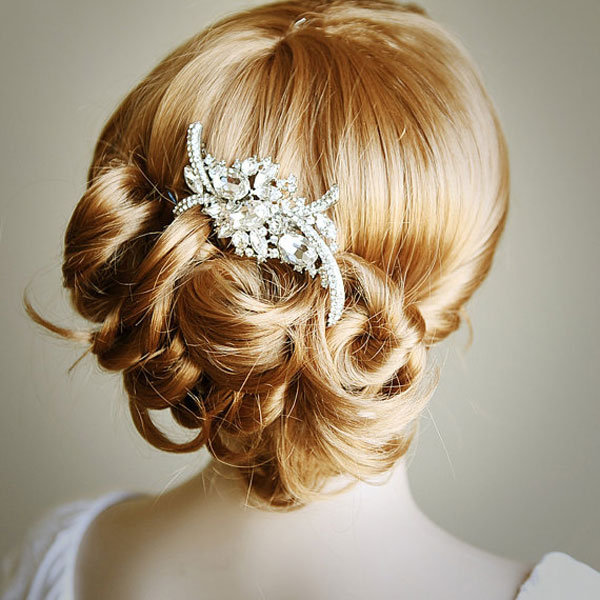 Art Deco rhinestone hair comb by Etsy seller GlamorousBijoux 
"Reese" rhinestone-encrusted hair comb by Etsy seller SomethingIvory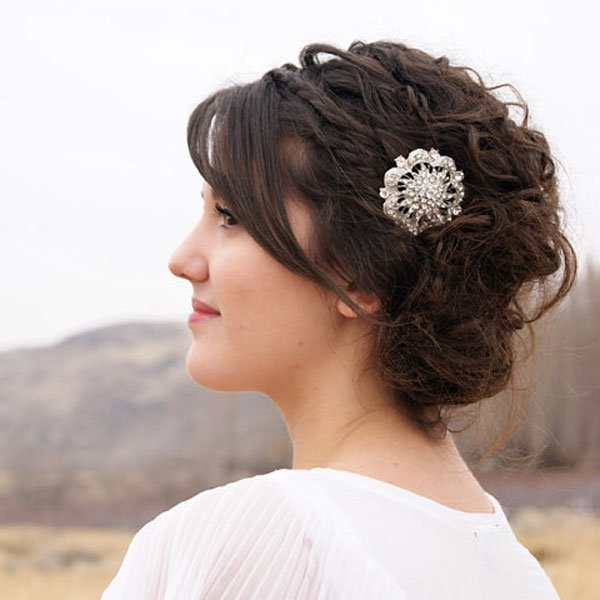 Silver rhinestone bridal comb by Etsy seller MelindaRoseDesign
Swarovski crystal hair clip by Etsy seller sibodesigns
2. Feather Frenzy
I have convinced my fiancé that my wedding dress is covered in feathers! (Maybe it is. He'll just have to wait and see.) Feathers are right on-trend and offer a soft, whimsical look to any wedding-day style. You'll find hair accessories featuring feathers in all shapes and sizes on Etsy, but I particularly love ones with rhinestone accents.
"Olivia" feather fascinator by Etsy seller PowderBlueBijoux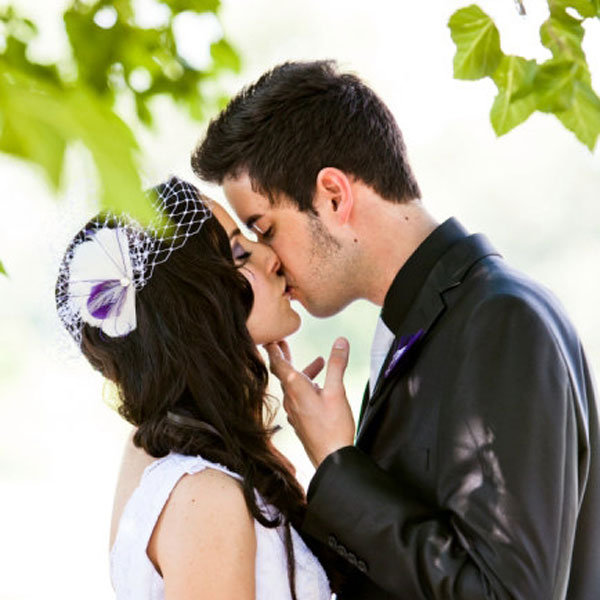 "Alicyn" customizeable feather clip by Etsy seller TheHeadbandShoppe
Feather headpiece by Etsy seller somethingjeweled
Custom bridal fascinator by Etsy seller LaPlumeEthere
3. Sweet Headbands
Don't headbands just make you happy? They bring back childhood memories, but they aren't out-of-style in the least. A bedazzled band looks stunning with a half-up, half down look. They also add enough detail to offset a more simple dress.
Bridal headband by Etsy seller AlisaBrides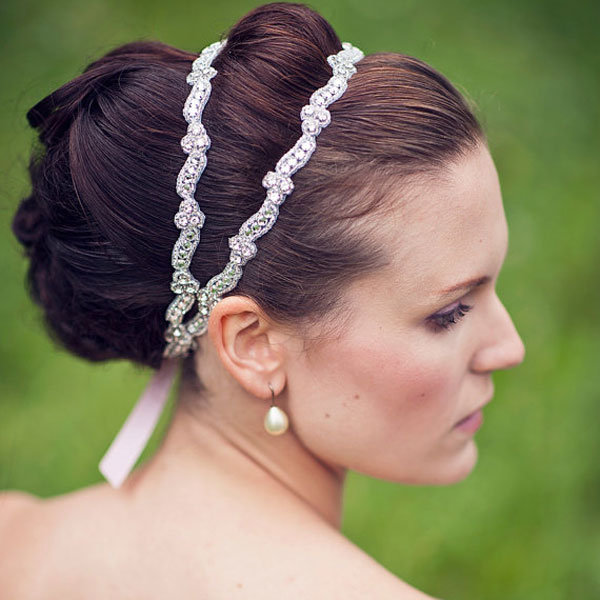 "Danielle" double-stranded bridal headband by Etsy seller BridalCoutureGirls
Crystal bridal headband by Etsy seller BridalCoutureGirls
Pearl crystal rhinestone headband by Etsy seller LavenderByJurgita
4. Flower Power
Depending on your wedding dress, a floral-inspired hair accessory might be a perfect fit. In my opinion, you've got to go big with a handmade flower in shades of white or ivory. These pieces are incredibly ethereal.
Organza silk flowers by Etsy seller Twigs & Honey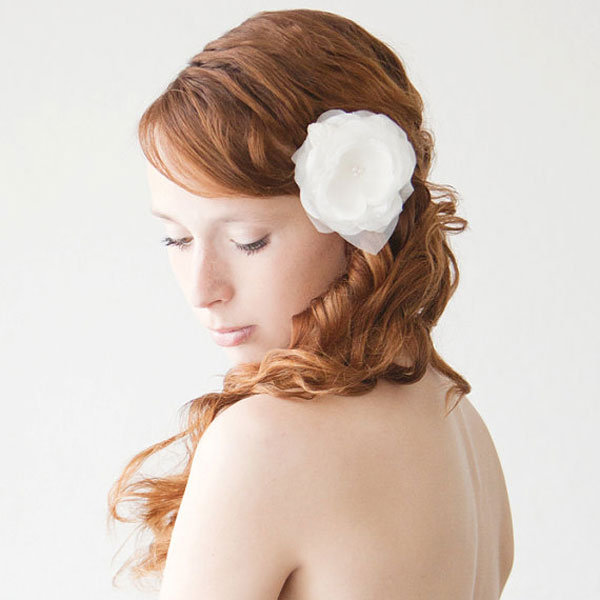 "Little dream" bridal hairpiece by Etsy seller sibodesigns
Pearl tie headband by Etsy seller BeSomethingNew
Organza ivory bridal hair flower by Etsy seller bethanylorelle
5. Bohemian Wreaths and Caps
This breathtaking style is perfect for a garden ceremony. Boho-chic accessories bring romance, style and drama. I die for this look in photos, but probably couldn't pull it off myself.
Deco beaded bridal cap by EricaElizabethDesign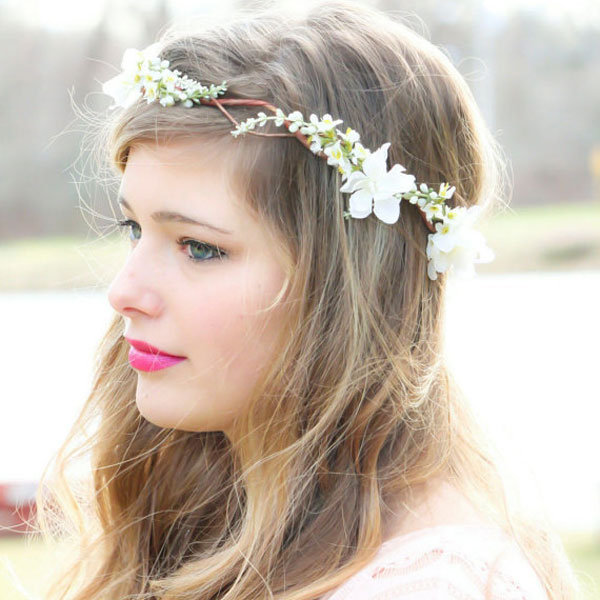 Cherry blossom hair crown by Etsy seller serenitycrystal
White cherry blossom wreath by Etsy seller thehoneycomb
"Emmaline" half-wreath rose crown by etsy seller VelvetOwl
Tell us: Which of these ideas would you try at your own wedding?
—Nikki Stroud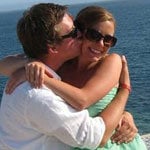 Nikki Stroud is a real bride who is learning every step of the way when it comes to wedding planning. She and her fiancé, Corey Allan (both Ball State alums), will be married in September of 2012 in front of their friends and family in Indianapolis. Glittering ivory lights, exposed plumbing and sleek wood floors depict their romantic yet rustic venue in the Downtown area. The couple hopes to incorporate personal touches to make the celebration truly reflect their relationship.