As a Penn State grad (and the daughter, granddaughter and niece of PSU alumni), I've been to my fair share of weddings that showcase Penn State pride.
My freshman-year roommate, Kim, married a guy she met at a frat party during our junior year. Since she was originally from New York and he was from Pittsburgh, they opted for a Penn State wedding. After a ceremony at a nearby Catholic church, we traipsed around campus for photos and then went to an inn on campus for the reception. The couple came in to the fight song. And, in addition to cake, they served ice cream from the campus Creamery (Ben and Jerry learned to make ice cream there).
As I plan my own wedding, I've been thinking back to Kim's wedding, as well as a few others, to brainstorm ways to incorporate Gray's and my alma maters into our wedding day festivities. (For the record, Gray went to University of Central Florida.)
1. Play Your Fight Song(s)
Kim and her now-husband Craig aren't the only friends I know who came into their reception to the sounds of their fight song. My friends Kelsey and Steve played the Florida State one and walked in doing the FSU chop. But if you aren't marrying someone who shares your scholastic history, consider playing the fight song at a different moment — you could even work it into a father-daughter or mother-son dance.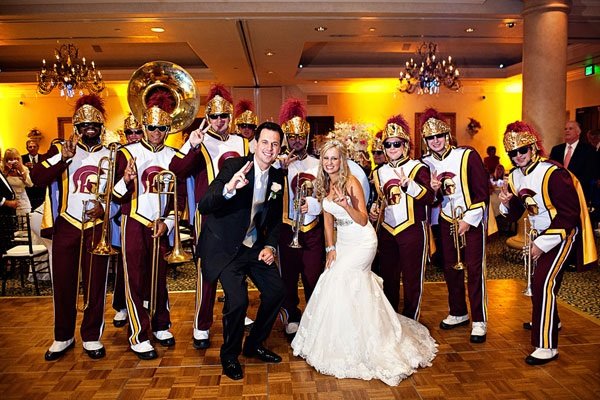 Photo Credit: William Innes Photography
2. The Cake
There are multiple routes to show your school pride with the cake. You could look for cake toppers of your school mascots. You could have cupcake tiers with school colors displayed in the icing.

Photo Credit: Everlasting Moments on Maharani Weddings via Lover.ly
3. The Favors
Find a way to incorporate your university traditions into the favors. For example, Kelsey and Steve gave our beer koozies in Florida State University colors. Is candy more your style? You could do little bags of M&Ms in a little bag or box that show your university colors.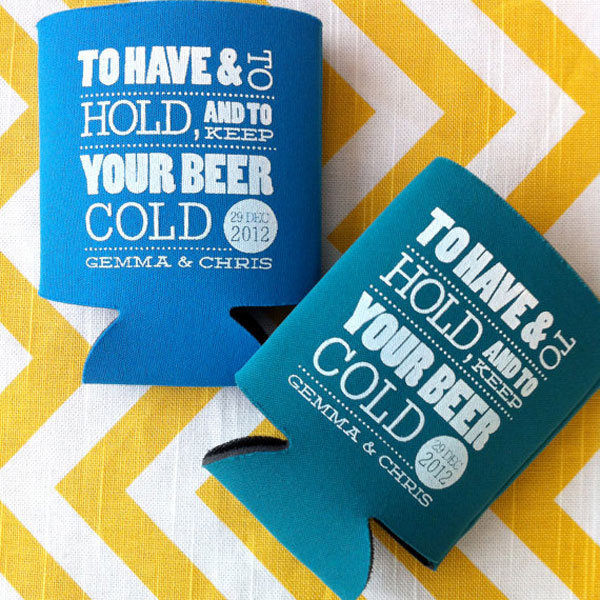 Photo Credit: Rook Design Co./Etsy
4. The Colors
This is a bit of an obvious one — deck out your bridal party in school colors! Check out these folks in Michigan State green.

Photo Credit: Tammy Sue Allen Photography on Tammy Sue Allen Photography via Lover.ly
(My sister and future sister-in-law will be wearing navy — for Penn State, but also because it looks good on both of them.)
5. Engagement Photos
If you don't want to stress over finding cute or inventive ways to show your loyalty as an alumna or alumnus, here's an easy idea. For some more casual engagement pics, dig out your favorite school hoodies. If you're both sports fans, throw a football into the photo too. And if you both graduated from the same college or university, you've found the perfect setting for your photos.

Photo Credit: Art + Life Photography
Tell us: Are you incorporating your alma mater in your wedding?
—Kathleen Haughney

Kathleen Haughney, a native of Pittsburgh, and her fiancé, Gray, work as journalists in Tallahassee, FL. The couple met in November 2010 and were engaged this past Memorial Day. They are currently planning a 50's/60's beach themed wedding that will take place in Florida's Space Coast.