After the cake is cut and your gorgeous flowers have wilted, there are just a few things that will last long after your reception and well into your marriage. That's why so many of us brides splurge on a professional photographer, and maybe even a videographer, since film is the best way to preserve our memories from that special day.
However, your guest book can also serve as a fun memento of your wedding day. Skip the standard notebook and let your creativity shine with these fabulous finds!
1. Have your guests sign wine bottles, each of which represents a marriage milestone (your 1st, 5th, 10th and 25th wedding anniversaries). Read their heartfelt messages and toast to how far you've come together.

Photo by: EVC Creations
2. If you or your future spouse loves music, then consider asking guests to sign your favorite musical instrument. This alternative guest book idea will hit just the right note! 
Bonus: You could also name various tables at your reception after meaningful love songs.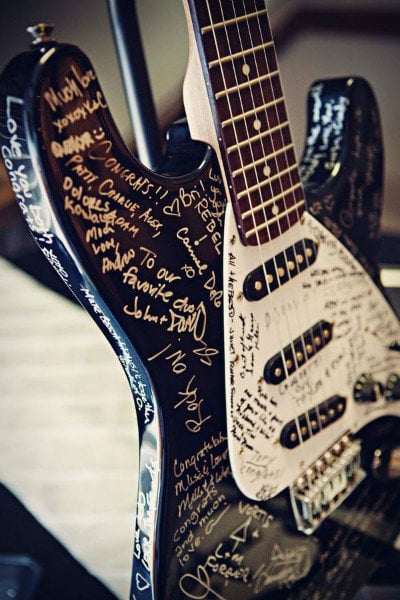 Photo by: Cuppa Photography via The Bridal Detective
3. Sticking with the music-themed reception, if listening to classic songs is a cherished pastime for you and your fiancé, then include your favorite oldies for your guest book. This is an instant conversation-starter for your guests.
If you can, it also might be fun to source a vintage jukebox and play the best tunes for your cocktail hour.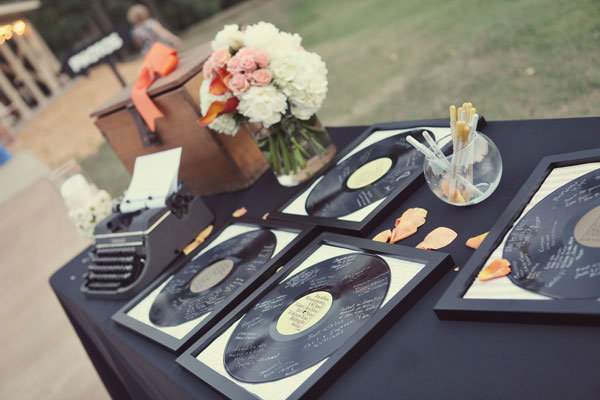 Photo by: Sarah E. Evans Photography on Hi-Fi Weddings via The Bridal Detective
4. Surf's up! Thinking of having a destination wedding or want to pay tribute to your favorite hobby in the ocean? Then you'll love this idea of using a surfboard for a guest book. The best part is that you can display it in your home long after your wedding day has come and passed.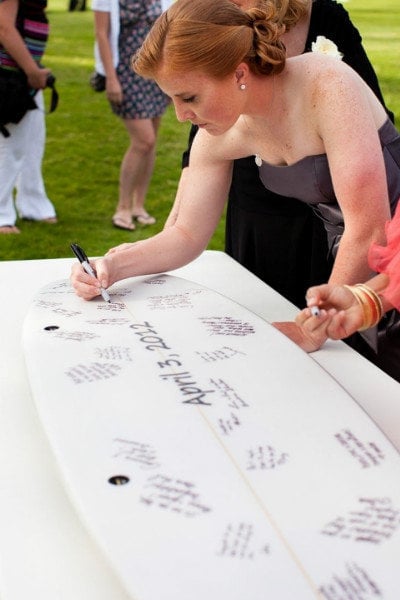 Photo by: Sarah Deshaw Photography via The Bridal Detective 
5. Love art or industrial areas? Hire a friend or local graffiti artist to create a custom piece of artwork to display at your wedding for guests to sign — it'll instantly become the most talked-about detail at your wedding: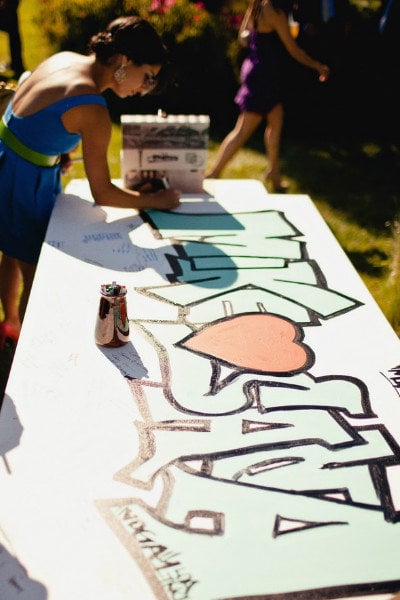 Photo by: Matthew Morgan Photography on Allison O'Hagan Events via The Bridal Detective
6. Have a need for speed? Ask guests to sign your motorcycle helmets, this like couple did. With motorcycle enthusiasts in my own family, this guest book alternative would surely be everyone's top pick, if they could choose.
More fun ideas: Have your groom show up to the ceremony by way of a Harley or opt out of the traditional limo at the end of the night and place a "Just Married" banner on the back of the bike. Talk about riding off in style!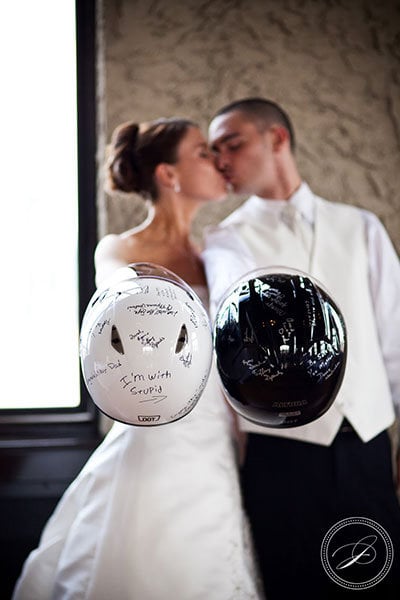 Photo by: J. Bailey Photography via The Bridal Detective
7. The quilt concept pictured below is my favorite guest book option...hands down! There are two ways to introduce this idea to your wedding guests.
The first option is to send a square piece of fabric along with your wedding invitation in the mail. When guests return their RSVP card, they'll also mail back the piece of fabric with their well wishes, and you can display the completed quilt on the big day. It's a great way to incorporate the quilt into traditional Jewish ceremonies for use in the design of the chuppah.
The second option is to have guests sign the completed quilt before or after the wedding ceremony. Either way, this is one wedding detail that will surely become a treasured family heirloom. For a sentimental wedding touch, you could also incorporate fabric swatches from your mother, grandmother, and even your mother-in-law's wedding dresses into the quilt.

Photo by: J. Wiley Photography
8. I've always loved libraries. There's just something magical about being surrounded by all of those amazing books (despite having to curb my tendency of talking way too much!). The guest book pictured below is beyond adorable for all of the bookworms like me out there. 
Recreate the look by gluing miniature envelopes and corresponding library card inserts so that your guests can punch in at your wedding. Check out more sweet literary-themed wedding ideas, here.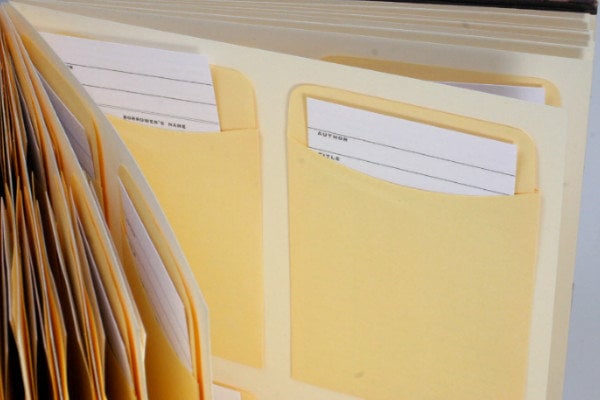 Photo by: BindingBee on Etsy via The Bridal Detective
9. Polaroid cameras are popping up at vintage-themed weddings, and I for one am obsessed with them. Guests can snap their photo and hang it on a clothesline or glue it into a book. Not only is this fun and engaging for them, but it's also economically practical.

Photo by: FineArt Studio Mexico on Something Turquoise via The Bridal Detective
10. Oenophiles, start saving all of the corks every time you open a bottle of your favorite red or white and use them as an inexpensive alternative to a guest book! This idea is perfect for vineyard nuptials:

Photo by: Mintage Home via The Bridal Detective
11. Who couldn't use a few words of wisdom from time to time? Ask guests to leave sweet notes with their advice on how to have a lasting marriage. This standby is great for any wedding style or theme.

Photo via Etsy* (Know the original seller? Leave a comment below and we'll add it to this post.)
12. Are you and your future husband tech geeks (raises hand)? Then try including a guest book where loved ones can record their well wishes with a webcam!

Photo by: David Stubbs on the San Fransico Chronical via The Bridal Detective
13. Ask your guests where they will see you in 25 years. Not only will some of the answers surprise you, but you just may get a few laughs from it!
Another twist: Have relatives and friends write down what you should name your first child.

Photo by: Chad Cress on Ruffled Blog via The Bridal Detective
14. Love finding new ways to express yourself? Ask your guests to circle words in a dictionary that they think describe your commitment to one another. You could also swap in a bible instead if you're religious.

Photo by: Becca Rillo Photography on Wedding Chicks via The Bridal Detective
15. This customizable puzzle-piece guest book from Bella Puzzles is becoming a popular choice at weddings. Imagine how fun it would be to share with your future kiddos one day!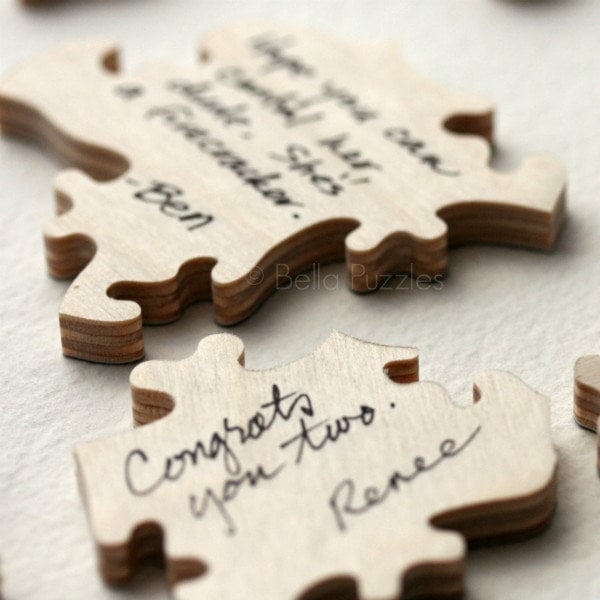 Photo by: Bella Puzzles
Tell us: What unique guest book idea is your favorite?
—Angelica Bragg


Angelica Bragg is a real bride and the blog maven of The Bridal Detective. She and her fiancé, Edwin Mirzayans (a published author), are planning a destination wedding at the Italian Lakes in Summer 2014. With a stunning backdrop and "la dolce vita" attitude, the couple's soirée will be intimate and romantic, all while celebrating two cultures. When the couple returns from their Italian road trip honeymoon, they will throw a glam after-party with all of their loved ones back home in Jacksonville, Florida.