Guest blogger: Emma Arendoski, founder and CEO of Emmaline Bride, The Wedding Guide for the Handmade Bride, a website dedicated to all things handmade for weddings. Launched in 2009, the site has grown into the leading online voice for handmade weddings. Emma's mission is to empower her readers to support handmade through the use of handcrafted wedding items for all parts of the wedding planning process.
Here, she shares an excerpt from her first book, The Handcrafted Wedding: More Than 300 Fun and Imaginative Handcrafted Ways to Personalize Your Wedding Day (Sellers Publishing, October 2012).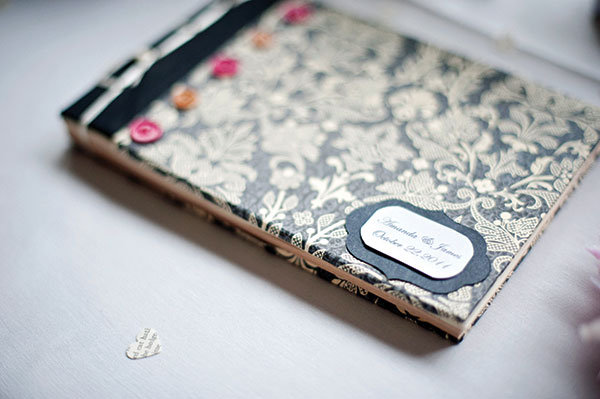 Photo Credit: © 2012 Thomas Gardella for Michelle Gardella Photography
The guest book isn't just sheets of paper with signatures. It is a keepsake — a time capsule to be cherished and revisted, filled with sweet, heartfelt messages from those closest to you. First, though, you need to properly set up your guest-book table. Position the table in a central location so guests see it as they enter the reception, and be sure to provide enough supplies (pens, film, stamps, etc.) for whatever type of "guest book" you've planned to use. If you choose to go with a nontraditional guest book, include easy-to-follow instructions, so your guests understand what you'd like them to do. Most important, ensure that there is ample lighting, so guests can see what they are writing.
Here are some of my favorite guest book ideas:
Mad Libs
Create a custom Mad Libs sheet as a guest-book alternative. Write a short story about your wedding day, with plenty of blank spaces and prompts for guests to fill in nouns, adjectives, and words of wisdom. Print off a stack of them, and ask every guest to fill one in and sign it.
Typewriter
If you're planning a wedding theme from a bygone era, consider having guests type their messages on a vintage typewriter, instead of using a pen and paper. Place a sheet of paper in the typewriter (with a basket nearby containing extra sheets), include a sign with instructions, and let guests type away.

Photo Credit: © 2012 Michelle Gardella Photography, typewriter courtesy of Kathleen Glass
Coffee Mugs
A cute idea for the couple that loves their caffeine is to display a set of mugs labeled "Mr." and "Mrs.," with permanent markers for guests to sign their names onto the surface of each. Every day, the two of you can enjoy a hot cup of coffee, personalized by your loved ones. What a nice way to start off the morning!
Remember When...
A memorable guest book is one that invites your guests to share memories. Custom card stock note cards printed with the words "Remember When . . . " across the top will give guests an opportunity to tell a story about the bride, the groom, or the couple together. Decorate a box — a cigar box, for example — for guests to deposit their completed memory cards. After the wedding, have the cards placed into a scrapbook, to collect the beautiful — and funny — words shared by guests.
Monogram Guest Book
Create a wooden monogram guests can sign; display it in your home after the big day. Buy large wooden letters (or create your own with plywood and a jigsaw), and sand and paint them. Have guests sign them, using permanent markers in a color that shows up well against whatever shade you've painted the letters.

Photo Credit: © 2012 Michelle Gardella Photography 
Poster
Draw, print, or custom order a poster (11 x 14 inches or larger) with your new last name across it in open block letters. Have guests sign their names inside the block letters. Display it in your home after the wedding.
Photo Booth Guest Book
One of my favorite guest books is also a wedding favor — the photo-booth guest book. If you're planning to have a photo booth at your wedding, have two photos printed out: one for guests to take home as a favor, and one to be placed in your guest book. On your guest- book table, include scrapbook photo-adhesive stickers, pens, and a blank photo album with space for a short message or caption. Instruct guests to place their photos in the album using the stickers, sign their names, and include a caption. After the event, you'll have a beautiful wedding-day scrapbook containing hilarious visuals from throughout the festivities, group photos, and candid moments captured by guests, along with heartfelt messages.

Photo Credit: © 2012 Michelle Gardella Photography
Another photo idea is to enlarge a favorite photo of you and your sweetheart to an 8 x 10- or 11 x 14-inch size, and have it matted (using a light-colored mat) and framed, but without the glass. Place it on an easel, along with fine-point markers, for guests to sign their names on the matted portion.
Quilted with Love
Buy plenty of quilt squares from a craft or fabric store, and place a stack of them on a table. Have each guest write his or her name on a square with a fabric marker. After the wedding, sew the squares together to make an memory quilt.
Gardening Stones
Gather stones, clean them up, and place them at your guest-book table. In lieu of a book, guests will each write his or her name on a stone with permanent marker. Have guests put the signed stones in a galvanized tub or bucket for you to transport home. Place the stones throughout your garden for a lovely memory of the day.
Song List
The gift of music is a beautiful one. Purchase a journal for guests to sign their names and list their favorite song and the artist. After the wedding, download the tracks and listen to them on your honeymoon. You'll laugh, you'll cry, and you'll be fascinated by the songs your guests have deemed favorites. Plus, you'll have a perfect wedding soundtrack to always remember, hand selected by your guests.
A Favorite Book
Have guests sign a guest book of another kind: your favorite read. A favorite book of poetry, a classic novel, a book of quotes, or a collection of proverbs can become a keepsake signed by guests from your wedding. Place the book on a table with pens, and ask guests to flip through and sign their names anywhere they wish.
Words of Advice
I have been at weddings where the DJ begins to play a song and invites all the married couples to the dance floor to share in a dance with the bride and groom. As the song progresses, couples married less than two years are asked to exit the dance floor, followed by couples married five years, ten years, fifteen, twenty . . . and so on. Eventually, the only couples left are the bride and groom and the longest-married couple in the room. When the song ends, the DJ asks the longest-married couple to share their advice for a happy marriage with the bride and groom.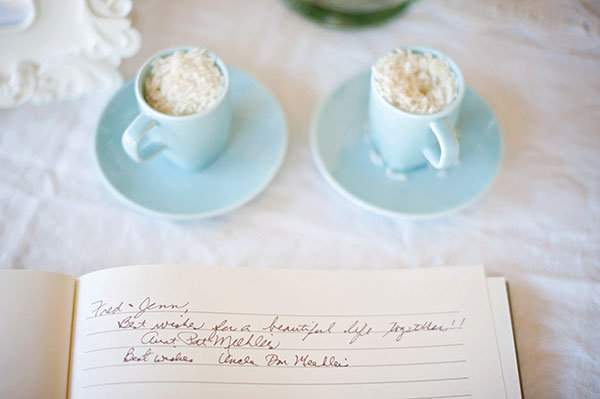 Photo Credit: © 2012 Thomas Gardella for Michelle Gardella Photography
Now, imagine that instead of signatures in your guest book, you ask guests for words of advice. Some guests may draw on personal experiences; others will give a hilarious response that will make you smile. But each answer will be from the heart, written for you both on your wedding day.
To give guests a chance to share their advice, create a guest-book journal. Buy a blank journal and write a question at the top of each page for guests to flip through and answer. They might include: "What is the key to a happy marriage?" or "What is your favorite-date night suggestion?" Questions or topics should be simple, heartfelt, and fun, to let all guests give their two cents.
Happy Travels
If you have many guests who live across the country or around the world, frame a map of the United States (or a world map) and have guests add a ball pin and a signature to the state or country in which they live. It is truly amazing to see how far your loved ones have traveled to attend your wedding! After the wedding, frame the map.
For more great ideas, check out The Handcrafted Wedding: More Than 300 Fun and Imaginative Handcrafted Ways to Personalize Your Wedding Day (Sellers Publishing, October 2012).