As a wedding planner, I'm always brainstorming new ways to entertain wedding guests without breaking the bank. You'd be surprised by how far a few personalized touches can go! Of course everyone will remember how beautiful you looked and how amazing the food tasted, but what they will truly never forget is how you personally included each of them into the most important day of your life.
Here are some fun ideas that work for any wedding style — I can't wait to add a few of these to my own special day as well!
During the ceremony:
1. Include a line on your wedding RSVP where guests can jot down their wedded wisdom or a blessing for you. Compile some of the best responses and ask your officiant to read them as a dedication to both you and your guests.

Photo Credit: Danielle Capito
2. Involve your guests by conducting a ring blessing. Wrap the rings in a beautiful bag and pass them down from guest to guest before you recite the vows.
3. Come up with a meaningful passage, quote or song that you would like to have everyone say or sing with you during the ceremony.
4. Honor anyone who has made a special impact on your life (parents, grandparents, etc.) by having a dedicated passage or reading for them.
5. Include a thank-you note in the wedding programs. This adds such a sweet touch and will help guests get into the spirit of the day.
6. If you have a close friend or family member that is musically or vocally talented, invite them to perform the processional and recessional or a brief interlude.

Photo Credit: Danielle Capito
During Cocktail Hour:
7. More couples are opting to play group games like Jenga, cornholes, bocce, "I Spy", and even piñatas, to create a fun and laid-back atmosphere at their big day.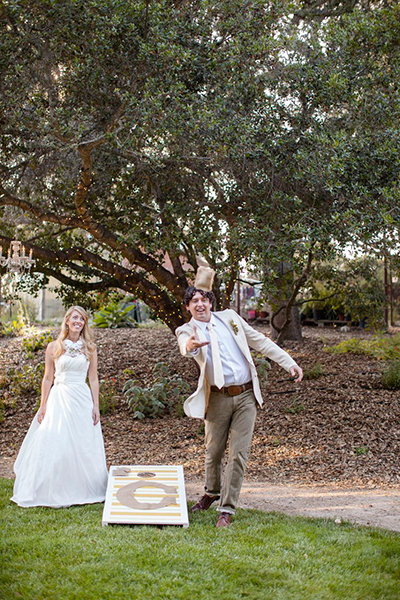 Photo Credit: Danielle Capito
8. Invite your school mascot to make a special appearance!
9. Have your guests record short messages that your photographer can play towards the end of the night. Or if you have a tech-savvy friend, perhaps they can gather the videos ahead of time and present an edited clip as part of their gift to you. (Note: There might be additional fees for same-day editing with a videographer).
During the reception:
10. Incorporate your culture into the entrance. I'm Hispanic and Jesse is Irish, so we would use mariachis for me and bagpipes for him.
11. Have a photo booth or flip book booth. You are sure to entertain everyone with these and provide yourself with some unforgettable and hilarious images!
12. Instead of having the standard speeches during dinner, play a couples trivia game with your guests. Your Maid of Honor and Best Man can come up with pre-determined questions about you and your groom. The table who answers the most questions correctly wins!
13. In lieu of a traditional guest book, include Mad Libs as part of each guest's place setting. This will give them something to do while they are waiting for you to make your grand entrance.
14. Provide basic necessities in the restrooms for guests. This will come in handy in the event of minor mishaps. Don't forget to include flip-flops for the ladies — they will love you forever!
15. Provide seasonal items like blankets for a cold and chilly winter affair or fans for a sweltering hot summer's day. Your guests' comfort should be a top priority.

Photo Credits: Danielle Capito
16. Create personalized signage throughout your event. My favorite sign to date says, "Grab a drink because a great story never started with a salad."
17. Instead of tossing your bouquet, dedicate it to an important lady in the room. They can be married or unmarried, but someone who you might not have gotten to this point without.
18. Include your guests' first dance songs that they played at their wedding! This unexpected surprise not only celebrates your loved ones, but it's also an easy way to flesh out the slow-dancing portion of your playlist.
19. Bust a move! Have a dance-off or bridal party dance.
20. Make the cake cutting a full-blown event — use indoor sparklers and have the catering team wheel it out to the middle of the dance floor with the lights dimmed. If your venue doesn't allow indoor sparklers, you can use balloons, glow-sticks or ribbon wands!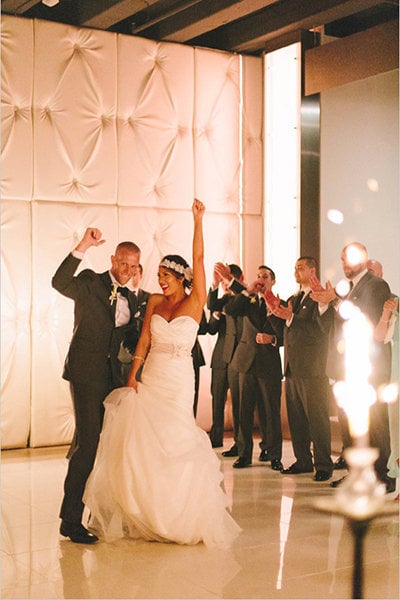 Photo Credit: Sara Lucero on Wedding Chicks via Lover.ly
No matter what you do, do it with love and your guests will be so in awe that they will remember every detail. Remember that everyone is there to celebrate your relationship and future together. Have fun, don't take it too seriously, and always leave your guests wondering what comes next!
— Davia Lee
P.S. Have an interesting wedding planning story to share? Apply to become a real bride blogger here ►

Davia Lee is a real bride, entrepreneur, lead designer and wedding planner for Davia Lee Events. She loves all things sparkly, fashionable and girly. In contrast, her fiancé, Jesse, is a "man's man" — beard and all! They are the poster couple for "opposites attract" and prove that true love knows no boundaries. Their greatest wedding-planning challenge will be finding a middle ground where all of their wants, needs and dreams will meet. We can tell you this, though — when everything aligns, their big day will be fabulous!