One of the bigger decisions I had to make before our wedding is what type of "girl time" celebration to have. I knew immediately that I didn't want the traditional bachelorette party: A long (and potentially wild) night of drinking and dancing didn't really appeal to me. Instead I decided on a lingerie shower that would be cost-effective and enjoyable.
Two of my best friends, Maria and Patty, excitedly volunteered to throw the event in my honor. I was involved with choosing the invitation and creating the guest list; after that, it was all up to them to make it happen. My friends decided to involve my fiancé Rigo in the planning process so that he would be able to provide personal information about our relationship and my preferences for entertainment. Together the three of them worked on games, made the food, and prepped the house for the party.
Bridal Shower Food
The girls decided to go with finger foods for the shower since they're practical and affordable. They allowed me to approve the final menu selections and I made a few minor suggestions. The food was absolutely amazing: Guests enjoyed taco salad cups (made by Rigo), shrimp cocktail, bruschetta, chicken wings, a cheese and cracker tray, a vegetable tray, and meatball sandwiches all made by the girls.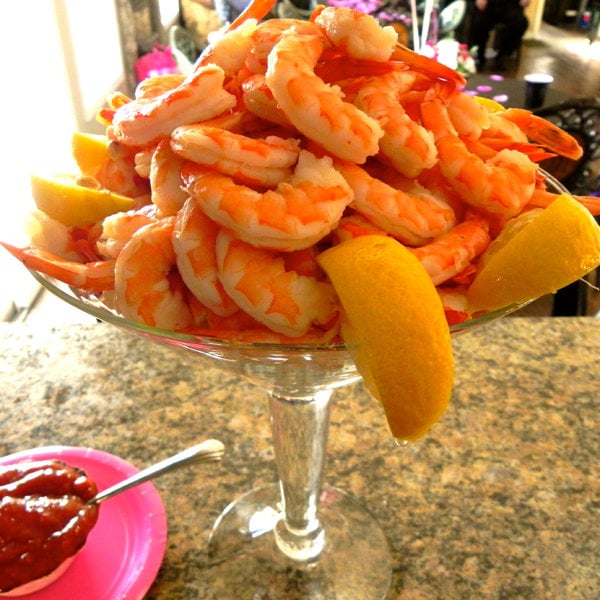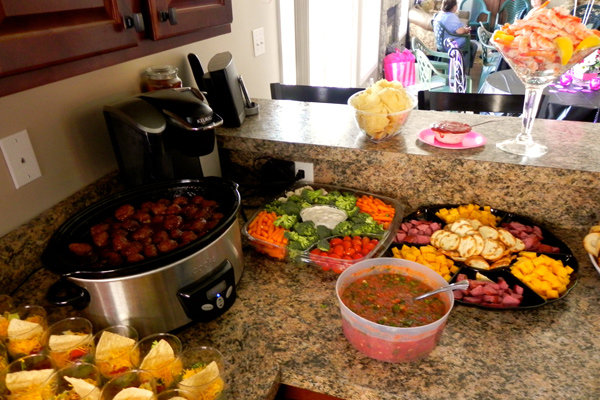 Dessert included a beautiful cupcake confection shaped like a wedding gown, homemade brownies, chocolate-dipped strawberries and fresh fruit.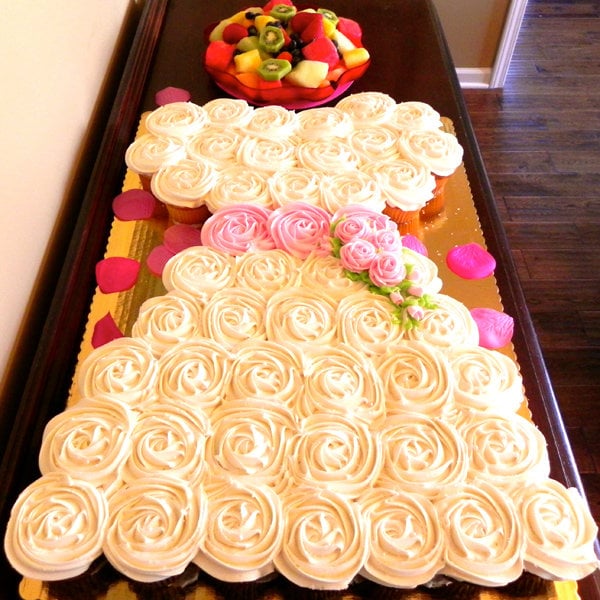 Bridal Shower Favors and Decorations
We found most of our ideas from Pinterest and Bridal Guide, including the party favors. The girls bought high heel shoe containers that were filled with candy as well as drink coasters. The drink menu on the party favor coasters was the hit of the night. There were also plenty of other drink options available to choose from.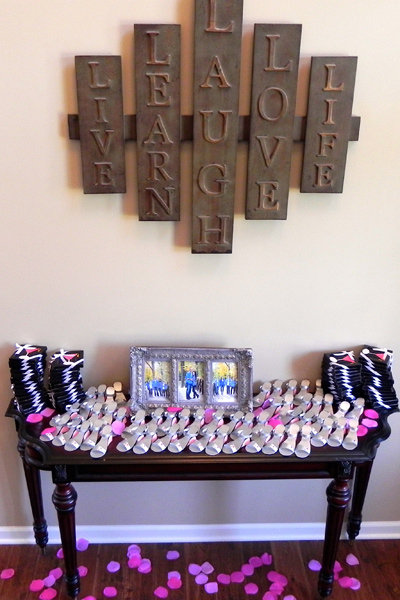 Bridal Shower Games   
Next, it was time for the entertainment. I was very nervous about this portion of the party because I had zero say in it, and I wanted my guests to thoroughly enjoy themselves. Maria organized several games to play with our guests, including a hot potato concept game where we passed an object around the room and changed directions when the words "left" or "right" were used. Rigo wrote our engagement/proposal story out and embedded it with those words multiple times.
My favorite part of the shower is when we played a 20-question game created by my sweet and wonderful fiancé Rigo. Maria found a list of questions for Rigo to answer about our experiences, and he took it to the next level by creating video responses. We had to answer each question along with a guest. If we answered incorrectly, we had to take a swig of our favorite beverage. (In another variation of "20 Questions," the bride-to-be has to chew one stick of gum for each question that she gets wrong.)
Of course, by the end of the game, the room was filled with laugher and I was feeling quite relaxed! This fun activity motivated my guests to mingle and socialize, and small gifts were awarded to the guests who won the various games.
Check out Rigo's creative video! 
The Bottom Line
If your friends or family members are willing to plan a bridal shower for you, let them. You might be impressed and surprised by their efforts. It felt really nice to take a break and let someone else make all of the decisions for once. I'm glad that I decided to throw a pre-wedding party because my guests really looked forward to this part of the wedding process.
I am very fortunate to have good friends like Maria and Patty in my life. They did an amazing job with everything. I was also impressed with Rigo's efforts — the video game was one of the sweetest things he's ever done for me. The shower was a huge success and I even received many nice gifts as a bonus!
Happy planning!
Tell us: Was your fiancé involved in your bridal shower or bachelorette party, like mine was?
—Claudia Hernandez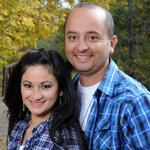 Meet the winners of our Pin to Win a Dream Wedding Design by David Tutera Contest, Rigo Garcia and Claudia Hernandez! Claudia is a registered nurse in the surgery department, which is where she met her fiancé Rigo Garcia, a nurse anesthetist. They became best friends and fell in love with very little effort, a trend that continues today. They will be married at Meyers Castle in Indiana on June 8, 2013. They are planning a fabulous wedding filled with traditions, entertainment, surprises, and many unique ideas inspired, in part, by David Tutera.