A wedding may take months or even a few years to plan, but sometimes fate can lend a hand. Just ask Maria Simpson and Matthew Chamberlain, whose love story began at Bungalow, a bar in California, and culminated with a courthouse wedding in New York City. Their last-minute nuptials on Feb. 20th came together so serendipitously that it made us believe in fairy tales again.
The odds were stacked against them from the beginning, including a 13-year age difference (she's 22 and he's 35) and living thousands of miles apart (she's originally from California and is now based in New York; he's originally from England and now resides in Cali). What got this couple through all of these challenges (and then some) was the unwavering belief that they were destined to end up together — no matter what. 
When they began discussing their future, Matthew suggested that they apply for wedding competitions to help alleviate some of the financial stress that lay ahead. They were selected to compete in Bridal Guide's Race for the Rock cityHunt in NYC, which came as a relief, and Matthew made plans to fly out from Los Angeles. However, things got turned upside down when Maria's father had a heart attack a few days before the scavenger hunt was supposed to take place; Matthew rushed to his aid and spent the night in the hospital with him. Once Maria's dad was stable, they decided to move forward with the race.
"That's when I truly knew that he would be a wonderful husband. We decided together that regardless of the outcome of the competition, we would get married on Feb. 20 (race day)," Maria says.
This is their remarkable story — watch how the action unfolded:
9:30 - 10:30 a.m.:
On your marks...get set...GO! BG's contestants barrel through the starting line with Maria and Matthew leading the pack. She's a former promotional driver for Redbull and he's an avid runner. Together, they make a formidable pair, zipping around the city cracking all of the clues: interviewing a long-married couple on their success at the Empire State Building, reenacting the War's End Kiss at Times Square and compiling a top 10 list of reasons why they love each other at David Letterman's Studio.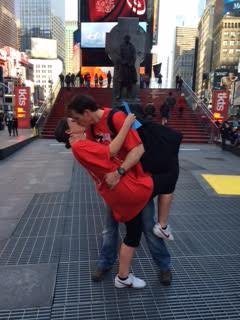 10:45 a.m.:
The last stop: Serendipity. As Maria and Matthew round the corner, another couple whizzes by them — oh no they didn't. It's going to come down to a photo finish, but Matthew didn't fly thousands of miles just to lose. He propels himself forward and takes the gold!
But the challenge isn't over just yet: The finalists are escorted inside the restaurant to a table, where in true Serendipity style, they find three enormous frozen hot chocolates waiting for them. They're instructed to choose which cup they want to drink from, and after making their selections, they furiously begin slurping down the drinks, brain freeze be damned.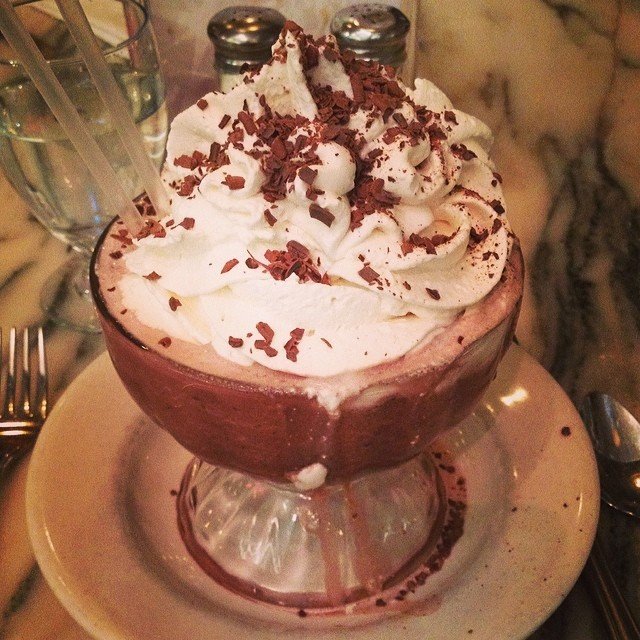 11 a.m.:
Stop and turn over your plates — your winning prize will be on the bottom. Shock registers on all of the couples' faces when they process the curveball that's been thrown at them. Forget speed; this will come down to the luck of the draw. Maria and Matthew gingerly flip over their plate, realizing they've won a five-night honeymoon to Jewel Dunn's River Beach Resort & Spa in Jamaica. It's a bittersweet moment and they console each other (or so we think) in the corner of the room.
Wait — is he bending down on one knee? She's crying, but those aren't sore loser tears. In a twist that no one saw coming, not even Maria, Matthew proposes with a ring that had belonged to his late mother, which he had secretly tucked into his pocket that morning! Their plan to wed at City Hall a few hours from now is revealed.
Although the BG staffers and I are just casual bystanders, their love for one another tugs at our heartstrings, and when we find out the bride-to-be is en route to her ceremony without a wedding dress, we feel compelled to act. 
11:50 a.m.:
We make a few frantic calls and find out Cristina DeMarco, vice president of Bridal Reflections, is up for the fairy godmother challenge. Her mission: Help Maria narrow down racks of dreamy dresses in every imaginable style and accomplish what normally takes hours (or even days) in a scary-small window of time. She swiftly begins the consultation: What kind of gown do you envision yourself in? What are your likes and dislikes?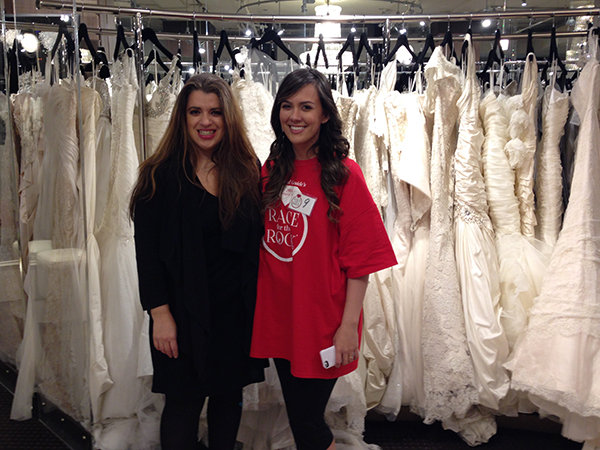 Rachel (our fashion advertising manager), Noelle (our digital marketing manager) and I snap and shoot, trying to frantically keep up as Maria and Cristina disappear behind clouds of sequins and tulle, the try-on pile growing bigger by the minute.
Maria emerges from the dressing room in an Ines Di Santo lace fit-to-flare: How could this be the same girl who raced around Manhattan in a red t-shirt and sneaks just an hour earlier? Despite the pros — "the blush is flattering on my skin tone" and "I always wanted lace" — it's too early to tell if this is the winning dress.
An Eve of Milady ball gown with a sparkling bodice is next: "This is it," she declares. An alterations expert concurs that the dress fits perfectly and it just needs a temporary hem. Yes, Maria looks beautiful, but more importantly, she feels beautiful wearing it, and as she twirls around to admire her reflection, we know our job here is done.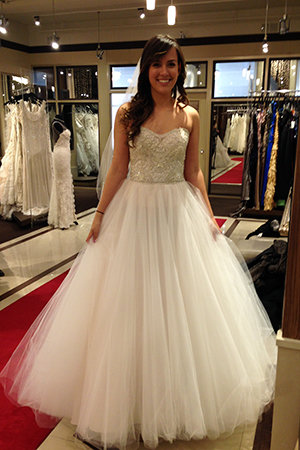 1 p.m.:
There is no better way to get to know someone than to squeeze in next to them in a cab with their soon-to-be wedding gown on your lap. We pepper Maria with questions, curious to know more about her relationship with her now-fiancé.
When she first met Matthew, he was studying adventure tourism in Scotland at the University of the Highlands and Islands. When things got serious between them, he flew to California to visit her family and spend Christmas with them. He not only nailed his first impression, but Maria's dad liked him so much that he asked him to stay to help run his business at a local gym! Matthew left all of his belongings in Scotland, dropped out of school and he now works as a personal trainer and manager there. Maria's plan is to finish grad school (she's a journalism student at NYU) and then move to Los Angeles to be with him and her family.
Is she nervous about all of this change? No, she's never been more sure of anything in her life.
1:30 p.m.:
While navigating the streets of downtown Manhattan and scrambling to find the right courthouse, Noelle marvels at the fact that this is just the most fascinating and insane workday we've ever had. We're not the only ones who will remember every detail — Maria and Matthew will look back on this journey for the rest of their lives.  Although having never met them previously, we feel honored to be there and united by a sense of purpose.
1:45 p.m.:
We made it! Matthew is waiting for his bride in line at the front desk wearing tan pants, a navy sports jacket and a bow tie, looking every part the English gentleman. After a quick kiss, they check in together and are whisked away to sign a mountain of paperwork. Their florist excitedly drops off a bouquet, boutonniere and flower crown.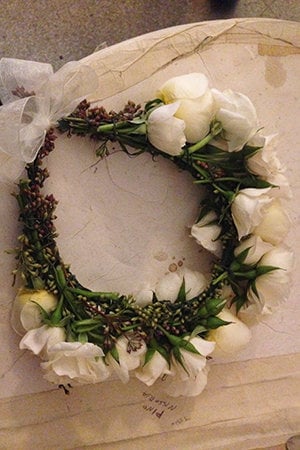 2:30 p.m.:
We hightail it to another building to find a judge who will sign the special waiver reserved for weddings taking place on the same day that the marriage license is obtained. They make the 3 p.m. deadline and we shout out, "congratulations!" when they exit with paper in hand. M&M — their favorite nickname for one another — both visibly exhale.
3:00 p.m.:
The bride and groom are assigned a number and we wait for their turn. In the meantime, we haul it to the bathroom and help Maria into her gown. Then, we give her and Matthew some privacy for their "first look." All eyes in the courthouse are on her and the scene immediately brings to mind two of our favorite wedding movies: Sex and the City and Bridesmaids ("You smell like pine needles and you have a face like Cinderella").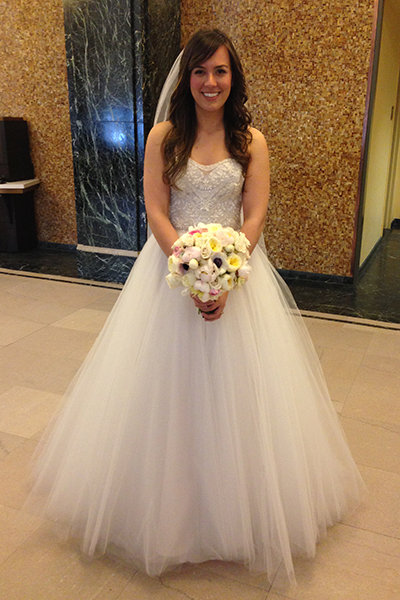 3:30 p.m.: 
At this point, we lose our place in line since our number was called while we were in the bathroom getting ready (oops!). This is one of many challenges that won't set us back. Maria's friend (and roommate) Suzy still isn't here yet and they need a witness. I step up to the clerk and scrawl out my signature on the piece of paper provided.
3:45 p.m.:
Suzy arrives! We're outside the ceremony door waiting to be called in. We watch other couples as they exit and embrace their family members and friends. They're all so diverse — older, younger, straight, gay, interfaith, decked out and dressed casually — but they have the same ecstatic look on their face. When Matthew is distracted for a moment, Maria covertly shows us the wedding ring that she bought for him, which she engraved with their favorite saying: "To the moon and back." (They each wanted the ring they chose to be a surprise.)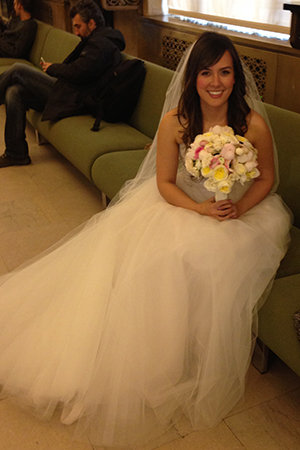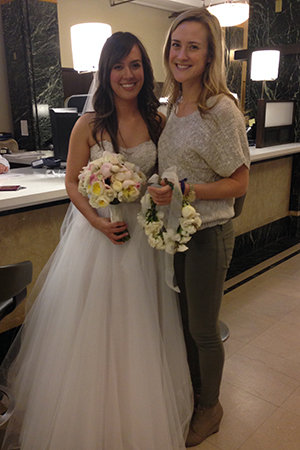 4:00 p.m.:
The moment we've all been waiting for is here. Maria hands her bouquet over to Rachel (we each had a job) so that she can hold Matthew's hands while they read their vows. Listening to the words takes on a greater intimacy when you don't have as many distractions like you would with a bigger wedding — Rachel and I can't help but get emotional even though we've heard these vows a thousand times. Before we know it, the clerk pronounces that "you may now kiss the bride."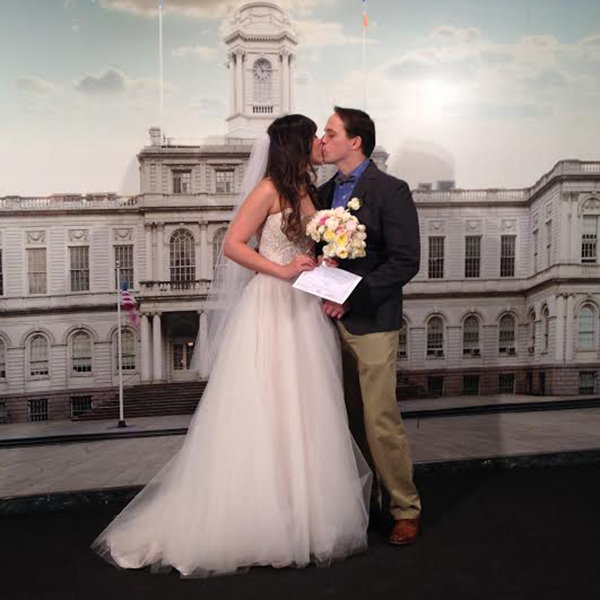 As we exit, Maria's eyes well up with tears when she shows us what the inside of her new wedding ring says: "Maria and Matthew, to the moon and back." And just like that, we were reminded that extraordinary things can happen in a New York minute.
—Stefania Sainato