Choosing your groom's wedding-day wear can be a daunting task if you don't know where to start. Here, we checked in with Men's Wearhouse to bring you the basics on menswear styles, patterns, and trends. 
The Tuxedo
Tuxedos are the traditional choice for a wedding, but over the decades they've evolved. Today, you'll find them in various colors and shades like black, dark or light gray, and navy, and in fits from classic to slim. A range of sizes lets you outfit everyone from the smallest ring bearer to the Big & Tall men in your group. With everyone in tuxes, your wedding party will have a cohesive, polished look. 

Men's Wearhouse Tuxedo Rentals: $89.99-$209.99
The Suit
A suit is a great option for a wedding. Dress it up by adding a vest or take a non-traditionalist approach by pairing it with a fun bow tie, sweater, or a pair of suspenders. This is the perfect choice for those who are looking for a modern look. 

Men's Wearhouse Suit Rentals: start from $164.99
The Custom Design
Joseph Abboud Custom is perfect for the groom who wants a more personalized look, detailed to reflect his unique style. Although this is a more high-end option,  you can select from hundreds of fine Italian fabrics, a range of silhouettes, linings and style details—even a monogrammed label.
Joseph Abboud Custom at Men's Wearhouse: starts from $795.
The Navy Debut
A navy tuxedo rental offers an unexpected alternative to the classic black. Equally elegant, this tuxedo is ideal for the groom who wants to add a pop of color with a bold hued ensemble that's anything but basic. 
Joseph Abboud Navy Tuxedo at Men's Wearhouse: $209.99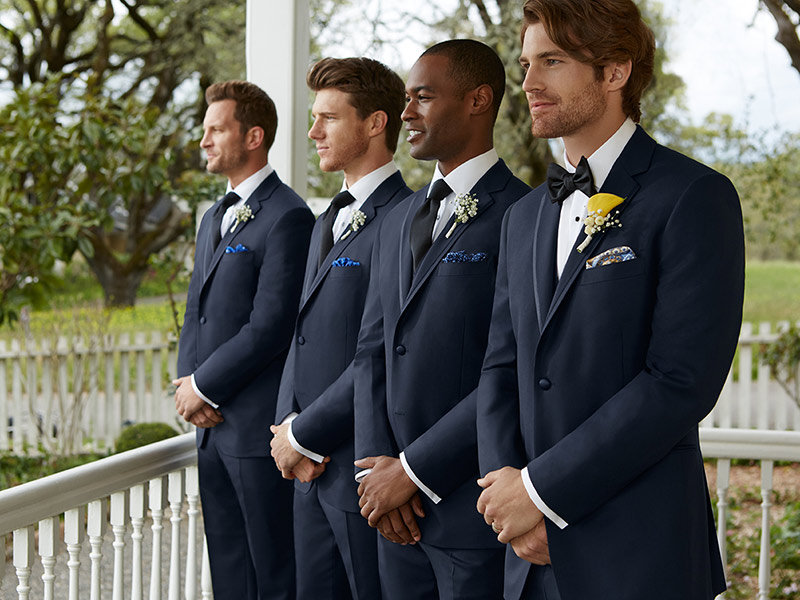 The Details
More couples are using accessories to show off their unique personalities. In addition to accessorizing their ceremony attire, couples are also opting for second looks for the reception and after-party. There are no rules here, so have fun—lose the tie, swap out the shirt and replace the jacket with a vest. Accessories also make great groomsmen's gifts!
Start shopping for your groom's wedding-day look at MensWearhouse.com.