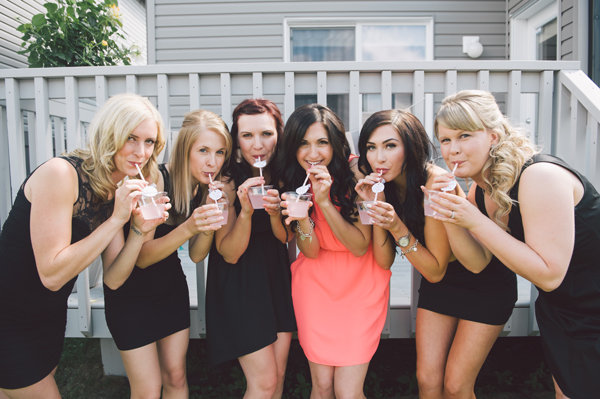 Photo Credit: Kristilee Parish Photography on Wedding Chicks via Lover.ly
You've been putting work into your fitness plan since that engagement ring slid onto your finger. Now comes the big night before the big day that threatens to set back all that progress: the bachelorette party. Of course, you want one that's memorable, but for all the right reasons. Drop some hints to your bridal party about how to have a fit and fun gathering with some of the theme ideas below — or just hand over this article!
Au Naturale
Go as a group to a yoga class, then get massages or have a masseuse come to the host's house. Too much stress can have negative effects on your body, behavior, and mood. You can also set up one or two stations where guests can make massage oils and scented soaps or candles from scratch. And have all the attendees bring a raw food dish made from a vegetable or fruit that has "aphrodisiac" benefits, along with the recipe, so you can have them for future reference. As a game, have attendees write down what they think the 'sexy' benefit is and read them aloud.
Naughty but Nice
Learn some daring bedroom skills by bringing the pole to you — yes, there are pole dancing instructors who have pole and will travel. Host a group pole dancing class (or attend one). Another option is to go to a striptease class. You'll learn some moves you can possibly use again soon. After your sexy workout, take the group to a fondue restaurant and order the dark chocolate version, which has health benefits for your heart. See if there is a high table where you can all stand up around the pot to eat together — you burn more calories standing than sitting.  
Thrill-Seeking
If you're an adrenaline junky but need something that could work with a range of friends, head to an indoor climbing gym. The instructors can work with people at all levels of experience, and this is certainly a full body workout. And those harnesses can certainly be sexy from some angles, right?! Then follow this with a culinary adventure — assign everyone an extreme ingredient, from something hot, like jalapeños, to something totally unusual, like sauerkraut, and have everyone make a dessert using that ingredient. Or, find a chocolatier who uses crazy ingredients and have people guess what's inside.  
City Lights
Having a fit bachelorette bash doesn't mean you have to skip a wild night out with the girls. Put on that perfect cocktail dress and heels — but make sure you can walk in them. Pick three different restaurants in walking distance, and indulge in some hors d'oeuvres at each one. Find a club and go dancing. Your goal here is for everyone to rack up 10,000 steps before the night is over. Be sure someone is wearing a pedometer or using an app on their phone to keep track.
—Shana Schneider
Guest blogger: Shana Schneider
Shana Schneider is the founder of FITWEEK, a media company that helps working women turn every week into a FITWEEK. She has held several positions at Yale University, including the Director of Communications for the Office of International Affairs. Shana has worked in the media industry as a producer and on-air talent. With TV Guide, Shana's shows aired on FOX, VH1, and the Food Network. She received a B.A. from Yale University and is an AAFA certified group fitness instructor and licensed Zumba Fitness instructor. Shana is an entrepreneur at heart always finding a way to add a new dimension to an existing position or starting something from scratch.